If you see something, say something, and Waterway Guide's Navigation Alerts specialists will use your input to help others with their trip planning and navigation.
Everyone who visits the Waterway Guide Explorer has the potential to help fellow boaters by using the exclamation point button in the bottom right of the screen on any of the Explorer pages.
When you use the Nav Alert icon to submit an observation or hazard your information will then be followed up and verified by the Waterway Guide. You will get an email alerting you of your submission and when it has been approved.
Every day, the staff at Waterway Guide participates in this ensemble effort to gather and disseminate up-to-the-minute navigation alerts and information to help keep boaters informed and safe. We've been doing this for 70 years. The only thing that has changed is the technology.
Waterway Guide Navigation Alerts Editor Ted Stehle manages all incoming emails and messages captured from Waterway Guide's vast network of experts, digital products, on-the-water cruising editors, social media platforms and official sources to update our Navigation Alerts daily.
Additional alerts are also sent out to subscribers during critical weather events.
In addition to Navigation Alerts, the Explorer provides boaters with an easy platform for planning their time on the water by providing content that is relevant and verified.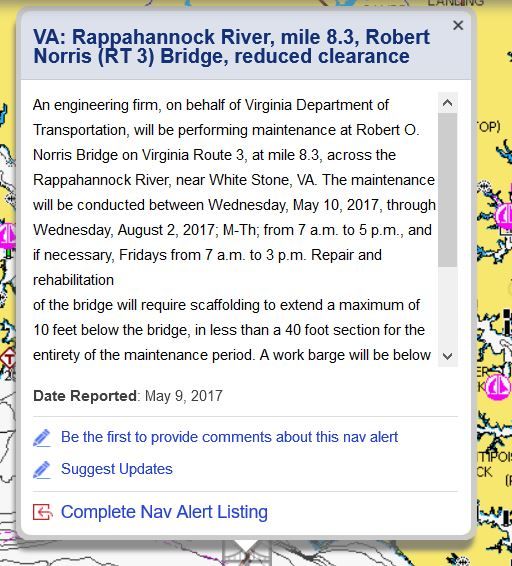 The primary categories offered are - Navigation Alerts, Anchorages and Free Docks, Marinas, Service Facilities, Fuel Prices, Bridges and Locks. This is a no-cost service to complement our printed guides. Users are not required to sign-in or purchase a subscription.

"Because this content is validated and posted by editors and staff, noise and guess-work associated with irrelevant and inaccurate content is alleviated," says Waterway Editor-in-Chief and G.M, Ed Tillett. "News, reviews and other features in the Explorer provide a comprehensive source of information for boaters across the regions we cover."
About Ted Stehle
Ted's and his wife, Audrey's, boating adventures began in the early 1970s on the lakes of Minnesota in a small aluminum fishing boat and a 16-foot ski boat. In the mid-70s they moved to the Chesapeake Bay where for 20 years they cruised the Chesapeake and the Atlantic Intracoastal waters on three different sailboats, a trawler and, finally, a motor yacht. After retirement and a move to Cincinnati, OH, cruising included The Great Loop, the inland rivers and wintering on the Florida Gulf Coast. Ted serves as Senior Consultant to Waterway Guide and is also the editor of the Skipper Bob series of cruising guides.