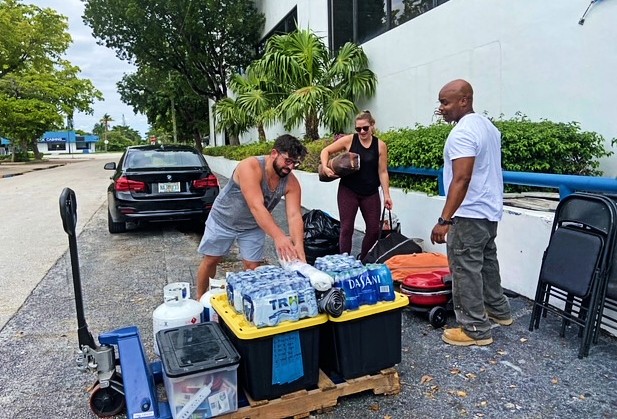 Members of the marine industry were quick to join the relief effort to help those on Florida's Gulf Coast who are still the focus of life-saving rescue efforts nearly a week after Hurricane Ian made landfall in Ft. Myers, Fla. Samantha Moore, yacht broker and marine activist based in Ft. Lauderdale is one of many gathering desperately needed supplies for those on the opposite coast.

"It's really heart warming to see the marine industry come together to do good for the West Coast," Moore said in an interview with Waterway Guide News on Tuesday. "I find myself sporadically bursting into tears throughout the day when I think of the devastation this Hurricane has caused our neighboring Florida Coast. I can't even imagine being in that position. I knew I had to do something."
In February of 2022 Moore founded a 501(c)(3) non-profit; Professional Women in Yachting Inc., known as PWY. PWY is a group of women in the marine industry that raise money for marine science & ocean conservation. Follow them on Instagram @PWY_international.
Below is the flyer for the next collection event in Ft. Lauderdale this Friday, October 7th from 2-6 p.m.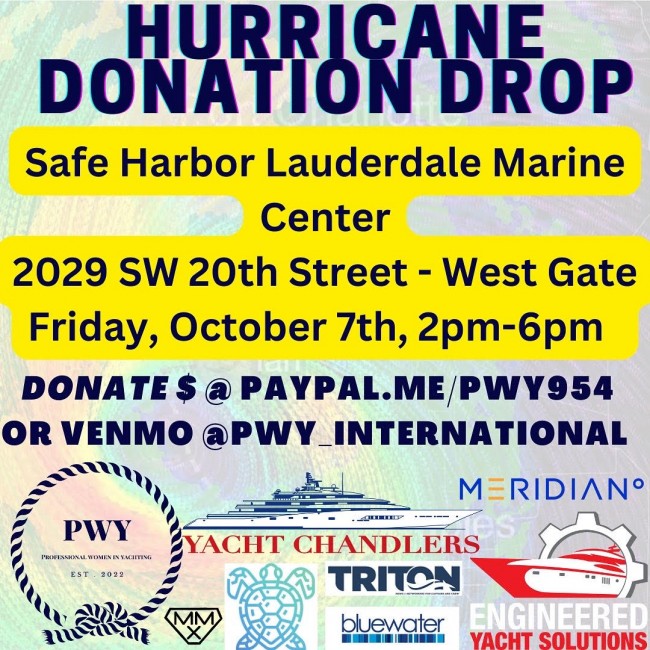 Although this Hurricane Ian relief effort doesn't fall directly in their charitable wheelhouse, "It's close to my heart; as a Floridian, as a human, and as a marine industry professional."
"After talking to my board of directors, we agreed, we had to act. I released a letter to the public through email and Instagram, along with a supply items list and it was received very well," she explained. "Together, we have raised $15,000 cash and have collected multiple pallets of specific emergency relief items, totaling about another $15,000."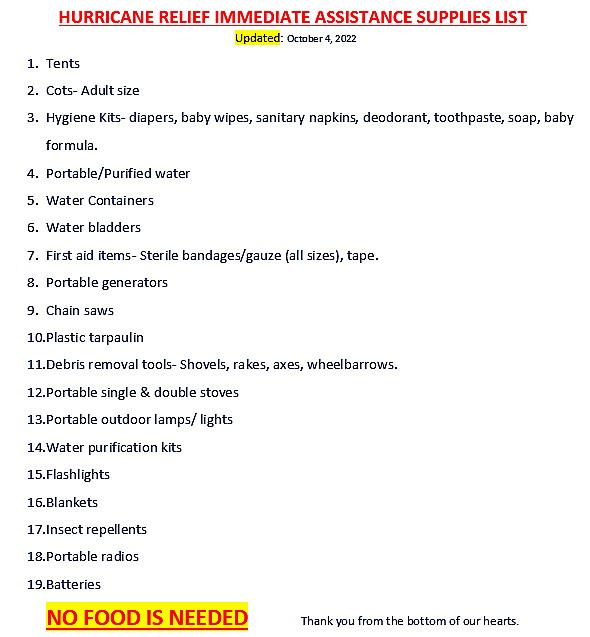 Moore had worked with the Eagles Wings Foundation (aka Pathfinders Task Force) of West Palm Beach during their relief efforts for the Bahamas, after Hurricane Dorian and reached out to the organization for help in getting the supplies collected on the East coast to the devastated areas in Ft. Myers.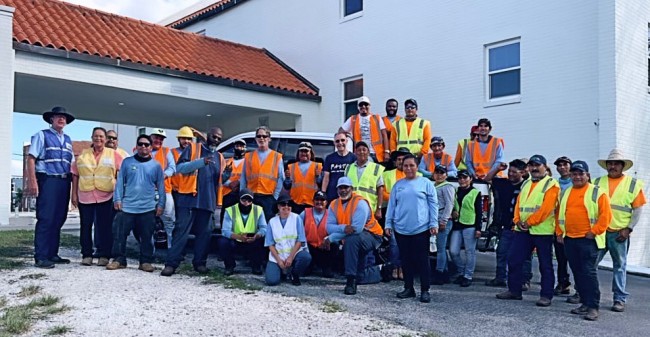 "They are such an incredible organization that I trust wholeheartedly," she said. "So, I knew if I could get supplies to them, they would get it to the right people."
Eagles Wings Foundation President Scott Lewis said in a phone interview with Waterway Guide News that he has already made supply and assistance runs to Ft. Myers and Arcadia bringing $100,000 worth of roof tarps as well as manpower to help clear fallen trees and debris from homes and businesses.
"Arcadia looked like it was hit by a Cat 2 but Fort Myers was an entirely different story," Lewis said. "Fort Myers, Pine Island, all those barrier islands looked like it was a Cat 5. It may have technically have been Cat 4 officially but I've seen that kind of devastation enough time to know it when I see it."
Lewis added, "The surge on the barrier islands like Pine Island and Fort Myers area took absolutely everything. In Arcadia it was the wind. You can't even fathom the decimation of the orange groves.
Moore gives credit to fellow boaters and brokers saying, "We could not have made this possible without the help from our marine industry community uniting."
Yacht Chandlers was instrumental in this process, allowing PWY to use all the resources needed to facilitate the donations.
Safe Harbor Marinas at Lauderdale Marine Center is allowing PWY to use their facilities as a drop space.
Engineer Yacht Solutions made a very large donation and is still collecting in both of their offices. They have offered- whatever is needed to supprt the relief effort.
Bluewater Crew, Meridian, & Triton have done email blasts, made phone calls, helped volunteer and collected donations from their database.
Metcalf Marine Exhaust has done tons of social media and helped volunteer.
"It's with group efforts like this we can really make an impact," Moore concluded. "Hurricanes are terrible but the silver lining is it really does give me hope for humanity."