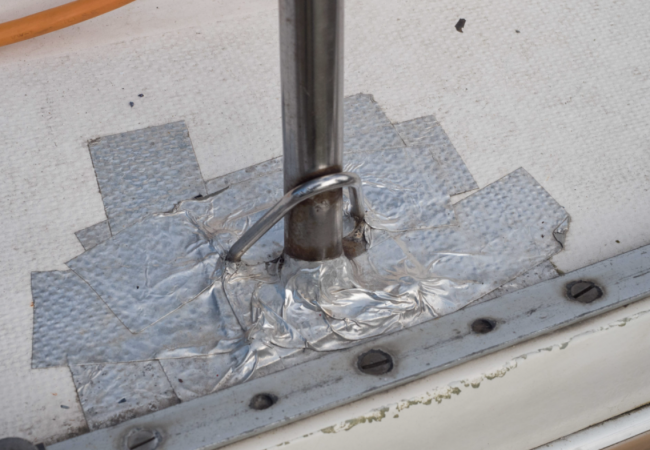 When we joined the local sailing club last year we were thrilled with the idea of going from one couple owning one boat to being part of a team of 70ish people who share the upkeep of a matched set of six Catalina 27 sailboats. Many hands make for light work as they say. We're pretty sure the person who said that never took part in late winter haul-out. Still, the benefit of taking care of a fleet is that if one boat has a maintenance issue, chances are the other boats do, too. And by the time you've made the same repair two or three times, you're practically an expert.
This is why we weren't worried when we saw the aluminum foil tape on the base of one of Honeybee's stanchions. Although the "water leak" note (written inside, beneath the stanchion) seemed to concern one of our newbie co-owners, we reassured him that deck repairs are typically straightforward.
Boats Leak
The thing is, boats leak. They are large, flexible structures that experience considerable stresses and loads. Many of these loads occur at the points where hardware is attached to the deck. As time goes on, the sealant compound used to bed the hardware loses flexibility and breaks down. The deck flexes just enough to break the seal and one day we're making a tape patch to keep things dry until we can make the fix.