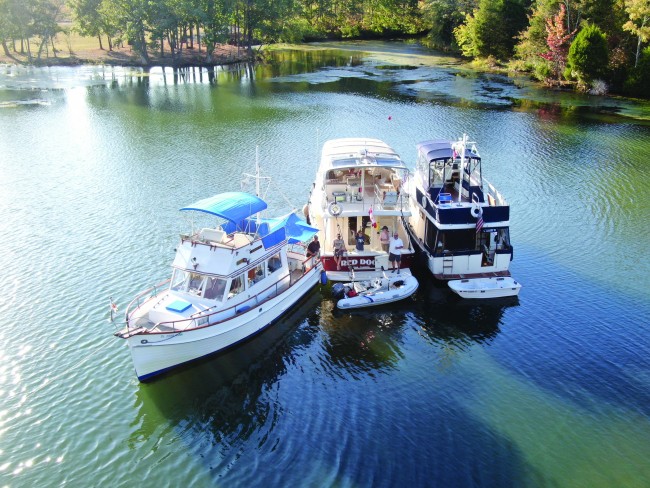 Have you ever dreamed of leaving behind life on land and taking to the water for the adventure of a lifetime? If so, a cruise around America's Great Loop may be on your horizon. The Great Loop was once a route known only to lifelong boaters and hard-core long-distance cruisers, but the secret is out. "Looping" has become a passion for thousands who hope to one day navigate their boats on this 6,000-mile trip around eastern North America.
The first documented Great Loop completions date back to the late 1800s, but the popularity of the Great Loop increased with the opening of the Tennessee-Tombigbee Waterway in 1984, allowing "Loopers" to avoid the heavy commercial traffic on the Lower Mississippi and enter the Gulf of Mexico through Mobile Bay instead.
See the interactive Great Loop map.
The publishing of Honey, Let's Get a Boat by Ron & Eva Stob in 1999 popularized the Great Loop in many boating circles, and the number of Loopers cruising and sharing their journey through letters back home, increased. But the rise of social media means instead of sharing the details of the trip with a handful of close friends and family members, today's Loopers chronicle the adventure for hundreds (or even thousands) of followers. That exposure, coupled with articles in mainstream media outlets like The New York Times Magazine, The Wall Street Journal, USA Today and hundreds of local publications across the country have led to a rise in interest in the Great Loop.
Membership in America's Great Loop Cruisers' Association–an organization dedicated to helping Loopers with all facets of their high-adventure, low-risk, long-distance journey–has doubled in the last 10 years, and the total number of memberships doled out since the Association's inception 20 years ago exceeds 20,000. But with only about 150 boats reporting completion of the route each year, Gold Loopers (those who have completed the route) remain an elite group. Would-be-Loopers have a lot of questions about successful completion of the Loop, including the ones here, which are the most frequent.
Q: Exactly What Is the Great Loop?
A: The Great Loop route totals about 6,000 miles, passes through more than 15 states and provinces and includes more than 100 locks. Loopers follow the route northward on the Atlantic Intracoastal Waterway (ICW), through Chesapeake Bay, around the tip of New Jersey, into New York Harbor, up the Hudson River, into the New York State canals, through the Great Lakes, south on the inland rivers to the Gulf of Mexico and around Florida. The trip includes passage through big cities like Chicago and New York and small towns, many of which were founded before roads existed, so Loopers travel in some of the most historic areas of our country, finding nostalgia and exploring long-forgotten slices of Americana.
While Loopers have traditionally completed the route in about a year by following warm weather around the Loop and spending summer on the Great Lakes and winter in Florida, more and more are undertaking the journey in segments, cruising for weeks or months at a time and then returning home to tend to other obligations.
Q: Who are the Loopers?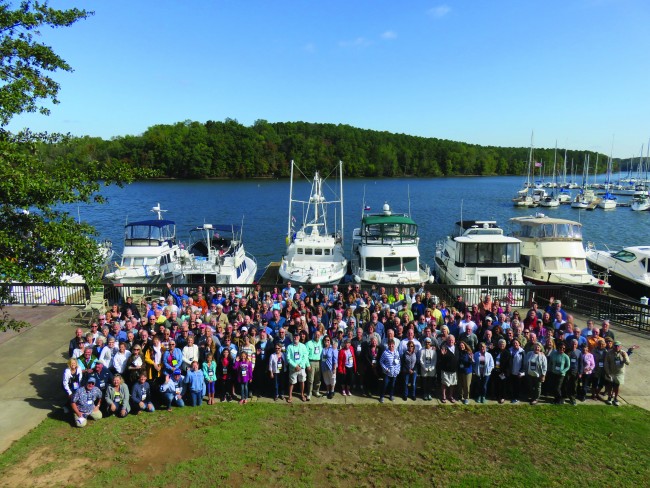 A: Many Loopers are retirees traveling as a couple aboard their boat. However, technology, the availability of mobile service and WiFi around the route, and the rise in the number of people able to work remotely means that many other age groups are exploring the Loop. In addition, the increase in popularity of home schooling and the availability of on-line curriculum means more families are "boat-schooling," giving their children opportunities to go beyond the curriculum and engage in experience-based education in the cities and towns they visit along the way.
Q: What Kind of Boat Do I Need?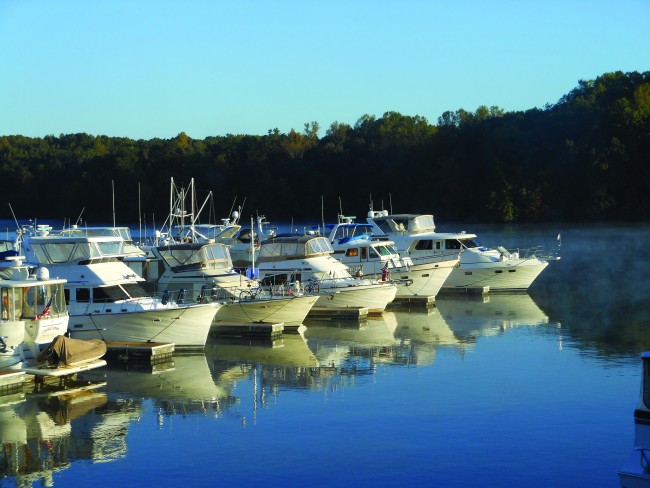 A: The Great Loop has been completed in everything from a dinghy to a 100-foot yacht and including all types of vessels in between. Everyone's ideal Great Loop boat is different, so the key to cruising the Loop successfully and enjoyably is choosing a boat that is right for you. While there are a wide-range of Loop-capable boats, there are a few requirements for your Looping vessel. First and foremost, it must be seaworthy. Although the Great Loop is primarily an inland route, there are some places where you'll find yourself in "big water," including the Gulf of Mexico, the Great Lakes and various sounds and inlets around the route where you are likely to experience some rough seas. Second, the boat you choose must have an air draft of less than 19.6 feet so it can clear the lowest fixed bridge on the Great Loop, which is located on the Illinois Waterway and cannot be bypassed by taking an alternate route.
There are also some places on the Great Loop where the water can be shallow, particularly during low tide, so you'll have an easier time if your boat draws 5 feet or less. If you draw much more than that, you will have to pass up some options, like the Trent Severn Waterway, and getting into some marinas along the Loop will be challenging.
Most Loopers need not worry about the length or beam of their boat as there are really no restrictions on those dimensions that would prevent you from completing the Loop. The Trent Severn Waterway has a length restriction of 84 feet and a width restriction of 23 feet, but there are alternative routes if your boat exceeds those specifications.
Q: Do I Need Lots of Boating Experience?
A: While the Great Loop is not a technically challenging cruise (you're not circumnavigating the globe, after all), it does require confident handling of your boat in unfamiliar waters. It also requires that you know the "rules of the road" and how to keep yourself and the people and property around you safe. If your Looping boat or boating in general is new to you, be sure to spend some time before the trip becoming acclimated. If you're a complete novice, hire a training captain and practice until you're capable and comfortable handling your boat. You can also take courses to learn boating skills or brush up on the skills you already have. Since every day on the Great Loop is a trip through unfamiliar waters, you'll need to understand the rules of navigation, procedures for contacting lock and bridge tenders and how to contact other vessels in the area. Most Loopers will spend a year or more (sometimes much more) planning and preparing for departure.
Q: How Do I Get Started?
A: Get started by getting connected.
There are hundreds of details to consider before beginning your Loop. What do you do with your "dirt-based" home while you're living on the water? How do you get mail along the way? What kind of electronics do you need aboard your boat? What's the best type of anchor?
The best way to learn all this is through your own research and connections with those who have come before you. There are many books and online resources that can help you, and you'll find that cruisers in general, and Loopers in particular, are very willing to help. Plus, they love to share their experiences! Don't hesitate to get involved in online forums and Looper groups. Walk the docks and look for Looper burgees. Attend "dock-tails" and ask questions so you can learn from the experiences of others.
Almost without exception, when asked about their trip highlights, Gold Loopers mention the people they met along the way, so do get engaged, well before you drop the dock lines and head out.
Whether the Great Loop is a lifelong dream or a new item on your bucket list, the best advice is to do it in a way that is enjoyable for you. There is no right or wrong way to do the Great Loop as long as you maintain safety for yourself and those around you. Whether you choose a 25-foot tug or a 50-foot trawler, whether you spend 6 months or 6 years completing the route, whether you travel at an average of 6 knots or 15 knots, remember that it's your journey. Make it your adventure of a lifetime.
###
Kimberly Russo has been the director of America's Great Loop Cruisers' Association (www.greatloop.org) for four years and has been working with AGLCA for ten. She is a regular speaker about the Great Loop at events like the Miami Boat Show, Chicago Boat Show, TrawlerFest, and others. When not helping others with their Loop adventure, she enjoys cruising her home waters of Charleston, SC.