News & Events for Chesapeake Bay
VIMS: In the wake of dog deaths, what to know about toxic algae
Date Posted: 2019-08-20
Source: The Virginian-Pilot
Editor's Note: As Waterway Guide News reported last week, The Virginia Institute of Marine Sciences (VIMS) is at the forefront of the investigation into this dangerous algal bloom. The third installment of the William & Mary Virginia Institute of Marine Science (VIMS) "Deeper Dive" video series explores how students and scientists are using state-of-the-art technology to better understand the impact of harmful algal blooms on marine ecosystems.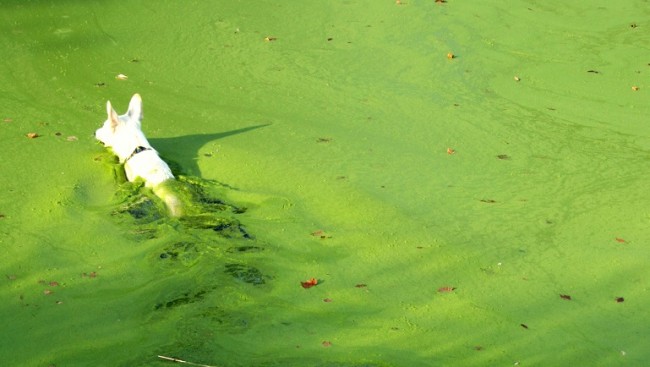 The news reports sounded frightening: Three healthy dogs frolicking in a pond in North Carolina ended up dead within minutes, likely from exposure to toxic blue-green algae.
Actually, not algae, but a photosynthetic cyanobacteria that mimics blue-green algae and can produce a powerful liver toxin.
"What happens is, these dogs get into these waters and they ingest the waters that have these toxins in them," said marine scientist Kimberly Reece. "And then they have active liver failure very quickly.
"It's happened around the country — actually, around the world — where livestock and pets get exposed to these types of waters."
As head of Aquatic Health Sciences at the Virginia Institute of Marine Science at the College of William and Mary, Reece is an expert on algae, mainly studying their prevalence in the York and James rivers.
In the aftermath of the three dog deaths, and a fourth in Georgia, she's been fielding calls from people in Hampton Roads concerned about the risks.
Read the full story.
View location on the Waterway Guide Explorer
Provided by National Weather Service
| | |
| --- | --- |
| Humidity | % |
| Wind Speed | |
| Barometer | |
| Dewpoint | |
| Visibility | |
Deltaville, VA


Current Conditions
Change my location