News & Events for Chesapeake Bay
Hitting the Mark: USCG Investigating How a Red 36 Broke Its Mooring
Date Posted: 2019-08-14
Source: Lisa Suhay, news editor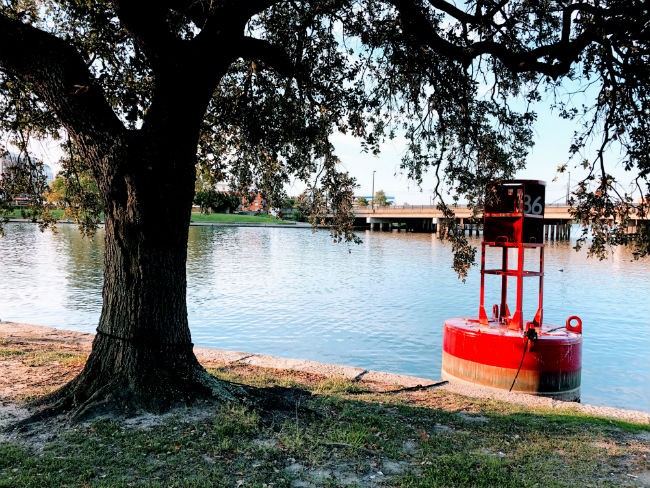 Walkers along the inlet of the Elizabeth River in the Hague area of Norfolk, Virgina have been treated to an up close and personal view of Red Channel Marker 36 as it sits ingloriously tethered to a tree.
According to Ryan Chartier of Waterway Management with the U.S. Coast Guard Portsmouth the investigation into exactly how this marker was detatchedfrom its mooring is still under investigation.
Chatter on marine radio last Friday, picked up by Waterway Guide News sources indicated the marker was struck and dragged by a large professional vessel, possibly a tug boat.
"It broke free from its base last Friday," said Chartier in a phone interview with Waterway Guide. "We're still investigating how it ended up getting into that waterway, under the bridge. It had a mind of its own."
As of presstime the USCG was still waiting for time and tide to allow for the marker's extraction from the mud into which it was embedded.
"We need to get in during high tide to try and get it up out of that mud," he added. "Then we can retrieve it and get it back into place."
View location on the Waterway Guide Explorer
Provided by National Weather Service
| | |
| --- | --- |
| Humidity | % |
| Wind Speed | |
| Barometer | |
| Dewpoint | |
| Visibility | |
Deltaville, VA


Current Conditions
Change my location