News & Events for Chesapeake Bay
Six Problems with Georgia's New Law
Date Posted: 2019-07-10
Source: Ed Tillett, Editor-In-Chief
Editor's Note: This is part of an ongoing series of timely updates and insights on an issue critical to both cruisers and Georgia residents that is being researched and covered by Waterway Guide Editor-In-Chief, Ed Tillett. We will continue to keep readers informed via our news website, newsletter and on Facebook.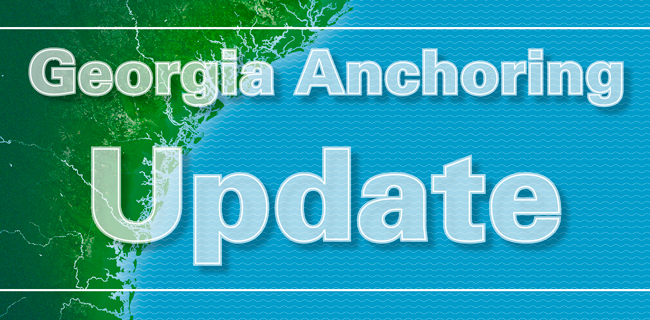 Boating organizations and dedicated cruisers continue to assess the recently passed law in Georgia that could have far-reaching effects on spending the night on a vessel in the state's coastal waters. The law will not go into effect until January 2020 but has been labeled "anti-anchoring" by extended cruisers and others who stay on their boats in marinas and anchorages.
Boaters are aiming their disapproval of the new laws across member forums, social media platforms and in blogs. The six distinct issues causing alarm are:
The unclear and ill-defined label of "live-aboard vessels"
Directing Georgia's Department of Natural Resources to designate where boats may anchor versus where they cannot
Restating provisions of the Clean Water Act specific to holding tank regulations
Requiring boaters and marinas to create and maintain logs of when and where their vessels' holding tanks were pumped clean
Creating a permit and possible fee structure that vessels must apply for prior to anchoring
Rolling up all the new laws into a criminal offense for non-compliance if cited and convicted
Georgia-based marinas are also affected by the new laws, which are the result of passage of House Bill 201 (HB201) in the last session of the state's General Assembly. Citing increased problems from derelict and abandoned vessels, and irresponsible boaters dumping untreated waste into the state's waterways, the legislation purportedly was crafted to address those concerns. No empirical evidence has been offered by the state to support these issues.
Charlie Waller of Isle of Hope Marina says, "Unfortunately, the bad press from this bill is overshadowing some really creative work going on right now by the Army Corps of Engineers and the Georgia DNR who are making some of the most significant improvements to the state's Intracoastal Waterway that we have seen in many years, such as dredging the channel near Jekyll Creek and other problem areas."
Discussions continue with Georgia DNR representatives who have taken the lead on evaluating comments from public hearings and submissions. While already signed into law by Governor Brian Kemp, another round of discussions may be forthcoming in the weeks ahead with industry representatives to assess the regulations and consider options for revisions.
Written comments are important to the official record and will be accepted through July 15, 2019. You are not required to be a Georgia resident. Send comments to: Kelly Hill, Coastal Resources Division, One Conservation Way, Brunswick, GA 31520. [email protected]
View location on the Waterway Guide Explorer
Provided by National Weather Service
| | |
| --- | --- |
| Humidity | % |
| Wind Speed | |
| Barometer | |
| Dewpoint | |
| Visibility | |
Deltaville, VA


Current Conditions
Change my location