News & Events for Chesapeake Bay
Zimmerman Marine Expands Into Catamaran Service
Date Posted: 2019-07-09
Source: Lisa Suhay, news editor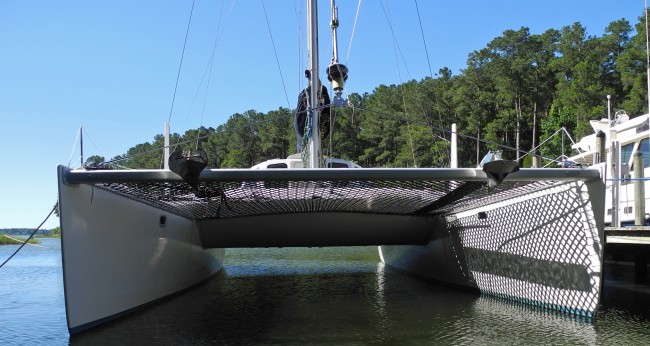 As any multihull owner knows, with the ownership of a cruising catamaran comes the responsibility of maintenance and that responsibility includes annual haul outs. Finding a boatyard or marina with the capability to lift a wide beam vessel can be a daunting task.
Generally speaking, sailing catamarans 40- to 45-foot LOA average a beam about 23 feet, with a loaded displacement of 17 tons. From 45- to 49-foot LOA, we're talking about an average of 25 feet and 18 tons. You get the big cats, 50- to 54-foot LOA, and you're looking at a beam of 26 and a half feet and 25 tons in weight.
So the picture emerges that hauling out a sailing cat is not about weight, but beam. Those in the Southern end of Mobjack Bay have not had a lot of options, until now.
Beginning mid-September 2019 Zimmerman Marine will add catamaran hauling to its list of capabilities at its Mathews, VA location on Mobjack Bay.
"Larger catamarans have limited options for places to haul out," said Steve Zimmerman. "We already have a wide ramp in place acres of available storage space and a skilled service team. Expanding into catamaran haulouts will tap into those resources."
The expansion will take place in two phases: in Mid-September the yard will add into service a new hydraulic trailer designed for catamarans.
The first phase will enable the yard to immediately haul catamarans up to 24' wide.
During the winter of 2019/2020, ZMI will reposition a dock and bulkhead, enabling the yard to haul cats up to 30' wide.
The trailer will also handle monohulls up to 100,000 lbs. and 64' long.
Zimmerman Marine, now in its 39th year, has locations in Herrington Harbor in Deale MD, Deltaville VA, Mathews VA, Southport NC, and Charleston SC.
For more information visit their website.
View location on the Waterway Guide Explorer
Provided by National Weather Service
| | |
| --- | --- |
| Humidity | % |
| Wind Speed | |
| Barometer | |
| Dewpoint | |
| Visibility | |
Deltaville, VA


Current Conditions
Change my location