News & Events for Chesapeake Bay
Georgia Anchoring Regs Frighten Boaters
Date Posted: 2019-07-02
Source: Ed Tillett, Editor-In-Chief
Editor's Note: This is part of an ongoing series of timely updates and insights on an issue critical to both cruisers and Georgia residents that is being researched and covered by Waterway Guide Editor-And-Chief, Ed Tillett. We will continue to keep readers informed via our news website, newsletter and on Facebook.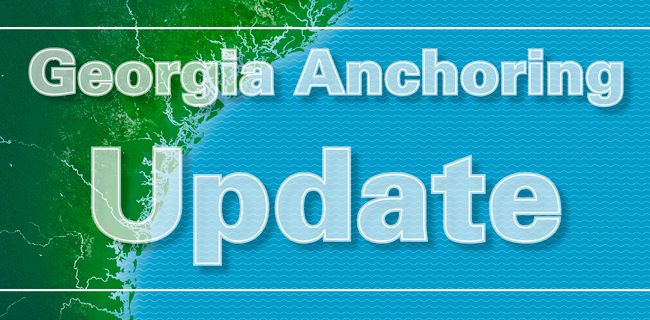 Boaters and boating organizations are expressing fear and confusion over the recent passage of House Bill 201 (HB201) by the Georgia legislature, which was signed into law on May 7, 2019, by Governor Brian Kemp.
Following on the heels of a public hearing in Brunswick, GA on June 17, 2019, social media postings and forums, letters to local news organizations and comments submitted to the Georgia Department of Natural Resources indicate that the latest law passed in Georgia is an issue that is not going away.
Many boaters and organizations are asking how the measure managed to get through the legislature given its far-reaching draconian language and requirements? As written, HB201 requires all boaters who anchor overnight to apply for a permit that must be in their possession or displayed on their vessel. Georgia DNR is now determining the cost of fees for anchoring permits. Boaters are also subject to maintaining logs of when and where they pump out their waste holding tanks. Violation of these regulations carries criminal offenses, as do all provisions of the new laws.
DNR has also been empowered to define where boats may anchor. Current regulations in place by the U.S. Coast Guard, U.S. Army Corps of Engineers and other state agencies in coastal waters normally define where vessels may not anchor. Georgia has written a law that allows the state to choose specific anchorages and prohibit all other areas.
The history of Georgia's management of derelict and abandoned boats, as well as problem vessels with persons who live in substandard conditions aboard, appears to be driving the state toward seeking solutions. Conscientious boat owners have presented their opinions in recent weeks that they are not the problem but are being penalized by the state's attempt to address an ill-defined problem. In summary, these regulations unfairly shift the burden of proof on to boaters to show no harm.
Georgia DNR says that it is attempting to ensure that coastal water quality is maintained for its growing aquaculture industry and that derelict and abandoned vessels require attention. No research or proof has been offered or presented that supports this thesis. See overview and interpretation by DNR here.
Additional concerns with Georgia's new law include its definition of "liveaboard" as a foundational concept for enforcement, undefined distances for proposed setbacks that vessels at anchor must abide by and enforcement actions that may be undertaken by DNR officers. See Background and Synopsis included in the Proposed Regulation Changes.
Some Georgia residents who spend vacations and weekends on the coast, as well as visiting boaters who transit through, say they are now wary of using the coastal waterways because of the new laws and being subject to criminal offenses.
Written comments are important to the official record and will be accepted through July 15, 2019. You are not required to be a Georgia resident. Send comments to: Kelly Hill, Coastal Resources Division, One Conservation Way, Brunswick, GA 31520. [email protected]
View location on the Waterway Guide Explorer
Provided by National Weather Service
| | |
| --- | --- |
| Humidity | % |
| Wind Speed | |
| Barometer | |
| Dewpoint | |
| Visibility | |
Deltaville, VA


Current Conditions
Change my location