News & Events for Chesapeake Bay
Sounding Cuba and the Bahamas: New Methods Yield New Data
Date Posted: 2019-05-14
Source: Waterway Explorer Magazine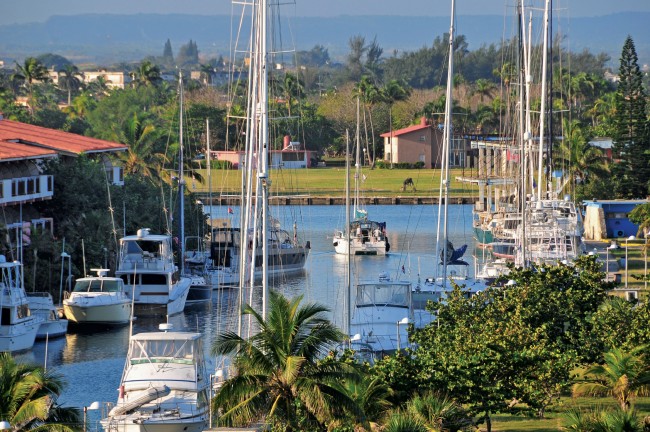 What began as discussions with Navionics about the opportunity to partner with Waterway Guide on the new Cuba publication has resulted in unprecedented comprehensive and reliable sonar readings of Cuban waters that are vitally important to cruising boats. Based on the success of the work performed in Cuba, we are next turning our focus to the Bahamas, which many of us know is subject to constantly shifting bottoms due to the shallowness of the water and the intensity of the weather.Like many other countries, the Cuban hydrographic office GeoCuba operates on limited resources.
As a result, only channels and harbors important to commercial and military shipping receive ongoing surveys and updates. Popular anchorages such as Cayo Levisa and even the venerable Marina Hemingway in Havana have not been surveyed in years despite the ravages of severe weather. There are also many remote areas that have never been mapped using modern equipment such as GPS and sonar.
While meeting with Navionics to request access to their chartlets for use in the Waterway Guide's Cubaedition, the founder of Navionics, Giuseppe Carnevali, asked if we would consider providing soundings of Cuban waters for Navionics charts.
"Why don't you make your own charts while there?" he asked. While somewhat familiar with crowdsourced bathymetry, my initial response was, "Isn't that the job of governments and large companies or other agencies that have access to satellites and survey vessels costing billions of dollars? How can a little guy like me or even my publisher, Waterway Guide Media, muster the resources to generate our own charts?"
With the pride of an inventor who has solved a problem, Giuseppe explained to me how easy it is to become a marine cartographer. In much the same way that technology put the power of a desktop computer into my smart phone, the engineers at Navionics have developed software to harness the power of a fish finder and even the lowly depth sounder on my sailboat tomap bottom contours with surprising levels of accuracy. The even better news was that I already had the needed equipment on my boat. But what about the shallows? I had visions of trying to extract my 5-foot draft sailboat off a 4-foot shoal in the interest of testing the waters for our readers. Again, Navionics offered a solution.
Read the full story and others in the Waterway Guide 2019 Explorer Magazine.
View location on the Waterway Guide Explorer
Provided by National Weather Service
| | |
| --- | --- |
| Humidity | % |
| Wind Speed | |
| Barometer | |
| Dewpoint | |
| Visibility | |
Deltaville, VA


Current Conditions
Change my location