News & Events for Chesapeake Bay
Dismal Swamp Canal to hold 16th Annual Paddle for the Border (UPDATED with VIDEO)
Date Posted: 2019-04-23
Source: Lisa Suhay, news editor
Editor's Note: Enjoy our Waterway Guide video featuring Waterway Guide Editor-In-Chief, Ed Tillett and Donna Stewart, Director Dismal Swamp Welcome Center. Visit the Waterway Guide YouTube channel for more videos on other Preferred Destinations and Editor's Choice content.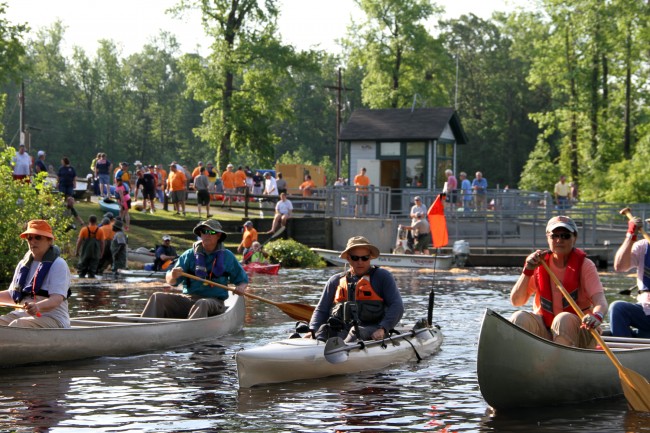 The 16th annual Paddle for the Border event will be held on Saturday, May 4th, beginning near mile marker 28 at the Dismal Swamp State Park paddle launch on the historic Dismal Swamp Canal.
The Dismal Swamp State Park will host about 375 canoes and kayaks launching at approximately 8:30 am to travel 7.5 miles North to the Ballahack Boat Ramp, in Chesapeake, VA.
This event encourages recognition of the historical waterway and its importance to our area. The Dismal Swamp State Park, City of Chesapeake Parks, Rec and Tourism, Camden County, Dismal Swamp Welcome Center, Great Dismal Swamp National Wildlife Refuge, and the USACE all collaborate to promote this shared asset between two states.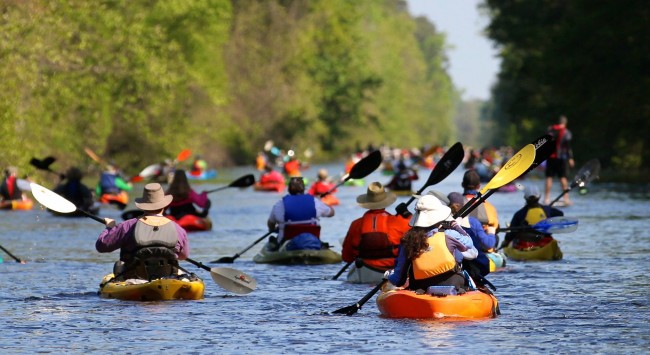 "We love our boaters and know this can be an inconvenience in their attempt to travel the waterway, but this event occurs for a few hours once a year," says Donna Stewart, Director Dismal Swamp Welcome Center . "We'd like to suggest a compromise. Our setup starts early in the morning with traffic crossing the State Park pedestrian bridge for preparations, breakfast and registration at around 6:30 am. If you are tied up at the Welcome Center dock, we invite you to join us for a light breakfast at 7:30 am and enjoy the view."
The launch will begin and paddlers will have cleared out of MM 28 location by 10:30 am, heading North. Paddlers have usually made their destination at Ballahack Road by 1:00 pm.
Pulling out early from the dock will also head you on your way, without any encounters with paddlers. If you are staying at the Welcome Center dock the evening before, staff will remind boaters of the upcoming events in the morning, to assist in with travel choices.
View location on the Waterway Guide Explorer
Provided by National Weather Service
| | |
| --- | --- |
| Humidity | % |
| Wind Speed | |
| Barometer | |
| Dewpoint | |
| Visibility | |
Deltaville, VA


Current Conditions
Change my location