News & Events for Chesapeake Bay
Waterway Guide Webinar: Everything You Need to Know about Cruising the AICW, Thursday, April 11
Date Posted: 2019-03-27
Source: Lisa Suhay, news editor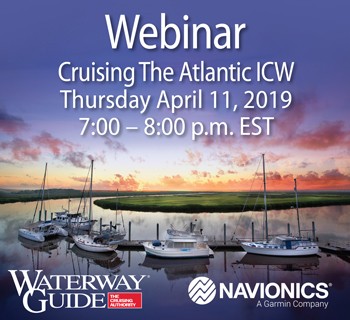 If you want to explore the ICW, but don't want to travel to get to a seminar that will fill you in on what you need to know, you won't want to miss this free, online-only experience, a webinar exploring America's Intracoastal Waterway. It takes place this Thursday, April 11, from 7-8 p.m.
The ICW is one of the world's best-kept secrets - 3,000 miles of nautical enchantment. Join our experts to plan your cruise, charter or weekend getaway. In this free web-based webinar we'll show you what to expect, how to prepare, navigation advice and our favorite spots along the way. Ed Tillett, Jessica Grimm and Bob Sherer (Bob423) are your hosts.
This session will also cover advice for preparing your home for long absences, mast height and draft considerations, as well as pro tips on mobile navigation apps.
The event is hosted by Navionics' Jessica Anderson who is a Sailing Specialist with Navionics. Sailing Florida, the Bahamas and the Caribbean for over 10 years, Jessica, her husband and her yellow lab lived on their sailboat for a year in the Bahamas and Caribbean. Now with a one-year-old baby boy, they look forward to sailing the world with him too.
Ed Tillett is the GM / Editor-in-Chief of Waterway Guide Media. Sailor, fisherman, author and multimedia producer, his career spans 40 years of broadcast, instructional design and publishing. Owner of a classic 1947 yacht, he and his wife Anne live in eastern Virginia along the Rappahannock River.
Bob & Ann Sherer are Authors, navigators and sailors. Bob & Ann spend six months every year transiting the Atlantic ICW from NY to Key West. Recognized for his contributions to multiple navigation apps and Waterway Guide, "Bob423" maintains a watchful eye on the conditions of the ICW and publishes his observations across multiple platforms.
This webinar will also feature Waterway Guide Preferred Destinations, favorite towns along both the AICW and GIWW.
The webinar will cover:
The AICW (ICW, AIWW or the "Ditch") Defined
Preparation for Cruising
Route Planning and Weather
Provisioning
Destinations
Anchorages
Favorite Stops
Navigation Charts (Types and How Current)
Tips
We will conduct three drawings during the webinar for a new 2019 Atlantic ICW Waterway Guide, a Southern edition and a SmartPlug inlet and connector. Winners will be selected from registered attendees.
As always, space is limited. Click here to sign up.
Provided by National Weather Service
| | |
| --- | --- |
| Humidity | % |
| Wind Speed | |
| Barometer | |
| Dewpoint | |
| Visibility | |
Deltaville, VA


Current Conditions
Change my location