News & Events for Chesapeake Bay
Getting started ice fishing
Date Posted: 2019-02-05
Source: Grand Island Independent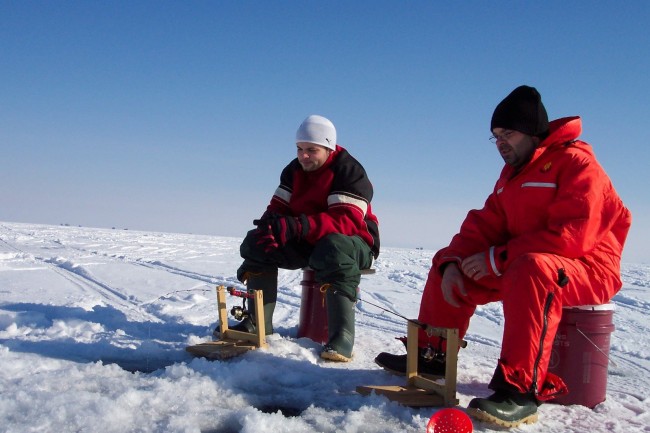 During the winter months, many anglers' thoughts turn to ice fishing.
On January 19, I had the opportunity to attend an ice fishing clinic hosted by the Nebraska Fish and Game Association (NEFGA) and the Nebraska Game and Parks Commission (NGPC) at Yanney Park in Kearney. This was an indoor classroom session. An outdoor ice fishing clinic was also scheduled for the following day at Fort Kearney SRA, but that event was cancelled due to thin ice.
The Nebraska Fish and Game Association is a 501c non-profit that's dedicated to promoting hunting and fishing in Nebraska. NEFGA has placed several fishing line recycling bins at public waters across the state, and the group also has an informative online forum at nefga.org.
The clinic rightly began with a discussion of ice fishing safety. Daryl Bauer, Fisheries Outreach Program Manager for the NGPC, said, "The most important safety tool is a spud bar." This long metal bar can be used as an ice chisel to punch holes through the ice to check thickness and also as a walking stick to prevent slips and falls on the ice.
Bauer said four inches of ice is preferable, and Larry Pape, also with the NGPC's fisheries division, was quick to add that six inches is even better.
Read the full story.
Provided by National Weather Service
| | |
| --- | --- |
| Humidity | % |
| Wind Speed | |
| Barometer | |
| Dewpoint | |
| Visibility | |
Deltaville, VA


Current Conditions
Change my location