News & Events for Chesapeake Bay
6 Different Modes: Waterway Explorer introduces latest update
Date Posted: 2018-12-04
Source: Lisa Suhay, News Editor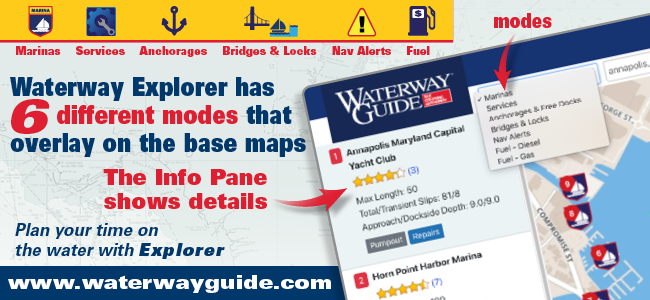 Welcome to the sleek, super-efficient, updated Waterway Guide Explorer. Our team has kept all the extraordinary features and one-stop-information attributes while making the navigation even faster and easier.
This is where boaters find the most current information on Navigation Alerts, Anchorages, Marinas, Fuel Prices, Bridges and Locks. Explorer as currently designed does not require users to sign in or purchase a subscription.
Explorer is home to our vast, in-depth crowd-sourced ratings and reviews of services and destinations that cater to boaters. Waterway Guide verifies the content we collect using our internal team of experts and network of users and stakeholders. Only then do we publish the most accurate and relevant content.
"Because this content is validated and posted by editors and staff, noise and guess-work associated with irrelevant and inaccurate content is alleviated," says Waterway Editor-in-Chief and G.M, Ed Tillett. "News, reviews and other features in the Explorer provide a comprehensive source of information for boaters across the regions we cover."
As remarkable as Explorer is, our team still found ways to streamline and improve the functionality and presentation with them on November 29, 2018 update release.
Updates Include:
· Combined city/state and icon search boxes in the redesigned upper navigation bar.
· Guide edition "breadcrumbs" now located in the top navigation bar.
· Updated InfoPane on the left and rollover popup designs.
· All Explorer map tools now located in the bottom left of the map.
· Measuring tool now turns off all icons for easier route drawing (turn measuring tool off to get icons to reappear).
· "Off-mode" gray icons are now smaller with a colored outline.
As always, the Explorer provides captains and skippers a simplified environment for planning their trips by providing content that is valuable and checked for accuracy. Navigation Alerts, Anchorages, Marinas, Fuel Prices, Bridges and Locks are the primary categories of information presented. Waterway Guide is America's most trusted source of information in the regions covered based on over 70 years of assembling, verifying and publishing guidebooks and digital content for America's waterways.
Provided by National Weather Service
| | |
| --- | --- |
| Humidity | % |
| Wind Speed | |
| Barometer | |
| Dewpoint | |
| Visibility | |
Deltaville, VA


Current Conditions
Change my location