News & Events for Chesapeake Bay
Waterway Guide rolls out our new Southern 2019 edition
Date Posted: 2018-12-04
Source: Lisa Suhay, New Editor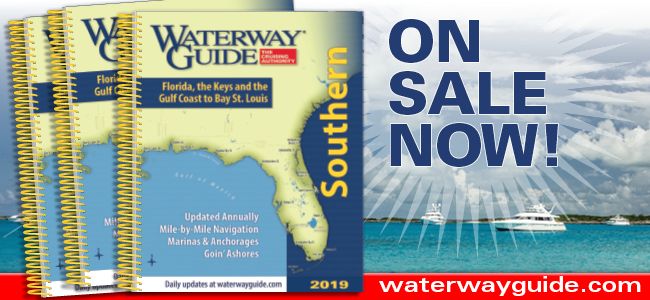 Waterway Guide rolled out our new Southern 2019 edition just in time for cold weather cruising adventures.
Updated annually, the Waterway Guide Southern edition is the indispensable cruising companion for boaters exploring the Intracoastal Waterway from Norfolk, VA to the Florida border.
Using the Southern edition in conjunction with Waterway Guide Explorer's Preferred Destination icons on our website boaters get a rich, 360-degree, experience as they travel.
Changes include:
·

More updated Navionics chartlets than ever before
·

Expanded Skipper's Handbook
·

Updated Marinas & Anchorages
·

Exclusive, insider, "Goin' Ashore" articles
·

Two-Page Planning Maps
·

New Customs & Immigration Procedures
Updated Bahama Crossing Advice
·

Streamlined Content Covering Florida, Alabama & Mississippi
The guide features mile-by-mile navigation information, aerial photography with marked routes, marina listings and locator charts, anchorage information, and expanded "Goin' Ashore" articles on ports along the way. Helpful cruising data like GPS waypoints, detailed planning maps, distance charts and bridge tables help get cruisers there safely.
Flexible spiral binding and heavy laminated covers with bookmarker flaps ensure durability and easy use in the cockpit and at the helm.
Some of our other new guidebooks, now in stock, include: Bahamas, Chesapeake Bay and Atlantic ICW.
If you have been thinking about upgrading or are looking for the perfect holiday gift for the boater in your family, this is a great time to do it!
Spiral Cover, 8.5 x 10.5, 588pp
ISBN# 978-0-9985863-7-3
Download electronic versions of NOAA's charts to use along with this guide from NOAA's interactive catalog.
Provided by National Weather Service
| | |
| --- | --- |
| Humidity | % |
| Wind Speed | |
| Barometer | |
| Dewpoint | |
| Visibility | |
Deltaville, VA


Current Conditions
Change my location