News & Events for Chesapeake Bay
Waterway Guide's Annual Gadgets, Gizmos & Gear Gift Giving Guide (Updated December 5)
Date Posted: 2018-11-20
Source: Lisa Suhay, News Editor
It's the most wonderful time of the year because the Waterway Guide Gadgets, Gizmos and Gear Guide is here to help boaters get the best holiday gifts.
We start off with some new additions and then take a deeper dive with several reviews provided by Waterway Guide Editor-in-Chief, Ed Tillett who gives reviews of Pretty Rugged Boat Blankets, Smartplugs and Sizzle and Swing from Erin Dickins. After that there is a raft of items selected by Waterway Guide News Editor Lisa Suhay ranging from the sublime to the stocking stuffer with something in every price range.
It's Reel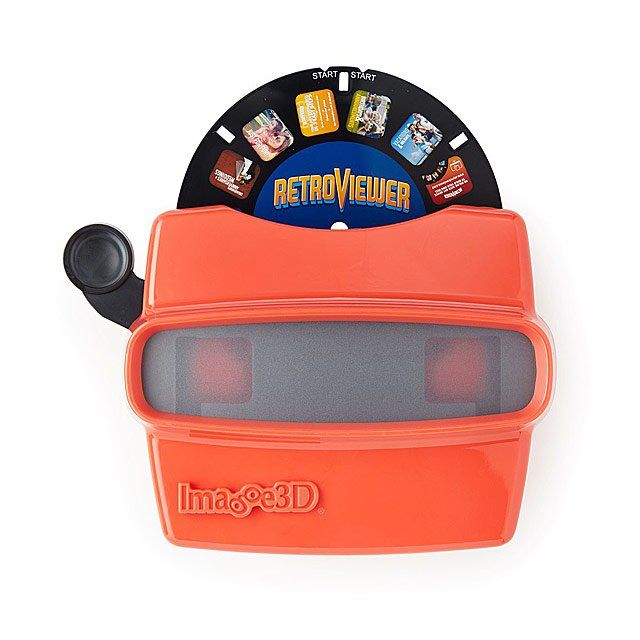 Create Your Own Reel Viewer
Remember these? Now think of all the images of your favorite times on the water and put them together for a truly unique gift idea. Cherish days gone by with this grown-up version of one of childhood's greatest gadgets.
Assemble snapshots of your favorite waterway memories and add them to your very own reel using the redemption code included with your viewer. Once you receive your made-to-order reel, pop it in the viewer and marvel at baby's first steps, or your favorite beach at sunset, or... well, whatever else you want immortalized. Remember: You're the view master now. Made in Oregon.
$ 29.95
Latitude & Longitude Personalized Wood Sign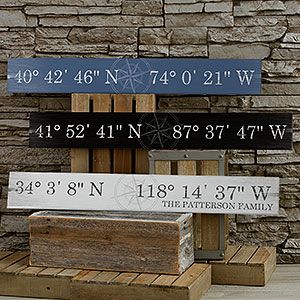 Here's the perfect home decor piece for any room in your home. Personalize the sign with the Latitude and Longitude Coordinates of your home or any special place. Add the name of the location or any other optional text in the bottom corner of the sign. Select from 5 distressed pattern color options, sure to coordinate with any home decor.

Use this website to find your coordinates: http://www.latlong.net and copy and paste the GPS coordinates into the personalization fields
$22.99
Nautical Gift Baskets
Exclusively at The New England Trading Company is a line of gift baskets made from authentic nautical rope and filled to the brim with delicious New England food specialties.
A crew favorite is the genuine Lobster Rope Basket handwoven in Maine from our Wicked Good Baskets line, filled with delicious gourmet Maine munchies. We've filled this basket with an assortment of mouth-watering Salt Water Taffy from Maine's 100-year old confectioner, Haven's Candies. Plus, enjoy "Lobster Eggs" sugared nuts and "Moose Nuts" butter toffee cashews snack bags. There's milk chocolate "Shore Rocks" and, of course, Maine's official state fruit is represented with delicious 12 oz. jar of Blueberry Syrup from Bar Harbor along with juicy blueberries packed in light syrup from Bar Harbor Jam Company. Give the best of Maine this year, all beautifully presented in a reusable Lobster Rope Basket handwoven in Maine from the colorful nautical rope used by fishermen.
Basket size is approximately 11 x 6.
Prices vary. $70 & up.
Columbia PFG Dorado Shoes

No Guts. No Glory. Keeping your shoes from being gory is a major task for boaters who enjoy fishing. Here's a solution from Columbia that's both stylish and functional.
Columbia's PFG Dorado shoes are the most technical fishing shoes the company has developed. Features include quick-drying material, speed lacing and a plush insole. The uppers are finished with Blood 'n Guts water- and stain-resistant technology, and the outsole features Omni-Grip non-marking, wet-grip technology, including razor striping for traction on wet decks.
These are super-plush and quick-drying. This shoe is built for the life aquatic with a breathable mesh upper, superior midsole cushioning, and wet grip traction. Advanced water-and-stain repellency helps ensure a clean look whether you're dockside or downtown.
$70
SENTRY Boat Fenders
SENTRY Fenders are an innovative boat bumper solution that quickly attaches to boat cleats and docks. Unlike traditional fenders, they offer protection both above and below the rub rail. Available in 4 colors that complement your boat.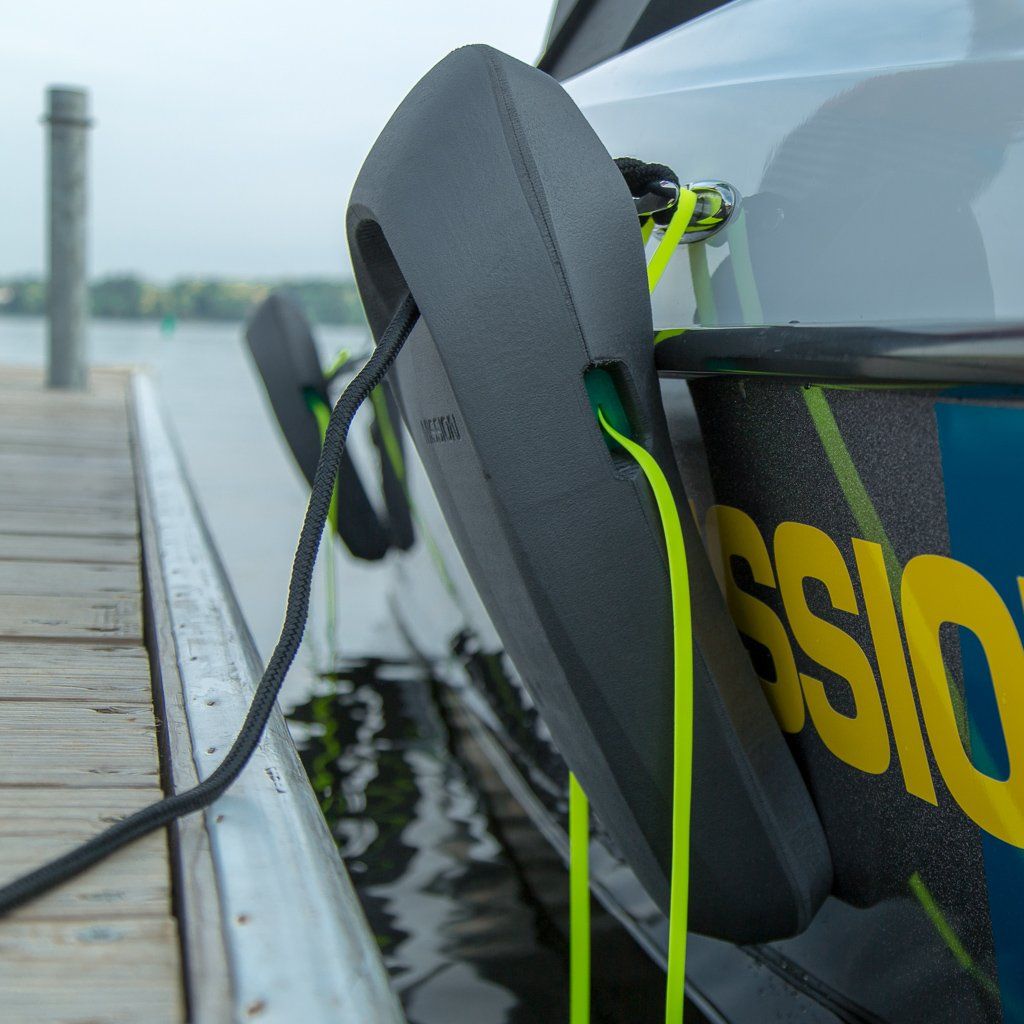 WARNING: These are not designed for long-term use to be left dockside, but are for dock-hopping and raft-ups.
$ 64.00
Ed Tillett's Top Three Recommendations
Pretty Rugged Boat Blankets

I met two dynamos at the Annapolis Boat Show this year, Tracy Slocum and Sheila Mendleson, and now the aft deck of the Waterway Guide flagship ADONIA is complete. I came across them at their display and left with two new Pretty Rugged blankets. The blankets are amazing. My aft deck isn't heated, so I've now extended the boating season wrapped in them as we enjoy coffee, cognac or cigars looking across Urbanna harbor on the chilly days of autumn.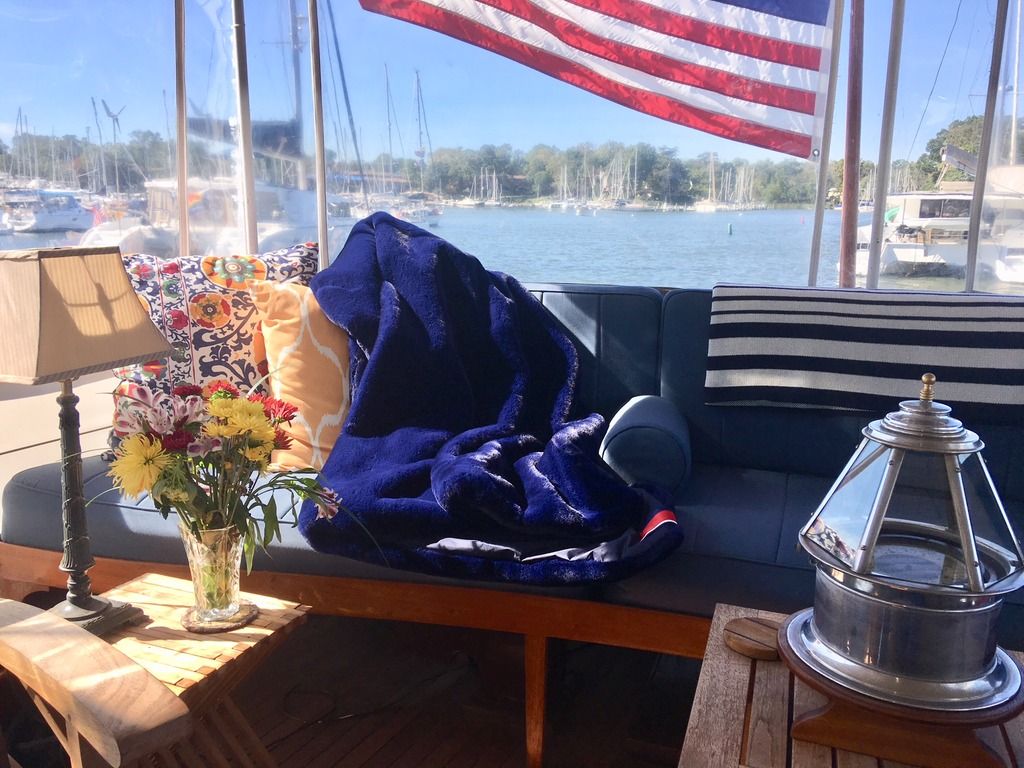 These blanket designs are extremely luxurious and weatherproof. All or our guests on board fall in love with them. They are heavy, warm and designed with a faux fur side and a ruggedtex backing that is windproof and waterproof.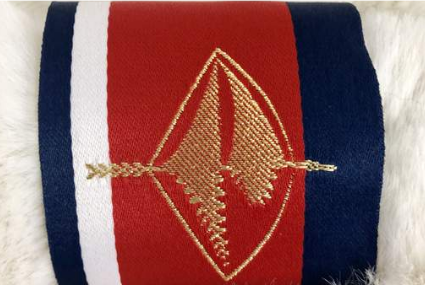 Tracy Slocum is founder and President, with extensive experience in design, manufacturing and retail.
Her company is a Certified Women-Owned Business Enterprise. Note that her last name is the same as
the first man to sail solo around the world in 1898. Joshua was her great-great-great grandfather.
The Pretty Rugged Luxe Original Blanket won best in market at NY NOW in 2018 and the Pretty Rugged Luxe Pet Blanket was awarded one of Oprah's Favorite Things 2018 - both within the first year of being in business.
Sheila Mendleson is Executive Vice President. Her keen interest in marketing and public relations has helped catapult the company. Her passions include boating, fishing, college basketball and spending quality time with family.
Visit their website for more details.
SmartPlug For Your Boat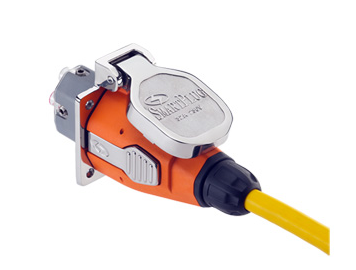 I've wanted a SmartPlug system for the Waterway Guide flagship for the past three years. And now it's
done. Walking the Annapolis Boat Show this year I came across their exhibit and made the move. The
design is so simple, effective and easy to install.
Weary of pushing and turning a 50-amp cable connector into the side of my vessel, worrying about whether it was locked, scraping my knuckles on the hinge of the inlet, and attempting to get the locking ring started on the threads made me detest the chore every time I moved the boat.
SmartPlug is a delightful solution. Push it in, drop the inlet cap onto the cable to lock it into place and
energize your breakers.
Installation of the inlets is simple and straightforward. I was in such a hurry to get mine installed, a couple of us did it from our tender while docked in Annapolis during the boat show. The sizing and wire connections are standard. And your existing cables can be retrofitted if you don't want to purchase new SmartPlug cables. My cables are old, so I opted for new ones. The SmartPlug cable sets are tinned throughout, easy to handle and very supple.
These affordable and safe alternatives to the twist-type shore power system are a must-have for Marine, RV and specialty applications. A great holiday gift.
Visit their website here.
Sizzle and Swing from Erin Dickins
Cooking on boats is one of those tasks that you either love or tolerate out of necessity. For many of us, it's as much a celebration of our on-the-water adventures as sundowners on the hook, navigating to new ports and discovering friends we haven't met before. Dining on boats is one of life's extraordinary pleasures whether you're the cook or a guest.
What makes Erin's blends and packaging so special for boaters is that she knows the confines of galleys and challenges of provisioning.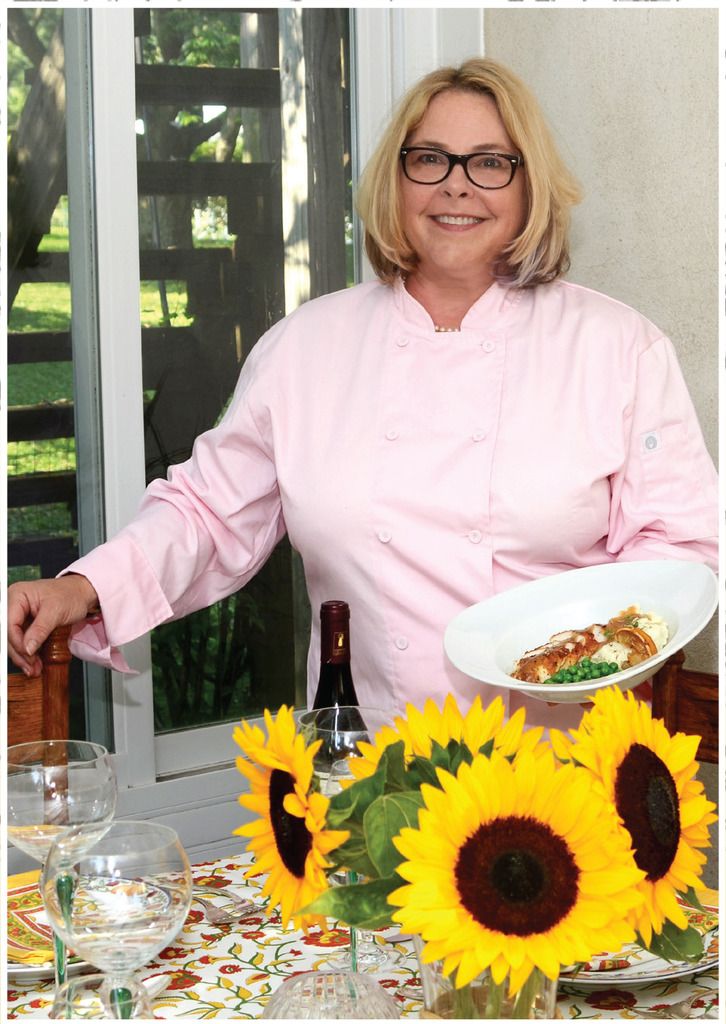 She's a world traveler and has spent enough time underway to appreciate the nuances of cooking aboard, keeping food dry and fresh and relieving monotony. Sizzle & Swing herbal seasonings are blended perfectly to achieve multiple layers of flavors by simply sprinkling whatever you prepare with what you might be feeling that day.
Over the past year I've tested many of Erin's blends on everything from blue cheese and walnut-stuffed beef tenderloin to sautéed shrimp over stone ground grits to scallops seared on a salt block. The Ragin' Cajun blend seems to be getting a lot of play in my galley and home kitchen. Meyer Lemon and Basil, Chili Lime and Cilantro, Amazing Glaze and Beyond the Sea are also on the counter top and find their way into many of my productions, as my wife likes to call them.

Improvisation in the kitchen and blending of spices come naturally to Erin. As an acclaimed jazz vocalist and one of the founding members of The Manhattan Transfer, she has spent much of her professional life working in ensemble to produce music and bring together different players and influences to entertain and dazzle.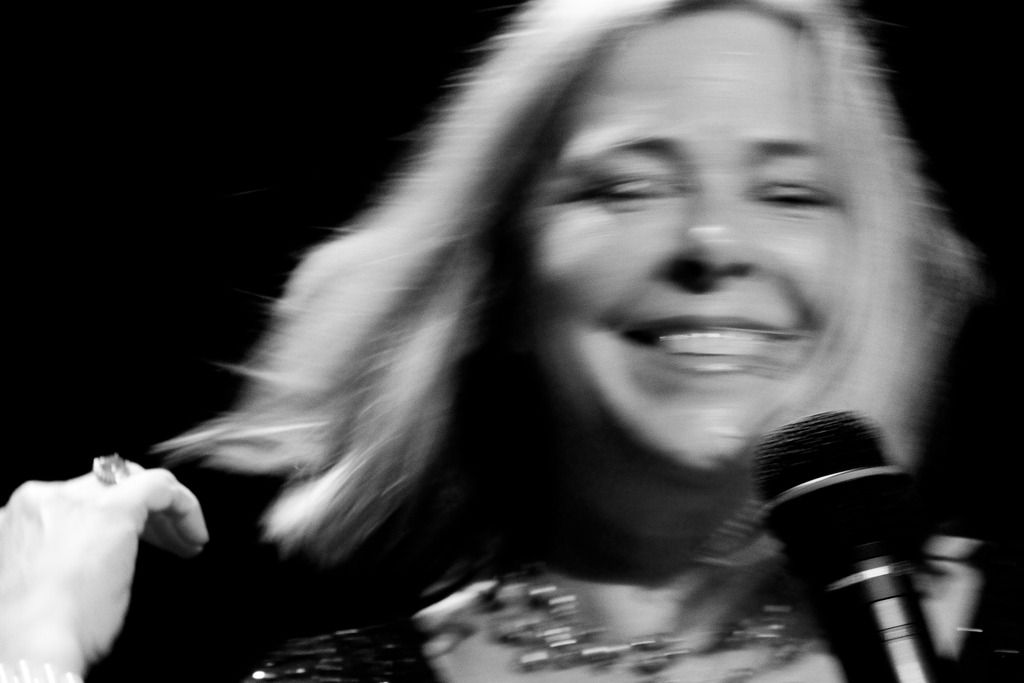 Sizzle & Swing is an extension of Erin's appetite for creating joy. Listening to one of her companion CDs while prepping and cooking, selecting the right spices and presenting a meal to guests is a most delightful way to spend an evening on the boat whether you're grilling on the rail or snug below.
Visit her website here.
Gadgets, Gizmos & Gear
FIXCLIP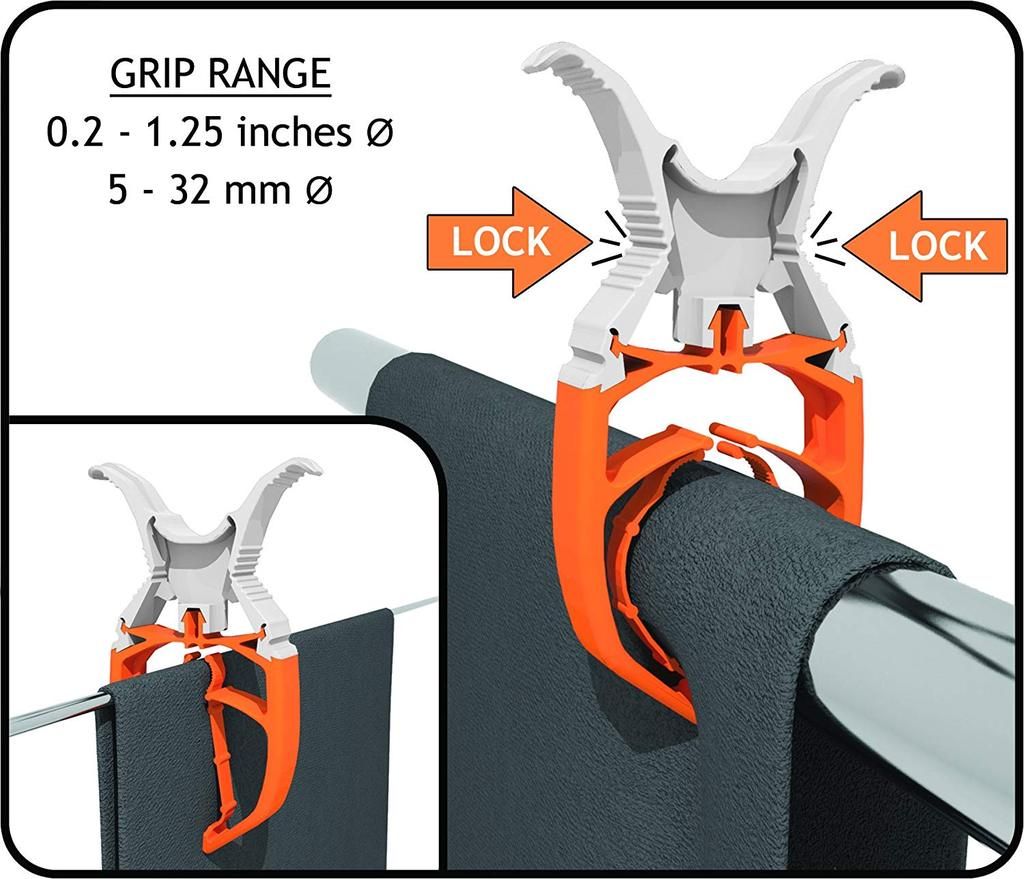 This is a Storm Proof & Lockable Clothespin - Keeps Your Towels Aboard - for Boats - Bowrails - Lifelines - Beach Chair - RVs - Caravans Tents - Tarps - Covers - Camping - Strollers - 6-Pack
STORM-PROOF - Holds beach towels in over 70 knots wind. Never lose your towels again from your boat or beach lounger. Watch the demo video.
UV-RESISTANT & DURABLE HI-TECH PLASTICS - No metal springs no rust. Will last 30 times longer then regular clothes pins.
ONE SIZE FITS ALL - Broad use for clipping towels - clothes - tarps - covers, carpets - wet suits and tents while Boating - Camping - RV - On strollers - Balcony - Hangers for airing - Gardening - Sun chairs - Canopies.
$19.99 for package of six. Find it on Amazon.
Man Overboard Tracker
We just got our Sea-tags wristband and it is impressive. There is a waterproof removable bluetooth tracker on the backside that detects your location by using the Sea-tags app – when the wristband is immersed in water a paired phone sounds an alert and a tracking map is displayed to help navigate back to the wristband wearer. In our testing this system is simple, smartly designed and works well to protect your crew (or pet) from man overboard situations.
About $80 Find it at Seatags.
The Roxant Grip Scope
The Roxant 6×30 Grip Scope "wide view" monocular is both a practical and fun tool out on the water. In the first 2 minutes of use, we spotted 2 dolphins from roughly 2000 feet away. It is weather resistant (not waterproof), has a grippy coating and feels slightly weighty in the hand. Fully multi-coated glass lens with BAK4 green film prism for clear, crisp viewing. Wearers of glasses or sunglasses will appreciate the retractable eyepiece. We love the crisp, wide field of view and ease of use.
$39.95. Find it on Amazon.
The Wine Glass for Boaters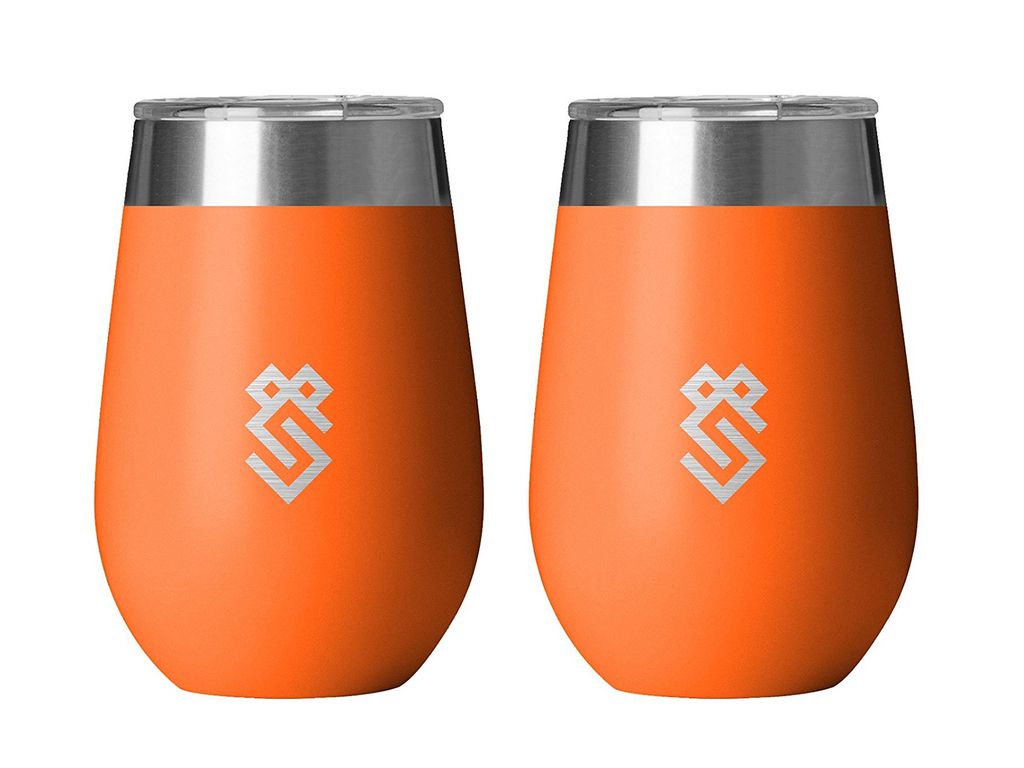 Summit Insulated Wine Glasses keep your wine cold out on the boat – or anywhere. Unbreakable stemless 18/8 stainless steel, stylish, colorful with awesome leakproof lids included. Surprise, these are actually light weight, not bulky, and the BPA-free lids are comfortable for sipping and they keep bugs and bees out too. Hint: we prefer the larger 12 ounce size. Sold in packs of two. A great gift for the boater in your life (but you'll want to keep them for yourself.)
$39.99 Find it on Amazon.
Books
Pigs in Paradise
Staniel Cay is a Waterway Guide Preferred Destination for many great reasons, not the least of which are the swimming pigs. In the middle of paradise, with billionaires and celebrities for neighbors, is an island populated only by swimming pigs. For decades, this archipelago of 365 islands would remain largely unknown to the world. It would not be a ruthless pirate, pioneering loyalists, a notorious drug kingpin, or the infamous Fyre Festival that would unveil Exuma to the world, but rather the most unlikely of creatures. Appearing in magazines, videos, newspapers, commercials, TV shows, and countless selfies, the Swimming Pigs of Exuma, in the Bahamas, have become a bucket-list sensation and have been named one of the marvels of the universe.
But how did they reach this celebrity status? What made them so famous? And why, in February 2017, did so many of them die?
Pigs of Paradise is an unlikely story of humble beginnings and a swift rise to stardom. With interviews from historians, world-renowned ecologists, famous pig owners, and boat captains, it thoughtfully considers what this phenomenon says about not only these animals but also about us.
$12.32 Find it on Amazon.
Atlas of the Remote Islands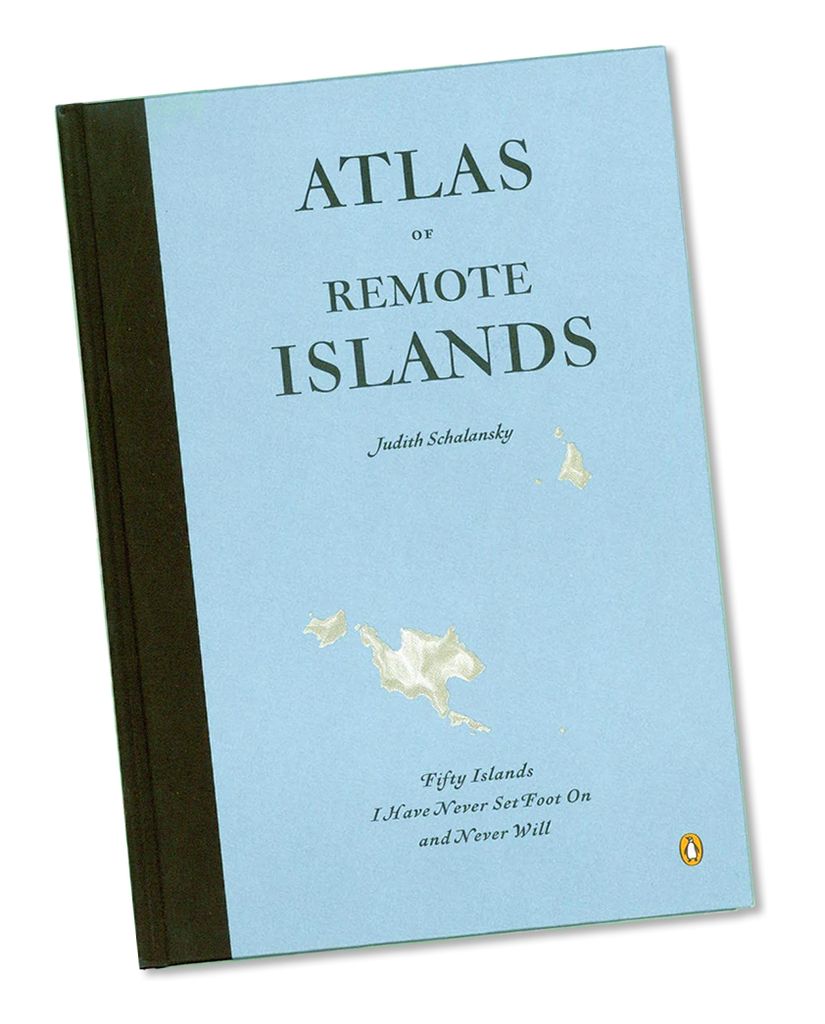 The book Atlas of Remote Islands is visually stunning and an adventurous discovery of information and history. Open it and uncover the mystery of fifty islands that are both remote and unique – chances are you won't find these islands in a brochure or as a vacation spot. The author uses historic events and scientific reports to highlight the wonders of each island, locations span from Arctic, Atlantic, Indian, Pacific, and Antarctic Oceans.
"If you ever wonder what kind of place 'real' books will have in an increasingly electronic world, the Atlas of Remote Islands is the perfect example of the power wielded by a physical artifact. This book is a rare gem. It's like your favourite children's fantasy book come to life… it's a little like Lost, and it is like traveling to the moon." -Writer's Pet blog
144 pages, full color maps, bound in black cloth and sea-blue card.
$23 Find it on Amazon.
Three Bears in a Boat by David Soman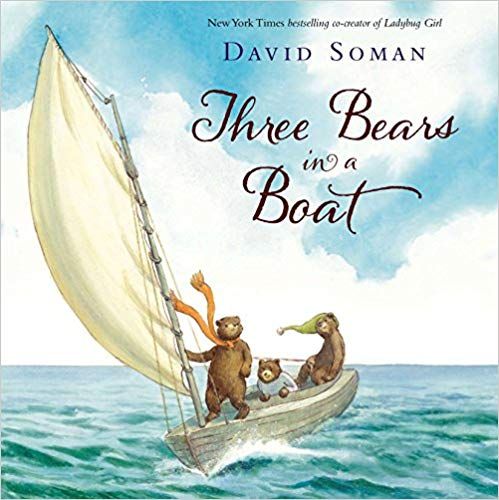 Three bear siblings break their mother's favorite blue seashell, and rather than tell her, they decide to set out in their sailboat to find her a new one. On their quest they encounter salty sailors, strange new islands, huge whales, and vast seas but no blue seashells. When a treacherous storm suddenly blows in, the three bears find themselves tossed about in their little boat, far from Mama. What will become of their search, and what will it take to bring them safely home?
$14.99 Hardcover. Find it on Amazon.
Waterway Guides
If you have been thinking about upgrading or are looking for the perfect holiday gift for the boater in your family, this is a great time to do it!
Our new 2019 guidebooks are now in stock, including: Chesapeake Bay, Atlantic ICW, Southern, and Bahamas.
Stocking Stuffers
MagBand Magnetic Wristband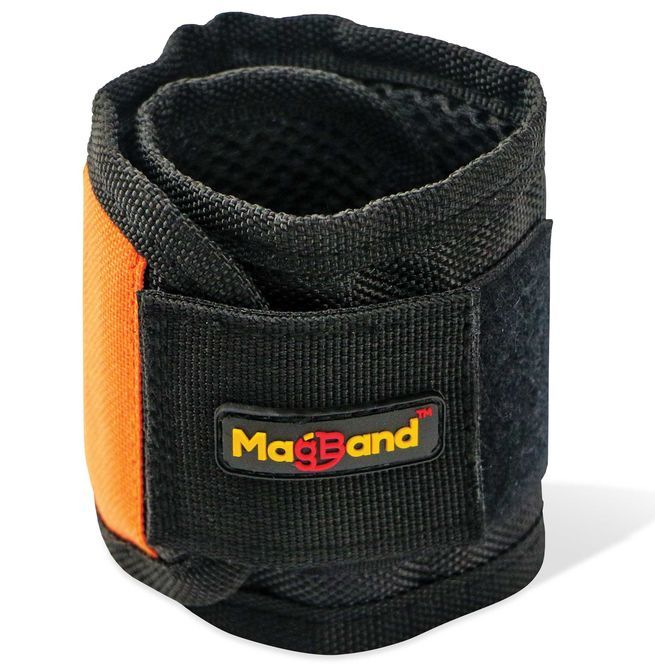 When working on boats, dropping drill bits and other tool parts into the bilge or some hard-to-reach place is always a risk. Keep them attached to you by wearing this Mag-Band magnetic wristband while you work.
$12.99; amazon.com
Rite in the Rain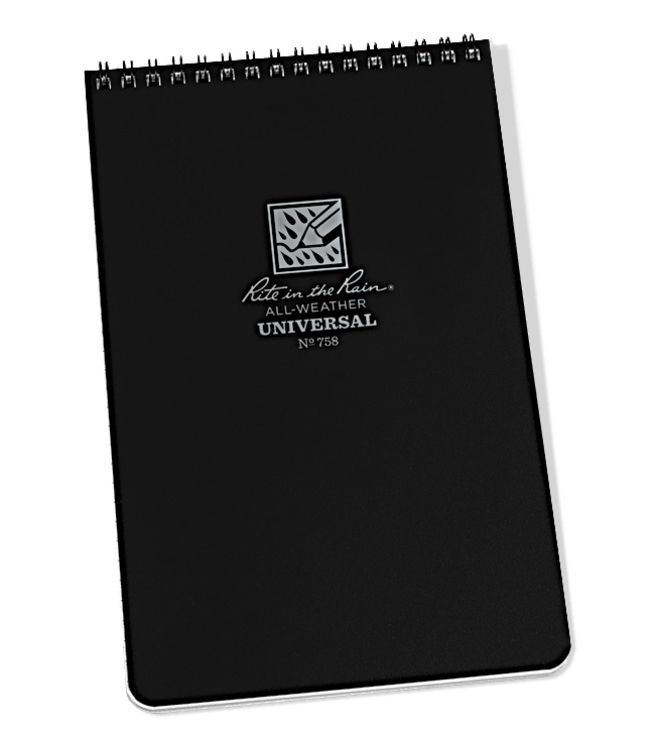 Virtually everything this company makes – from pens to notebooks, sketch pads and even golf notebooks - is on the Nice List. This company has been making waterproof paper and writing tools that write in the rain and don't run since 1916. See their video.
See the company website for holiday deals.
Lead Masters Stretch Finger Tape Wrap
The gift that keeps on giving your fingers a break from the millions of tiny cuts and abrasions that come with the territory of boating, fishing and maintenance.
Protect your fingertips from line cuts or any other kind of abrasion while fishing or doing general boating maintenance.
$3.29; lpfishingsupply.com
Keychains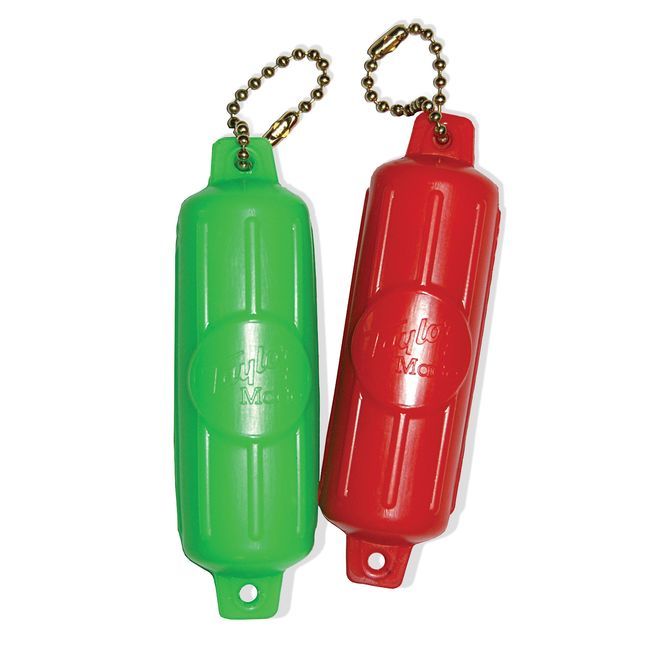 Taylor Made Port and Starboard Mini Keychain Floats by the Taylor Made Group. Red, right, return? Keep track of port and starboard with these keychain floats.
$14.99; taylormadeproducts.com
BENETECH LCD Digital Wind Speed Scale Gauge Anemometer
This Air Flow Meter by LuckyStone is a pocket pal that belongs on the affordable gadgets list.
Range: 0 - 30m/s, 0 - 90km/h, 0 - 5860ft/min, 0 - 65mph, 0 - 55Knots
Resolution: 0.1m/s, 0.3km/h, 19ft/min, 0.2mph, 0.2Knots
Threshold: 0.1m/s, 0.3km/h, 39ft/min, 0.2mph, 0.1Knots
Range: -10°C ~ +45°C, 14°F~ 113°F
Operating Humidity: Less than or equal to 90% RH
$16.99 Find it on Amazon.
Stop Seasickness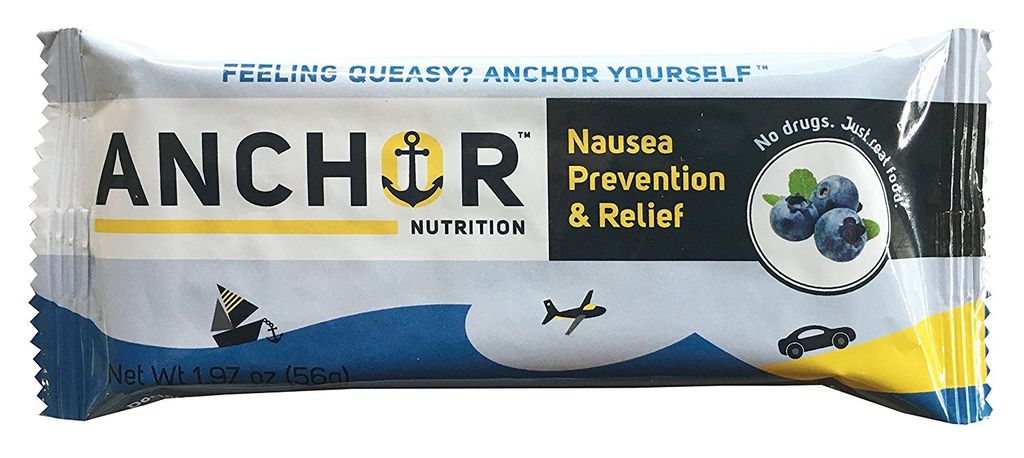 These little Anchor Bars really work, almost like magic. We bought a few and now store them on the boat (just in case). They are proven to work for 7 out of 10 people, contain no drugs and last over 3 hours. They even taste good!
3 for $11.99 Find them on Amazon.
Now that your gifts won't be Ho Ho Ho-Hum, we at Waterway Guide wish you a happy and safe start to the holiday season.
Provided by National Weather Service
| | |
| --- | --- |
| Humidity | % |
| Wind Speed | |
| Barometer | |
| Dewpoint | |
| Visibility | |
Deltaville, VA


Current Conditions
Change my location