News & Events for Chesapeake Bay
Restaurant Owners return to devastation bringing hope and free burgers (UPDATED 7:35 p.m. 9/18)
Date Posted: 2018-09-18
Source: Lisa Suhay, Waterway Guide news editor
"When I was a boy and I would see scary things in the news, my mother would say to me, "Look for the helpers. You will always find people who are helping." - Fred Rogers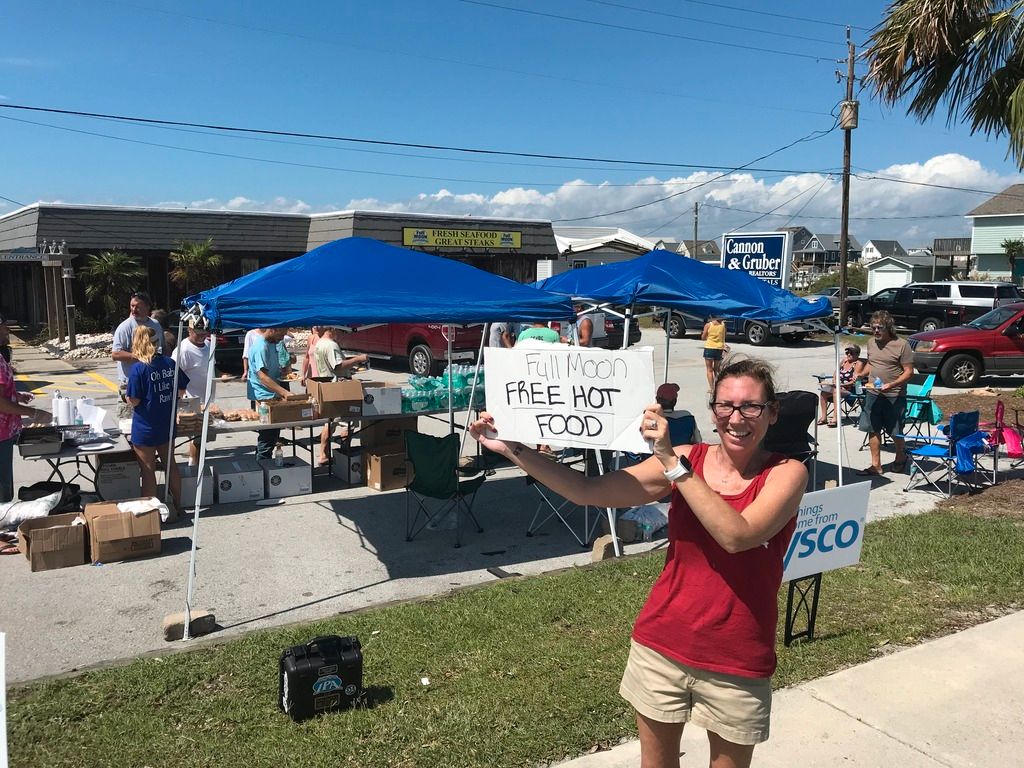 A stalwart band of North Carolinians, neighbors and boaters, rode out a direct hit from Hurricane Florence in Beaufort, N.C. In the aftermath, when gas for generators became scarce, in rode the cavalry with a refrigerated van and catering grill to feed the exhausted masses.
Carol and Randy Russel, owners of the Full Moon Oyster Bar and Seafood Kitchen were among those who followed the mandatory evacuation order on the very weekend their new location was supposed to have its Grand Opening in Atlantic Beach, N.C.

"We opened two months ago for tourists, but this was supposed to be the weekend when we got to know all the locals," says Laura Lynde, whose husband Travis Lynd is the General manager and Co-Owner. "We're sad Florence had to happen, but we are very glad that we have this chance to help serve our community."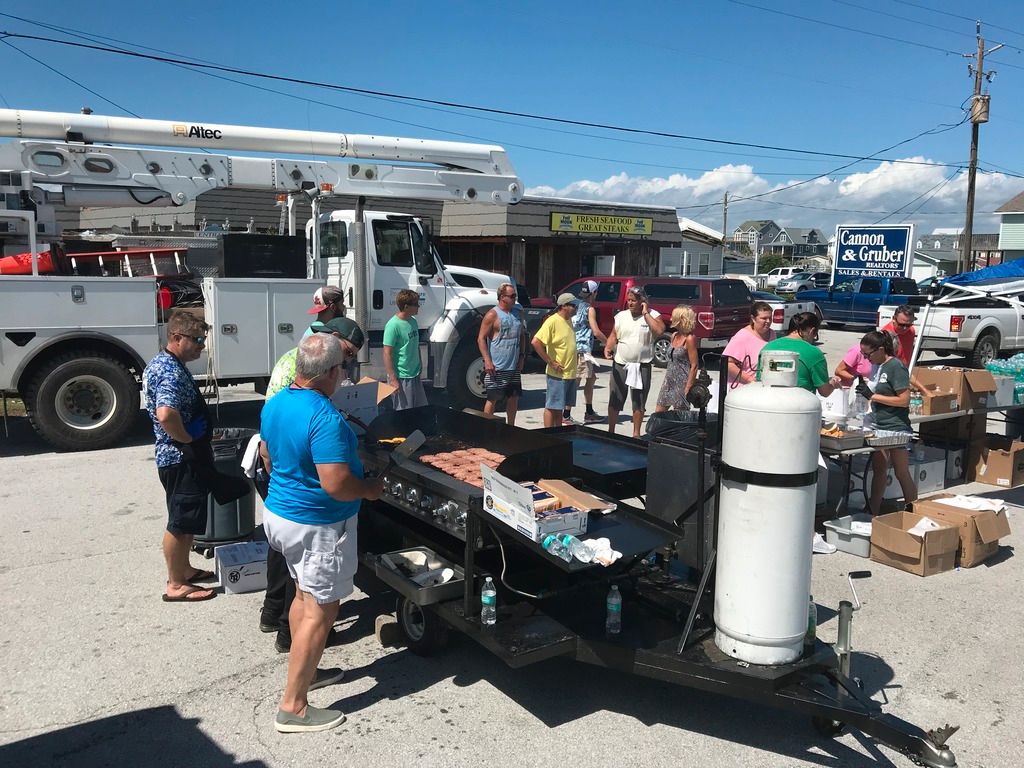 The Full Moon Oyster Bar is a popular watering hole and seafood restaurant located on Moonlight Bay in Atlantic Beach as well as in Clemmons, Southern Pines, Morrisville, Jamestown and Concord North Carolina. The Atlantic Beach location has boat slips where cruisers and day trippers alike can pull up for a cold beer and hot food at the dockside restaurant.

On Monday night they returned to Atlantic Beach to feed residents and all of the local First Responders. They won't be able to enter the waterlogged restaurant until after the insurance adjuster comes later in the week. According to Travis Lynd, the damage appears to be confined to replacing flooring in the dining area and "a whole lot of cleanup."

"Randy brought 3000 burgers and 2000 hot dogs and set up in front of his destroyed restaurant in Atlantic Beach," said a jubilant Gunnar Stumpe, who had ridden out the storm in order to look after his neighbors' boats and homes in addition to his own. "He's giving out free food and water until he runs. Thanks to the participation of SYSCO in Raleigh who provided the food!"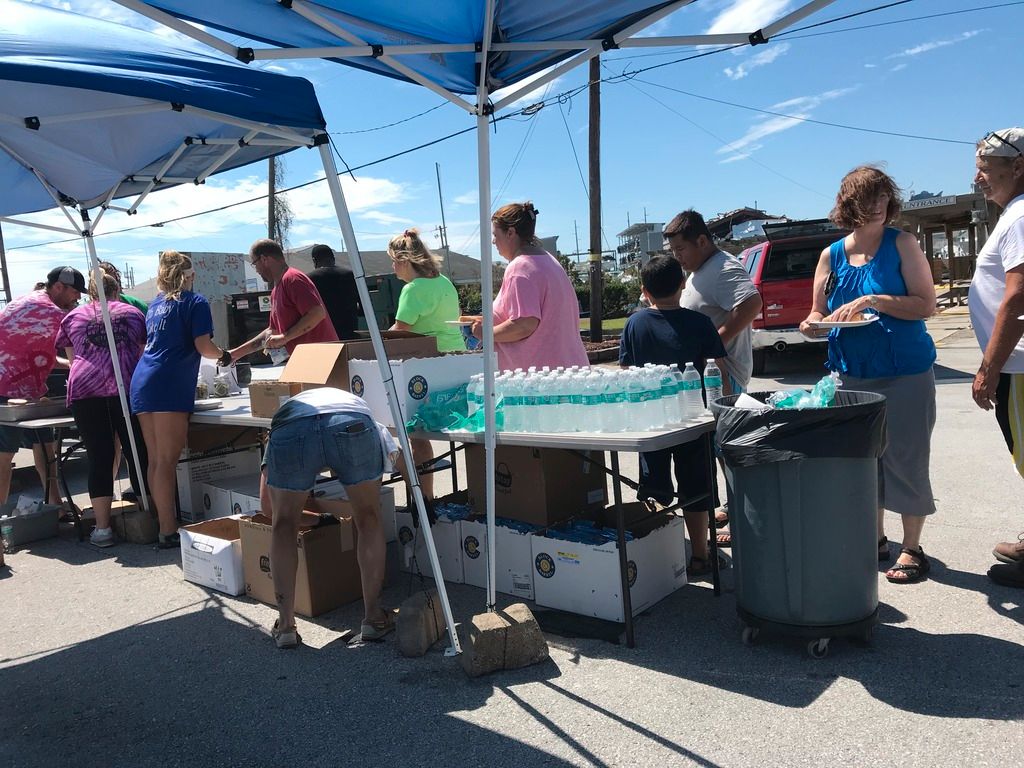 Travis Lynde adds, "SYSCO are the real heroes here. Once they heard our idea to bring in the catering trucks they had us go to the Selma warehouse where they just welcomed us with open arms and LOADED us up with burgers, hotdogs, buns, chips, cheese and a mountain of water bottles."
Stumpe adds, "This is happening all over down here, churches, neighborhoods, businesses - just an amazing experience during our recovery. Haven't seen the news in a week but this should be headlines. N.C. STRONG."
UPDATE: According to several residents who contacted Waterway Guide News, power was restored to Beaufort, N.C.at 5 p.m. Tuesday, September 18th thanks to utility crews brought in from Indiana and other states.
View location on the Waterway Guide Explorer
Provided by National Weather Service
| | |
| --- | --- |
| Humidity | % |
| Wind Speed | |
| Barometer | |
| Dewpoint | |
| Visibility | |
Deltaville, VA


Current Conditions
Change my location