News & Events for Chesapeake Bay
EXCLUSIVE: Seeking recent sightings of vanished "Duck Man" of the ICW
Date Posted: 2016-12-05
Source: Lisa Suhay, WG News Editor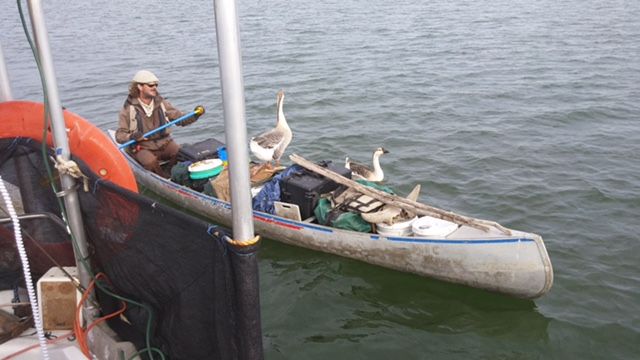 Washington, D.C. - Has anyone on the ICW seen "Duck Man" and his colorful canoe?
John Lawrence Kanazawa Jolley (aka Duck Man) of Boynton Beach, Fla., the homeless man who lives aboard his canoe and has been making his way from Boynton Beach, Florida to Washington, D.C., considered by many to be a fixture of the Intracoastal Waterway (ICW), has apparently vanished.
I got a phone call and email from good Samaritan, Stan Mead of Maryland last week. "I found Duck Man's canoe abandon or washed up, along the fence at the Ronald Regan Airport," Stan said. "It looks abandon and I'm worried. Can you check it out?" He sent some photos. The area is at Gravelley Point boat ramp. The fact that the vessel is in a tidal area and isn't secured to the fence, Mead thought, could suggest that it "washed up or abandon."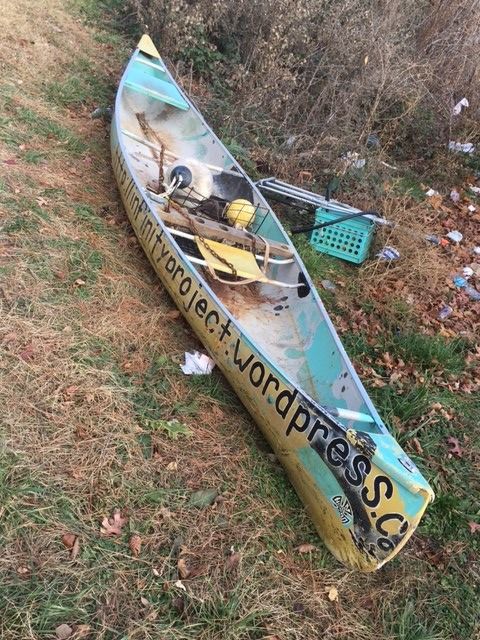 Mead approached me because the abandon canoe has Jolley's website for his rambling and often incoherent blog which offers a link to an commentary I'd written for The Virginian-Pilot newspaper over the summer about encountering Jolley. I am including that entire OpEd below the news portion of this blog.
A call to the U.S. Coast Guard in the region didn't do much to advance our knowledge of Jolley's present whereabouts. "I've had dealings with this individual on a few occasions, but none recently," the watch officer said. "D.C. was his stated final destination. He may have simply abandoned the vessel. But I'm going to look into this now that you've called."
A check of his blog and Facebook page offer no clues and, disturbingly, do not include any entries since Hurricane Matthew.
So, we wait for word of "Duck Man," and wether he is on walkabout, in dire straights or gone forever. If you have had a sighting or encounter over the past two weeks, or know of his location and state of wellbeing, please email [email protected]. Feel free to include photos.
Now, as promised, here is the piece on an encounter with this rare bird.
A Visitor to The Hague
By Lisa Suhay.
The Virginian-Pilot
August 28, 2016
While watching waterfowl along The Hague here, I met an odd duck paddling a canoe. Because of him I learned that the "never talk to strangers" rule applies to birds even more than it does to people.
John Lawrence Kanazawa Jolley (aka Duck Man) of Boynton Beach, Fla., paddled up to me in his heavily laden, weather-beaten canoe as I stood beside The Hague at the foot of The Chrysler Museum of Art last Saturday morning.
An eye-watering, miasmic, funk of wood smoke, waterways and profound eccentricity reached me while he was yet 20 feet away.
The side of his canoe was emblazoned with "https://infinityproject.wordpress.com."
My husband chose not to partake of the impending column-worthy experience, moving swiftly away.
Shortly after "Hello," Jolley launched into his personal narrative about living aboard that canoe for the past 10 years while "paddling across the continent." His blog supports that.
FYI: According to the links I followed from his blog to YouTube, Jolley has quite a track record for getting himself in front of the city councils in the places he visits so that he can express himself.
Mayor Kenneth Alexander and the Norfolk City Council can thank me later for this headsup.
Jolley said we need to undam all the rivers on the planet. He also wants us to collect rainwater in order to stop flooding. Then we need to get rid of all flush toilets.
However, Jolley has a superpower: He can go from zero to alien-Jesus conspiracy theory in the time it takes most people to think the words, "I wonder if I can outrun him?"
When he got to the part about how he has a plan to turn all the people who don't roll with his ideas into a SPAM-like substance to be sold on store shelves, my husband materialized beside me. He suggested that Jolley move along.
Duck Man moved to the opposite shore beside the Hague Tower.
A couple of Intracoastal Waterway boaters passing by commented that they had seen Jolley a few weeks back at a marina in South Carolina.
"He has ducks in a cage on that thing," the man said. "He showed us."
"He roasts them," the woman said. "He has pictures of it on his blog."
An hour after the couple left I heard an overly loud, rhythmic, duck call coming from the canoe.
"Quaaaack. Quack, quack, quaaak!"
An off-white duck I'd been photographing broke from the flock to make a beeline for Jolley. It replied, "Quaaaack. Quack, quack, quaaak!"
"NO!" I shouted at the duck and the caller. "Stop!"
I'm vegan. This was the duckpocalypse.
Oh, where's a gargantuan, 50-foot, inflatable, yellow, mama duck when you need one?
I clanged cow bells. No luck.
The duck went to the canoe and didn't return.
The canoe glided under the footbridge. Billows of smoke began to emerge. It rose up to mingle with the love locks on the bridge.
Alas, poor duckie. Let her experience remind us to be careful about talking to quackpots in canoes.
View location on the Waterway Guide Explorer
Provided by National Weather Service
| | |
| --- | --- |
| Humidity | % |
| Wind Speed | |
| Barometer | |
| Dewpoint | |
| Visibility | |
Deltaville, VA


Current Conditions
Change my location