News & Events for Chesapeake Bay
Big fuel leak: What do you do?
Date Posted: 2016-08-16
Source: Contributing Professional
Boats from certain manufacturers have been prone to fuel tank leaks over the years. Gasoline is particularly dangerous since it vaporizes at -45º F (yes, negative 45º). When it vaporizes it becomes potentially explosive – if you can smell it you are already in the danger zone! Gasoline tends to be heavier than air and seeks the lowest part of the boat. If it finds an ignition point...boom!
| | |
| --- | --- |
| Fuels/Supplies | Flash Point (ºF) |
| Acetone | 0 |
| Biodiesel | 266 |
| Diesel Fuel (1-D) | 100 |
| Diesel Fuel (2-D) | 126 |
| Diesel Fuel (4-D) | 130 |
| Ethanol | 63 |
| Gasoline | -45 |
| Gear oil | 375 - 580 |
| Iso-Butane | -117 |
| Iso-Pentane | less than -60 |
| Iso-Octane | 10 |
| Kerosene | 100 - 162 |
| Methyl Alcohol | 52 |
| Motor oil | 420 - 485 |
| n-Butane | -76 |
| Propane | -156 |
Values courtesy engineeringtoolbox.com
Diesel fuel vaporizes at much higher temperatures – typically around 126º F. You can generally hold a match above a pool of diesel (please don't) and unless the match flame is held close enough and long enough to heat it up considerably, it will not light. Once it does light, the heat and flames generated are wicked!
When I am hired to deliver boats, I use all the information at my disposal – engine and boat surveys, owner's forums, online reviews and yard mechanic assessments. I also conduct my own safety inspections. That said, it is always a leap of faith – I'm not on my Hatteras.
A gentleman called me while I was on vacation in Maine. "Would you transport my 74-foot Transworld (Taiwanese-made) motor yacht from Fairhaven, Massachusetts, to Daytona Beach in January?" It was already the coldest, snowiest winter in 100 years! I asked him how he got my name and how did the boat get stuck in Fairhaven. He explained that another captain had transported the boat from the Boston area but couldn't complete the delivery because of his other job. No captain worth his salt abandons a boat in route. I should have spoken to the other captain, but I needed the job. The owner said that his first mate got my name from the BoatUS Captain Locator Service, and would also be on board with us. That service has been good to me, so I called my mechanics mate, "Stash," and told him "let's freeze our asses and complete the job."
When we got on board the boat was a disaster. Everything was frozen. The heat and air conditioning was toast. The fire suppression system disabled. The interior temperature never got above 20 degrees. Ice was all over inside and out. The battery bank was shot. The navigation was shot. We learned that the original delivery captain brought the boat only as far as Fairhaven Shipyard and claimed the boat was not safe to go further without extensive repairs.
We performed a thorough examination of the critical coupling of the marine gear to 5" propeller shafts using a feeler gauge – it showed a partial separation, later revealing that the nut and cotter pin on the taper had spun off. In this condition, the shafts could easily pull out in reverse and jam against the rudder before coming out completely, likely sinking the boat. Since it was a weekend, we manually pulled out the 500-lb. shafts to be remilled at a shop in New Bedford. We then slid them back in while redoing the strut seals. Stash, a licensed electrician and USCG mechanics mate, rewired the electrical system and effected other repairs throughout the trip.
In a zero-degree wind chill, we took the yacht out for a sea trial but blew the port turbo. In 30-knot winds from the open flybridge, we limped back in on one engine. I really should have left that damn boat then and there. But the mate, Chad, was a nice guy. Stash, Chad and I spent a week effecting repairs with a very knowledgeable Fairhaven Ship Yard. We got her ship-shape enough – or so we thought.
We finally left Fairhaven for the long journey south after experiencing one of the coldest weeks on record. After a couple hours underway, we noticed the motor mounts on both shafts seemed to be out of balance. We dropped down to 15 knots.
In Stamford, we had to break through sea ice. Stamford could not pump fuel...too cold. The battery bank gave out so I called my fire chief, a welder, and he brought over his welding truck to restart the Detroit 12 cycles engines. The engines were the only bright spot on this boat.
We fueled up in Cos Cob and kept the engines running for the balance of the trip. Heading out of Cos Cob, the motor mount issues seems to be getting worse – we dropped our speed down to 12 knots. I was determined to complete this delivery.
We arrived in Atlantic City in the dark and fueled up at Kammerman's Marina – the only fuel dock that stays open all winter. Stash laid on his back clearing the ice off the inside of the windshield.
As an express motor yacht with twin Detroit 12-cylinder 1150-hp engines, this vessel would normally cruise comfortably at 25 knots, but at this point, 9 knots was all I felt safe with. The boat owners had made arrangements with a yard down in Daytona Beach and, after the large haulout and repair bills at Fairhaven, he wanted us to keep mechanic's bills to a minimum. We babied her down to Portsmouth, and docked at my favored Tidewater Yachting Center – now Tidewater Yacht Marina. They stay open for me late and have great fuel prices.
We filled both 550-gallon diesel saddle bag tanks. Next morning we headed out for Coinjock. With most untried boats I conduct 2-hour engine and bilge checks. Good thing I did. The 550-gallon port tank had ruptured and fuel was leaking into the bilge. I immediately turned off all bilge and sump pumps to contain the fuel in the bilge. Had this been a gasoline-powered boat, I would have immediately called the Coast Guard and shut everything down, turned off all energy, put on PFDs, anchored and stayed upwind as far as I could on the boat.
We tried to identify where the leak was, but being a Taiwanese special we could not get an all-around view of the tank. I assumed that a seam had let go, but we had no way to get a tube of sealant to it. What do you do? No environmental hazard yet – turning off the bilge and sump pumps prevented that. I went to the fuel manifold and completely shut down the draw and return of fuel to the bad port tank.
I called Louie Davis at Coinjock Marina and was told he was out with a duck-hunting party. No problem – J.D. was available. I explained to him that we needed to pump out our bilge into containers and then drain the damaged tank. Chad had come up with an idea – the clear tube sight glasses on each tank could be disconnected from the top and bent down into a 5 gallon pail. From there we could do a relay to a portable trash pump to get the fuel into big 55-gallon drums. I said that we need ten of them – J.D. said, "no problem" – Coinjock happened to have plenty on hand from just completing winterizing operations. We muscled the heavy portable pump to the boat after deck and proceeded to first pump out the bilge – the fuel looked pretty clean – then Chad managed the sight glass flow into the 5-gallon pail to match the speed of the pump. We had an assembly of ten 55-gallon plastic blue drums on deck and lashed them to the coaming, positioning them to offset the loss of weight due to then-empty, failed fuel tank. Then J.D. lent us his truck to make a run to Walmart to pick up a hand pump to allow us to transfer the diesel from the drums to the good tank as fuel was being consumed underway.
Coinjock was a godsend and J.D. a saint. I hope this experience gives you some insight into what to do under similar circumstances (and why I'm called "Captain BullDog")
While heading down the Alligator River in 16 feet of water, we felt and heard a bang followed by more vibration. In Beaufort NC we hired a diver to inspect the props and running gear. The 5-bladed port prop was now 4 blades. Upon inspection, it appeared to have had an old hairline fracture, poorly welded and painted over. It was amazing we had gotten that far. I called my prop guy at Pitch Perfect, Chuck Gray, and he somehow located two matched replacement props, but the owner said that he had spent enough money for repairs on the delivery and wanted us to get the boat the rest of the way down to Daytona on the damaged props at 5 knots – and, by the way, he was not going to pay me for the 10 additional days of travel it would take at that speed. I told him he just earned a new captain, and I left the boat.
When the owner finally got the boat down to Daytona, he apologized – his boatyard there and his mate verified the vessel's numerous problems. With Stash as my mate, I'm confident to deliver just about any boat of recent vintage as long as it checks out and essential repairs are made – but this damn boat turned out to be "a bridge too far!"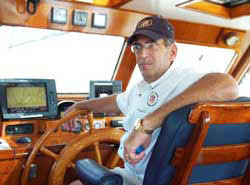 Chuck Yeager was fond of saying: "There are old pilots and bold pilots, but no old, bold pilots" – and for pilots and captains alike, there's a good reason for that! Be safe out there.
Master Captain BullDog Thal
ProCaptain's Delivery Service
Entire Eastern Seaboard from Key West, FL to Eastport, Me. including the ICW's, North Atlantic, NY State Erie Canals, Great Lakes and the Canadian Maritimes
Sail and Power Vessels to 120 feet
Cell and text: 203 550 1067
email: [email protected]
Search "Captain BullDog Thal" for latest articles
Provided by National Weather Service
| | |
| --- | --- |
| Humidity | % |
| Wind Speed | |
| Barometer | |
| Dewpoint | |
| Visibility | |
Deltaville, VA


Current Conditions
Change my location