News & Events for Chesapeake Bay
Anchoring now prohibited in Washington DC harbor
Date Posted: 2016-08-10
Source: Waterway Guide Staff, Cruising Contributor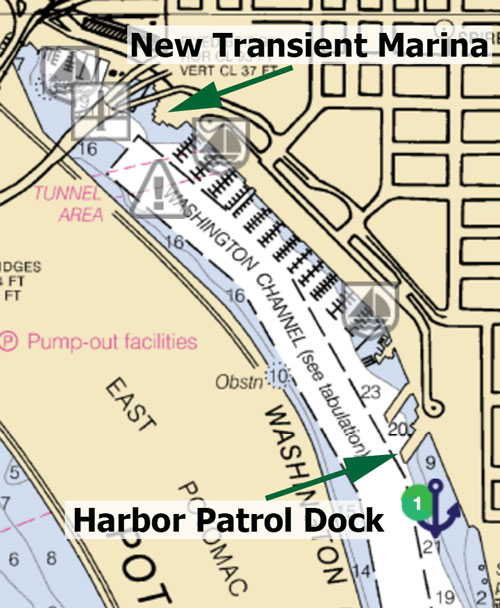 Visiting the Nation's Capital is often considered a rite of passage for Chesapeake Bay cruisers and world cruisers alike. The Potomac River meanders through our country's history – Stratford Hall, Mount Vernon, Old Town Alexandria – and culminates at the Washington Channel, where cruisers could dock or anchor just steps from the National Mall, monuments, and the Smithsonian – but anchoring is now much less of an option.
Most of Washington Channel along the Washington DC Southwest waterfront is now off-limits for anchoring, according to cruiser Terry Hoy and confirmed by the dockmaster at The Wharf Gangplank Marina. "If you anchor, the police will come out and tell you to move," said Hoy. According to both Hoy and Gangplank marina, anchoring is still allowed south of the Harbor Patrol/Police dock (first dock to starboard heading north up the channel), but this area is much more exposed to waves and wakes.
Eight mooring balls were installed in the foul part of the old anchorage several months ago and are available through Gangplank Marina for $25 a night. Gangplank offers a dinghy dock for moored and anchored boats for $10 daily, and Capital Yacht Club offers a dinghy dock at $16 daily with yacht club privileges. Plans call for adding four more moorings, and for new Gangplank Marina and tour boat docks to extend 200 feet further into the basin (see graphic below). Capital Yacht Club recently installed new concrete fixed docks expanding out to the new channel designation.
The new 72-slip Market Street Pier Transient Marina docks have been installed, but are awaiting utilities and access before opening to the public. The new marina is part of a public-private partnership between the city and the company developing the District's Southwest waterfront. Construction continues on the waterfront development projects, and The Wharf Gangplank Marina plans to expand and reconfigure its dockage starting this winter and throughout 2017.
Since the time the redevelopment plans were available several years ago, the Seven Seas Cruising Association and other concerned boaters have unsuccessfully lobbied to allow boats to continue to anchor in the harbor, citing the significant importance of cruisers visiting from around the U.S. and the world. The only other anchorages near the city are restricted by fixed 18ft. bridges.
Washington Channel Moorings information obtained from the National Park Service via a FOIA request by the SSCA Concerned Cruisers' Committee
View location on the Waterway Guide Explorer
Provided by National Weather Service
| | |
| --- | --- |
| Humidity | % |
| Wind Speed | |
| Barometer | |
| Dewpoint | |
| Visibility | |
Deltaville, VA


Current Conditions
Change my location