News & Events for Chesapeake Bay
U.S. insurers can now cover Cuba-bound vessels
Date Posted: 2016-04-28
Source: Waterway Guide Staff
The Department of the Treasury's Office of Foreign Assets Control (OFAC) updated its Frequently Asked Questions regarding Cuba on April 21, 2016. Among the additions, U.S. insurance companies/underwriters may now provide vessel insurance to boaters engaging in authorized activity in Cuba.
In the past, even if you were working with an insurance agent in the U.S., the policies would be sourced and underwritten through another country, often the United Kingdom. One of the few companies that has offered insurance to American vessels headed to Cuba for many years is International Marine Insurance Services (IMIS). According to Al Golden, the company has written policies using Great Lakes Reinsurance (UK) which excludes theft and piracy while in Cuban waters, and with various Lloyds syndicates, which do not have those exclusions but are generally for yachts valued over $500,000. With the recent changes, IMIS and other agencies can now apply to their U.S. carriers to cover Cuba as part of a typical Caribbean navigation area, and, hopefully, the costs, limits and exclusions will be reduced.
Global Marine Insurance has also offered annual yacht and charter policies with navigation limits that include Cuba and Belize. Optional endorsements for rallies and amateur regattas have also been available. This coverage was generally underwritten by Lloyds of London, but new options may be available soon.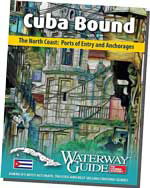 One domestic carrier has already started providing insurance for vessels visiting Cuba, according to Kerry Gonzalez of Maritime Insurance International. MII is offering a new policy from this carrier for a flat additional fee, generally under $600, for vessels insured with a regular policy from the same company. The Cuba insurance is an annual policy – not a rider.
With insurance or not, you must still abide by all the requirements and government regulations. Check back at WaterwayGuide.com for updates.
For complete information on visiting Cuba by boat, get your copy of Waterway Guide's Cuba Bound – available at select retailers and online from the Waterway Guide Ship Store.
Provided by National Weather Service
| | |
| --- | --- |
| Humidity | % |
| Wind Speed | |
| Barometer | |
| Dewpoint | |
| Visibility | |
Deltaville, VA


Current Conditions
Change my location