News & Events for Chesapeake Bay
Florida anchoring ban bill passes 2nd Senate committee
Date Posted: 2016-02-24
Source: Florida State Senate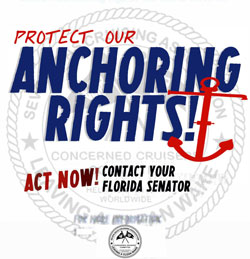 UPDATE: Florida Senate Bill CS-1260 passed 8 to 1 in a hearing today (Feb. 24, 2016) of the Appropriations Subcommittee on Transportation, Tourism, and Economic Development (see vote record). Discussion of the bill was abruptly postponed after one attendee spoke against the bill. The Chairman stated that he thought the bill had been "worked out" and was no longer controversial, and asked for the discussion to be postponed until the Senator sponsoring the was present (Sen. Simpson). The bill was brought up again later, and several boaters spoke in opposition to the bill. SB CS-1260 has now been placed on the agenda of the Fiscal Policy Committee for Feb. 29, 2016.
(Posted Feb. 20, 2016) Vessel anchoring legislation is scheduled for a hearing on Wednesday, Feb. 24, 2016. Florida Senate Bill CS-1260, which would ban overnight anchoring in several areas popular with cruising boaters in Fort Lauderdale and Miami Beach, with some exceptions, is one of nine bills currently on the agenda for a hearing by the Appropriations Subcommittee on Transportation, Tourism, and Economic Development Wednesday, Feb. 24, 2016, 1:30pm - 3:30pm, in 301 Senate Office Building in Tallahassee.
Several boating organizations have stated their opposition to the passage of this bill, and your action may help preserve these safe anchorages – and stop a precedent that could lead to the closure of many other safe anchoring spots.
The bill's title was changed from "Recreational Boating Zones" to "Anchoring Limitation Areas" after narrowly voted favorably in a Environmental Preservation and Conservation committee meeting Feb. 17, 2016 (5 Yeas to 4 Nays - (see vote record). Two of the Senators on the committee spoke strongly against the bill during the hearing, citing the problems that a piece-meal approach may raise, the need to work with the FWC Pilot Program currently underway, and the concerns that the legislation may not hold up constitutionally since it would apply only to specific locations rather than statewide. Some of the Senators who voted in favor voiced similar reservations, and urged for a new amendement to be crafted before the bill is heard in the next committee.
Here is a list of the Senators on the Subcommittee on Transportation, Tourism, and Economic Development who are scheduled to hear the bill this Wednesday (legislators pay particular attention to their own constituents, especially if their correspondence is courteous and concise):
See sample correspondence suggested by the Seven Seas Cruising Association's Concerned Cruiser's Committee:
"I am (a Florida resident/Florida tourist) and cruise extensively in Florida waters. I oppose the present language in CS/SB1260 because the bill does not give cruising boats the ability to anchor for a reasonable time while in navigation under federal law. We are also concerned that this bill opens the door for communities to pursue similar legislation without adequate justification which would result in unfair, random and unreasonable anchoring restrictions. A better way to address the issues in these areas is to pursue enactment of a comprehensive mooring/anchoring planning and adoption process that would apply to all communities, not just selected ones."
If you are a Florida resident and live in one of these Senator's districts, please make it clear that you are one of their constituents when you call or email.
Better yet – if you can make it to Tallahassee to appear at the hearing, you can speak directly to the committee or "waive" in non-support of the bill. If you are considering attending and would like to be put in contact with the cruising/boating advocates in Tallahassee, email here.
Why were these specific anchorages chosen in this bill?" Read Waterway Guide article: Anchoring ban bill passes FL House subcommittee.
For more about current cruising- and boating-related legislation, see the newly updated Waterway Guide article: Florida boating legislation 'halftime' report.
View location on the Waterway Guide Explorer
Provided by National Weather Service
| | |
| --- | --- |
| Humidity | % |
| Wind Speed | |
| Barometer | |
| Dewpoint | |
| Visibility | |
Deltaville, VA


Current Conditions
Change my location