News & Events for Chesapeake Bay
Bill passes Congress allowing 5-year USCG documentation
Date Posted: 2016-02-03
Source: USCG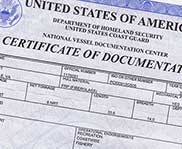 A bill that would require the Coast Guard to offer 5-year vessel documentation renewal is on its way to the President's desk and is extremely likely to become law – a great benefit for active cruisers (funding the Coast Guard is good for boaters, too). From a press release:
The House of Representatives unanimously approved bipartisan legislation that supports and strengthens the United States Coast Guard – one of our Nation's five armed services – in its critical missions to save lives, safeguard our shores, and protect living marine resources. The bill, which passed the Senate in December, now goes to the President for his signature.
The Coast Guard Authorization Act of 2015 (H.R. 4188) authorizes Coast Guard and Federal Maritime Commission through fiscal year 2017, and includes provisions to improve Coast Guard mission effectiveness, help modernize the Service's aging vessels and other assets, and reform U.S. maritime transportation laws. The bill, a product of negotiations between the House and the Senate, includes many provisions from a similar Coast Guard bill that unanimously passed the House in May.
The section pertaining to 5-year renewals of Certificates Of Documentation from the Coast Guard Authorization Act of 2015:
Sec. 311. Certificates Of Documentation For Recreational Vessels
While Coast Guard certificates of documentation (COD) are not required for recreational vessels, many owners elect to document their vessels to facilitate passage into foreign ports and to preclude them from having to abide by state registration requirements. However, the Coast Guard requires CODs be renewed on an annual basis and does not allow owners to carry them in electronic form. This presents an unnecessary administrative burden on vessel owners. This section would require the Coast Guard to develop a COD for recreational vessels that is valid for five years.
Provided by National Weather Service
| | |
| --- | --- |
| Humidity | % |
| Wind Speed | |
| Barometer | |
| Dewpoint | |
| Visibility | |
Deltaville, VA


Current Conditions
Change my location