News & Events for Chesapeake Bay
Cocoa rolls out the red carpet for the Sail to the Sun ICW Rally
Date Posted: 2015-12-10
Source: Waterway Guide Cruising Editor

Cocoa, Florida. The only word that comes to mind is WOW! Ok, perhaps Oh WOW!
From the moment we arrived at the "reserved for the Sail to the Sun ICW Rally" town dock until the moment we left, Cocoa, in the guise of Brad Whitmore, the village's "waterfront affairs ambassador," made sure we were loved and taken care of.
That started with the swag bags, which included a beautiful burgee for each boat, along with some other goodies.
Mayor Henry Parrish was present to informally greet us all, along with the Historic Cocoa Village Association staff, representing the village and its many shops, stores and restaurants. The village set the rally up with events and parties for the entire weekend (see itinerary).
It would take a small book to recount all of the tales for this stop, but as sailors and cruisers, let me tell you it warms the heart to see that your local sponsor....is a pub!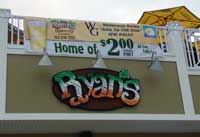 Ryan's Pizza & Pub was our local "headquarters" and meeting place, and it didn't hurt that they had $2 beers and great pizza either, plus an upstairs deck from which we could watch the scheduled Cape Canaveral rocket launch...which after numerous delays, finally took off. I wonder if they needed a deal on a new rocket motor - I could help them with that...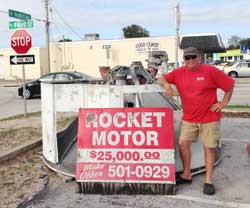 Our first night in Cocoa, we headed for the Oasis Bar & Grill for dinner and some karaoke. Stan rocked the house and got the crowd going with another even more amazing rendition of Mustang Sally, and Jan showed that she had talent also, with a 'burlesque' number that was great fun to listen to. You'll find videos of the event on our Sail to the Sun ICW Rally Facebook page, noted below.
The following day, everyone headed out to explore Cocoa and particularly the historic downtown village. The streets were closed off for a huge arts and crafts festival, making the village even more accessible than usual. Many shops had an anchor displayed on their front door, signaling a special discount for members of the Sail to the Sun ICW Rally.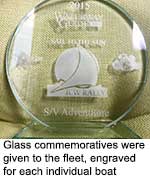 That evening, we had the Mayor's Reception – a formal welcome to Cocoa Village held at the Parrish Grove Inn, a beautiful old mansion now in use as a B&B, hosted by the Historic Cocoa Village Association – with complementary drinks and appetizers. There, our entire group was presented with beautiful glass commemoratives of our visit, each engraved with the recipient's boat name. To say we were overwhelmed by this beautiful gift, which was made possible by a local anonymous donation, would be an understatement.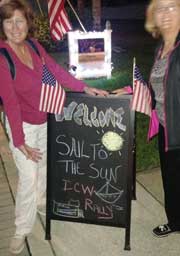 The next day, the village arranged for a complementary shuttle van to help the rally members reprovision at Publix grocery and other stores.
Another evening, we dined at Murdock's Southern Bistro & Bar, and the food was excellent, the service fast and friendly. I heartily recommend you check them out. Osorio Bakery & Café for breakfast is also quite good.
For cruisers following us, I'm happy to let you know that Cocoa has big plans to upgrade its waterfront. New and more dockage is just one of the amenities planned, and in future blogs, I'll outline more of their plans. But if you stop in Cocoa – and you should – expect to find a place that you're not going to want to leave in any sort of a hurry. It's simply that great, and the people are fabulous – friendly, fun, outgoing and sociable.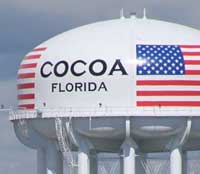 You might also notice that a Cocoa's landmark – and navigation reference – has been given a facelift. Early this year, the 156-foot-tall Cocoa water tower was repainted in patriotic splendor. Its 25-foot-high American Flag motif is so impressive that the tower was crowned the "2015 Tank of the Year" and will be featured on the cover of a 2016 water tank calendar.
Following Cocoa, we headed out with regrets at leaving such a wonderful stop and our many new friends there – but I can safely say, each and every one of us will be returning to visit again.
Follow us and be part of the fun, here at WaterwayGuide.com's Sail to the Sun Rally section, or on the Sail to the Sun Facebook page – and follow the movement of the fleet via Wally's Delorme Inreach satellite tracker at http://bloggingtheicw.blogspot.com/p/wheres-wally.html.
We look forward to hearing from you also - if you have questions about the Sail to the Sun ICW Rally, or the ICW, or cruising in general, post them on our Facebook page and we'll get back to you. The group would love to hear from you, so don't be shy.
Better still - join us for next year's Sail to the Sun ICW Rally and be a part of the most fun you can have on the ICW!
Previous Sail to the Sun ICW Rally updates:
Special thanks to the many sponsors and vendors making the Sail to the Sun ICW Rally such a success:
The Deltaville Maritime Museum
The Table at Wilton
Fishing Bay Marina
Deltaville Yachting Center
Dozier's Regatta Point
Norton Yacht Sales and Marine Services
Norview Marina
Bluewater Yachting Center
Dismal Swamp Welcome Center
Elizabeth City Area Convention and Visitors Bureau
Albemarle Plantation and Marina
River Forest Manor and Marina
Town of Belhaven Chamber of Commerce
Spoon River Restaurant
The Tavern at Jack's Neck
Atlantic Intracoastal Waterway Association
The Historic Cocoa Village Association
View location on the Waterway Guide Explorer
Provided by National Weather Service
| | |
| --- | --- |
| Humidity | % |
| Wind Speed | |
| Barometer | |
| Dewpoint | |
| Visibility | |
Deltaville, VA


Current Conditions
Change my location