News & Events for Chesapeake Bay
Sail to the Sun ICW Rally cruises the wilds of Georgia
Date Posted: 2015-11-24
Source: Waterway Guide Cruising Editor

Three up! Three down! The Sail to the Sun ICW Rally crew has carried the day, and it wasn't playing baseball. It was taking on and handling three very challenging areas – Hell's Gate, Little Mud River and Jekyll Creek – all on the Georgia ICW.
Each of these areas is frequently commented on in the Waterway Guide, and regularly noted by Waterway Guide Cruising Editors. In the case of Hell's Gate, we came to it from Thunderbolt with a rising tide, so no concerns about crossing it. Jekyll Creek was a mid tide situation also, so with the exception of our two deep draft boats in the fleet, everyone came into Jekyll Creek early in the day.
Some commenters on the ICW will try to scare you with tales of groundings and difficult transits, but seriously, it is not that big a deal to handle these areas with ease. It's a matter of knowing your waterway, which means research with your Waterway Guide, WaterwayGuide.com, and other resources, and then planning your approach to take advantage of the 8 to 9 foot tides here.
Three words – 'half tide rising' – will solve nearly every problem on the ICW. Make those three words your mantra, and proceed accordingly, you'll do just fine.
Little Mud River was our big challenge, with reported depths at MLW of four feet. Low water on the day we arrived was at 12:27 pm, and we were 34 miles out at the start of the day. The plan was to arrive at 2 pm, but a strong current pushed us ahead and we arrived, along with another 20 or so other boats all milling around indecisively, just after 1 pm. That put about 1.4 feet additional under the keel, or enough for most of the boats to work their way through without problems. The deepest draft boats would wait until 2 pm, when there would be 2.5 feet extra water.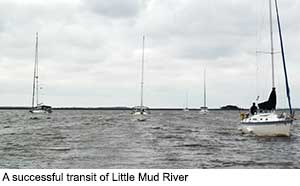 I hailed our group on the VHF, asking them to line up behind me and advised that anyone else who wanted to join us as I led the group through was welcome to come along – just follow Gypsy Wind, the red boat.
At that point, Mark Doyle chimed in. Doyle, who was leading a group of sailboats to St. Augustine from the deck of his PDQ power-cat, confirmed what I knew of the inlet with the information he had found from running the shoal area earlier that day. As I had been advised earlier, the good water was on the green side. Mark, thanks again for the on-site confirmation.
I also had information from people who had been through in previous days, so I knew how far off to stay, when to move to the center of the channel, and when to move to port.
Off we went, Gypsy Wind in front of a mixed bag of sailboats and trawlers, with me calling the depths as we proceeded. I'll admit, it was kinda fun to look back and see that long line of boats and all that trust being put in me...and kinda scary to think what would be said if I went aground! I'd never live that one down.
But all went well. Everyone made it through, even the deeper draft boats.
The reward for going through here early on a rising tide is that you then get a great current push for most of the way to St. Simons and Brunswick.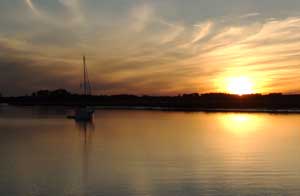 Several of our group then chose to anchor out at Fort Frederica and were blessed with an amazingly gorgeous sunset. Two of our faster boats had already made the break for Jekyll Creek the day previous, and the rest of us found an interesting and entertaining stay at Hidden Harbor Yacht Club.
It's a lovely facility, run by a most entertaining manager, Bobbie. It's worth the price of admission just to see her run the docks and bring big boats in against that wicked current.
The highlight of the past week however, was the discovery of a heretofore-unknown-to-cruisers restaurant in Thunderbolt – The Wyld, complete with free dockage! Oh yes indeed!
Here's how the discovery was made.
Two of our group were dinghying about the Herb River, in search of a location where fermented beverages were sold and consumed, and happened upon The Wyld, located on the shores of Country Club Creek.
Despite the grandiose address, it's in the middle of nowhere. They proceeded to fulfill their mission, and wandered past my boat at 10 pm, praising their find in lubricious (or was that lubricated?) tones, heaping praise on the food and ambiance of the place.
Of course, the rest of the group had to experience this discovery for themselves, so the Sail to the Sun ICW Rally Restaurant Review Crew descended on the Wyld on Friday night for the $20 all you can eat Oyster Roast, complete with live Gypsy jazz music for entertainment.
It was yet another great evening of fun and frivolity, with the crew demolishing bucket after bucket of oysters. And the free dockage? Oh yes...if you're dining, and you can time your arrival to get past the 4.5 foot bar to the creek, you can dock overnight for free. Given the location so close to Savannah, it's a tough deal to beat – just watch your depth finder on the way in. Check out their Facebook page at https://www.facebook.com/wyldsavannah/
Later this week, the Sail to the Sun ICW Rally will be having Thanksgiving Dinner at the St. Marys GA Cruisers' Potluck, along with several hundred other southbound cruisers. We will also be exploring the beauties of Cumberland Island and then descending on Fernandina Beach, one of my favourite Florida cities.
Follow us and be part of the fun at WaterwayGuide.com's Sail to the Sun Rally section, or on the Sail to the Sun Facebook page – and follow the movement of the fleet via Wally's Delorme InReach satellite tracker at http://bloggingtheicw.blogspot.com/p/wheres-wally.html.
We also look forward to hearing from you – if you have questions about the Sail to the Sun ICW Rally, or the ICW, or cruising in general, post them on our Facebook page and we'll get back to you. The group would love to hear from you!
Other Sail to the Sun ICW Rally updates:
Special thanks to the many other sponsors and vendors making the Sail to the Sun ICW Rally such a success:
The Deltaville Maritime Museum
The Table at Wilton
Fishing Bay Marina
Deltaville Yachting Center
Dozier's Regatta Point
Norton Yacht Sales and Marine Services
Norview Marina
Bluewater Yachting Center
Dismal Swamp Welcome Center
Elizabeth City Area Convention and Visitors Bureau
Albemarle Plantation and Marina
River Forest Manor and Marina
Town of Belhaven Chamber of Commerce
Spoon River Restaurant
The Tavern at Jack's Neck
Atlantic Intracoastal Waterway Association
Provided by National Weather Service
| | |
| --- | --- |
| Humidity | % |
| Wind Speed | |
| Barometer | |
| Dewpoint | |
| Visibility | |
Deltaville, VA


Current Conditions
Change my location