News & Events for Chesapeake Bay
Use extreme caution on Chesapeake and ICW - or stay put!
Date Posted: 2015-10-06
Source: WG Staff
(A flyover video of flooding in Belhaven NC, courtesy Epic Paper Productions – music is "Journeyed On" by Laura Ault.)
UPDATED:
Record rainfall and high onshore winds have combined to wreak havoc on parts of the Chesapeake Bay and Intracoastal Waterway. Along with the persistent high water, several cruisers and marinas have reported logs and other floating debris – best to stay slow and keep a keen watch, or stay put for a few days.
Waterway Guide Cruising Editors Bud and Elaine Lloyd on Diamond Girl offer their recommendations:
"If you're travelling the ICW in either North Carolina or South Carolina within the next week or two, you will want to pay extra attention in the area from Wrightsville Beach, NC past Charleston, SC. The water conditions could be challenging. Water depths should be good (finally) because of all of the rain in this area in the past 4 days (anywhere from 10 to 20 inches), but what comes with all of that is the debris.
"You could encounter trees, parts of docks, logs, deadheads, and anything else that wasn't nailed down. Crab pots and wayward markers are also a concern. All of the rivers and lakes are way beyond flood stage and will remain in that condition for some time to come. It would be wise to check the local weather several times a day to stay informed. So, if you're cruising in the area enjoy the beautiful scenery (this is one of the prettiest areas of the waterway) but keep a vigilant lookout for items in the water. Travel Safe!"
Or you may want to stay put a little longer. Having all that extra water under the keel sounds great – but it poses some extra risks. We've all grounded (or will eventually) – usually it's inconvenient and embarrassing. However, imagine grounding when the water levels are a few feet above mean high water – it might take extreme measures to get your boat off that shoal (or bank). In high tidal ranges, you also run the dangerous risk of your vessel toppling over, ready for the next tide to swamp it. Tall-masted sailboaters need to also remember that high water means lower bridge clearances – and don't expect every bridge to have tide boards!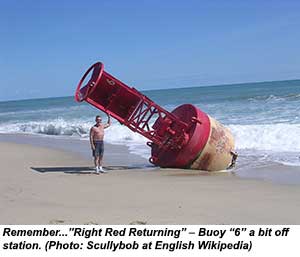 Another risk is posed by buoys that might be off station. Extra high water and current can snap a buoy's chain or pull its anchor out of the seabed, moving it just about anywhere. We've learned to trust the placement of buoys – especially the ones that are moved regularly – to show us the way. After an event like this? Not so much.
Some specific reports:
The Great Bridge Lock (Mile 11.3) was closed several times due to high water, but the lock tender says they are now back to normal operation, but could have temporary closures depending how high the tides are. The locks on the Great Dismal Swamp Canal Route have operated normally throughout the period, having been spared the brunt of the rainfall – and the duckweed is clearing up.
You wouldn't have wanted to cross the Albemarle Sound until today anyway. The Alligator River Bridge (Mile 84.2 – 14' closed clearance) had been closed for the last few days due to high winds, although it was able to open this afternoon, and high winds are not predicted in the near future (the bridge may not open if winds exceed 34 knots). Sailors keep in mind that the Wilkerson Bridge on the Alligator Pungo Canal (Mile 126) is charted at 64' vertical clearance, and will provide even a few feet less until the water levels drop.
Henry Boyd of River Forest Manor and Marina in Belhaven (Mile 136) reports that the town is still flooded, the marina docks were under water for days, and he has finally been able to get the electricity back on. Boats that were staying there had moved to the Belhaven Town Docks where the pilings are higher. He says the water has receded several inches, but won't come down all the way until the wind dies or shifts direction. See a flyover video of the flooding in Belhaven at top of article, courtesy Epic Paper Productions.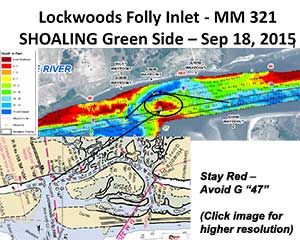 Hank Pomeranz of Carolina Yacht Care in Southport NC reminds us that massive hydrological activity tends to move a lot of sediment and create shoals, especially near the many small inlets along the ICW: "The most recent Army Corps of Engineers Survey, Dated Sept 18, 2015, for the intersection of the AICW with Lockwoods Folly Inlet at MM 321, shows significant shoaling at G "47". Shoaling is significantly worse than you may have experienced during your spring 2015 transit. Several reports from local boaters confirmed the ACOE survey data. However, during the last several days, this portion of the Carolina coast was effected by swell from Hurricane Joaquin, heavy rains and windy conditions. It would be fair to assume that significant sediment transfer has taken place since the 3 week old survey. Cruisers are advised to proceed slowly and cautiously and favor the red marks through this area.

"The arrows shown on the survey (left) are mine and basically show the path from ACOE waypoint to waypoint around the hazard." (See Waterway Guide article on Hank's daily weather & navigation briefs he will be offering at Southport Marina for southbound cruisers, starting Oct. 19).
In response to a cruiser asking about ICW conditions on the AGLCA forum, "Gold Looper" Betsy Johnson offered these recommendations for transiting the coastal stretch of the Carolinas: "I would use extreme caution on the waterway all the way from River Dunes to Charleston. I live in Topsail Beach, and we have had massive sound-side flooding resulting in literally tons of debris in the Waterway...floating docks, steps, lawn timbers, etc... At least one house has fallen into the water near New Topsail Inlet, so much of that may end up in the channel. I think you will encounter miserable conditions from the Pamlico River all the way to Charleston for the next week or so... I'd stay put if I were you!"
We have received a few reports so far on marina and waterway conditions in South Carolina, where, despite the massive amounts of rain and flooding, debris may not be as big a problem as in North Carolina – or at least not yet.
Sherry Harrelson of Osprey Marina on the Waccamaw River (Mile 373) in Myrtle Beach SC reports: "The water level is high. I don't see a lot of debris in our basin. We had several boats leave this morning heading for Charleston...I just spoke to one of the boaters that left...he said he has not run into any debris."
Chris Carroll, Operations Manager of Harborwalk Marina in Georgetown SC (Mile 403) reports:
"The marina itself is fine. Our fixed docks went under water a little, but with no problems. We are still open and pumping fuel. The water only got on our dispensers and not over the tanks.
"The tides and the rivers are still running 3' - 4' above normal. The businesses that can open are, and the others are cleaning out in hopes to be ready for the Wooden Boat Show (Oct. 17-18).
"I have not heard of any debris, and boats that have come in have not mentioned any. However, the rivers are expected to continue to pour water from the upstate for the next week. Still a lot of flooding just occurring from that on the inland side. I hope this helps."
David Rogers, General Manager of the Charleston City Marina (Mile 469) reports: "We are fully operational (pumping fuel, no electrical issues, no flooding issues currently at the marina). Minor debris in water from the extreme high tides such as litter and sea grass. No obstacles, etc... in the water. ICW around our area is open and no issue with harbor entrance channel. Commercial ships coming and going. Our courtesy van is back to running downtown to most areas of Charleston. Temps cooling down so we should have some beautiful days coming here in the near future to enjoy downtown Charleston."
Keep in mind that it may take weeks for upstream debris to make its way down the tidal system, so plan to keep a keen watch, even if you decide to go offshore – a lot of the floating debris will end up at sea.
Provided by National Weather Service
| | |
| --- | --- |
| Humidity | % |
| Wind Speed | |
| Barometer | |
| Dewpoint | |
| Visibility | |
Deltaville, VA


Current Conditions
Change my location