News & Events for Chesapeake Bay
Spotlight on: Cruising Editors Captain Dena Hankins and James Lane
Date Posted: 2015-08-25
Source: WG Staff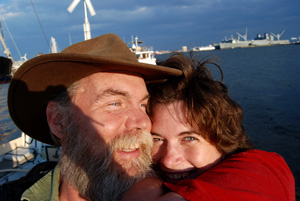 Captain Dena Hankins and James Lane left Seattle, WA, aboard a William Garden Seawolf ketch in 1999 and have been traveling ever since. They sailed the Puget Sound and the San Juan Islands, the Georgia Strait and the Strait of Juan de Fuca, the northern Pacific Ocean and the San Francisco Bay. There, they downsized to a Gulf 32 pilothouse sloop and jumped the trades to the Big Island of Hawai'i. They sailed throughout the archipelago for a year and sold that boat in Oahu in order to move to the Indian Subcontinent in 2008.
In 2009, they chose the Chesapeake Bay as the restarting point for their circumnavigation, titled "Around the World in 80 Years". They settled aboard their new old boat, a 1961 Philip Rhodes Chesapeake sloop, and gunkholed from Norfolk to Baltimore in the snow and Baltimore to New York in a late spring tropical depression, but found only gorgeous weather in the Long Island Sound, Buzzard's Bay, Cape Cod Bay, and Massachusetts Bay. They spent 4 months cruising in Maine before returning to the Long Island Sound, where they crewed on a tall ship.
Dena is a multi-published novelist and short-story writer with a 50-ton Master License. James is an accomplished photographer and indefatigable traveler, storyteller and sailor. Together, they can face anything, even a head rebuild, and honestly say they're living the dream. They are our Cruising Editors for Maine.
Provided by National Weather Service
| | |
| --- | --- |
| Humidity | % |
| Wind Speed | |
| Barometer | |
| Dewpoint | |
| Visibility | |
Deltaville, VA


Current Conditions
Change my location