News & Events for Chesapeake Bay
Miami Beach cracks down on dinghy access - Update
Date Posted: 2016-02-18
Source: WG Staff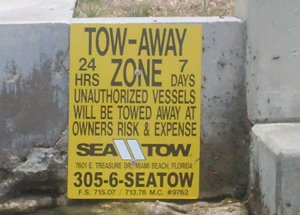 UPDATE: Sea-Tow was busy again as many cruisers searched for shore access to attend the Miami Boat Show. Wally Moran wrote an article posted today (Feb. 28, 2016) at the Broward-Palm Beach New Times:
This past week's Miami International Boat Show drew more than 100,000 people and was declared by sponsors as "the start of what we hope to be a long and successful run."
It wasn't much of a success, though, for Canadian tourist Adam Ponette. Though Ponette sailed to town in a well-maintained and Florida-registered, mid-30-foot sailboat, Igloo, he says he almost lost his life – when his dinghy was towed from the public dock on South Beach.
Indeed, Ponette's dinghy was one of around two dozen that have been towed in recent months under two Miami Beach ordinances that – among other things – limit the amount of time you can tie up to 20 minutes. Like many others, Ponette had to pay a boat tow company $300 (until recently, it was $50) and return five to six miles to his moored sailboat in the dark in a small rubber boat in two- to three-foot waves. "I was terrified," he says. "It was very dangerous out there, and I had no other way of returning to my wife and my boat...."
Continue reading Broward-Palm Beach New Times article: Miami Beach Tows Away Two Dozen Dinghies.
Several cruisers have reported recently that, although much of the west end of the Collins Canal has tow-away signs installed on the sea walls, other sections of the canal do not. We have received no reports of dinghies being towed from parts of the wall without tow-away signs. Expect the 20-minute limit at the boat ramp dock to be strictly enforced.
(Posted August 6, 2015) Miami Beach's anchorages have a lot to offer to cruisers, including good holding, protection, and a beautiful view of the Miami skyline. Another benefit is the Collins Canal, which allows boaters dinghy access to the beach, stores, and restaurants – well, maybe not so much anymore.
The City of Miami Beach passed an amendment to an ordinance which now makes it unlawful to tie a dinghy to the canal wall to visit the city. Signs were installed all along the public sections of seawall on May 15, 2015, according to Nannette Rodriguez of the Miami Beach City office. SeaTow has been removing "many boats," according to a SeaTow representative, who also said that the city is strictly enforcing the 20-minute limit for the dinghy dock at the end of 17th Street.
The Background section of the amended ordinance states: "There have been complaints in certain multifamily districts that there are boats and jet skies docked and often abandoned near their homes. In reviewing the issues with Code Compliance it was determined that the code currently only provides protection from mooring and such activities in single family home districts. As such, the City proposes to expand this category to allow Code Compliance to enforce in both single family and multi-family districts."
In the previous version of the ordinance docking was restricted only in single-family residential areas.
The City of Miami Beach's communications department provided the following amended ordinance, effective April 15, 2015 (changes are indicated by underline and strikethrough):
Sec. 66-151. - Launching, hauling and docking at public seawall, etc., prohibited – unauthorized vessels
(a) No person shall launch, dock, or remove any vessel from the waters of the city over any public seawall, sidewalk, street end, or public property except at locations where a regular business of launching, docking, and hauling vessels is conducted, which has the necessary equipment to do such work, or in areas designated and posted for such purpose by the city. Any vessel that is docked along a city seawall shall be considered an unauthorized vessel.
(b) Docking of unauthorized vessels at public seawalls in residential single-family neighborhoods prohibited.
(1) No person shall dock or otherwise secure any vessel, or embark or disembark any passengers or charter parties, at any municipal or public seawall, wharf, dock, or bulkhead, in a residential single-family neighborhood, except in case of emergency involving safety to life or property.
(2) Enforcement and penalties.
a. Civil fine for violators. The following civil fines shall be imposed for a violation of this section:
1. First offense within a 12-month period a fine of $100.00;
2. Second offense within a 12-month period a fine of $250.00;
3. Third or fourth offenses within a 12-month period a fine of $500.00; and
4. Fifth offense within a 12-month period a fine of $1,000.00; and
5. Sixth offense and subsequent offenses within a 12-month period a fine of $2,500.00.
b. The City may also elect to have the unauthorized vessel towed pursuant to subsection b.2 .. below.
c. Enforcement.
1. The code compliance division or the Miami Beach Police Department shall enforce the provisions of this section. This shall not preclude other law enforcement agencies or regulatory bodies from any action to assure compliance with this section and all applicable laws. If an enforcing officer finds a violation of this section, the officer shall issue a notice of violation to the violator. The notice of violation shall inform the violator of the nature of the violation, amount of fine for which the violator is liable, instructions and due date for paying the fine, notice that the violation may be appealed by requesting an administrative hearing within ten days after service of the notice of violation, and that failure to appeal the violation with the ten days shall constitute an admission of the violation and a waiver of the right to a hearing.
2. The City shall post on all public seawalls the following notice:
"TOW-AWAY ZONE. 24 HOURS; 7 DA VS. UNAUTHORIZED VESSELS WILL BE TOWED AWAY AT OWNERS' RISK AND EXPENSE. [TELEPHONE NUMBER AND NAME OF TOWING COMPANY TO BE INSERTED)"
In order to establish a tow-away zone to remove unauthorized vessels from being docked at or along the city's seawall. the city must provide the above notice. The notice must be prominently placed along the seawall. with not less than one sign for each 25 feet of frontage. The notice must clearly indicate. in not less than two (2) inch high, light-reflective letters on a contrasting background that unauthorized vessels will be towed away at the owner's expense. The words "tow-away zone" must be included on the sign in not less than four (4) inch high letters. The notice must also provide the name and current telephone number of the person or firm towing or removing the vessels. The sign structure containing the required notice must be permanently installed with the words "tow-away zone" not less than three (3) feet and not more than six (6) feet above ground level and must be continuously maintained for not less than 24 hours prior to the towing or removal of any unauthorized vessels.
d. Rights of violators as to fines; payment of fine; right to appear; failure to pay civil fine or to appeal.
1. A violator who has been served with a notice of violation as identified in subsection (a) shall elect either to:
A. Pay the civil fine in the manner indicated on the notice of violation; or
B. Request an administrative hearing before a special master to appeal the notice of violation within ten days of the issuance of the notice of violation.
2. The procedures for appeal by administrative hearing of the notice of violation shall be as set forth in sections 30-72 and 30-73.
3. If the named violator, after issuance of the notice of violation, fails to pay the civil fine, or fails to timely request an administrative hearing before a special master, the special master shall be informed of such failure by report from the officer. Failure of the named violator to appeal the decision of the officer within the prescribed time period shall constitute a waiver of the violator's right to administrative hearing before the special master, and be treated as an admission of the violation, and fines and penalties may be assessed accordingly.
4. A certified copy of an order imposing a fine may be recorded in the public records and thereafter shall constitute a lien upon any real or personal property owned by the violator and it may be enforced in the same manner as a court judgment by the sheriffs of this state, including levy against the violator's real or personal property, but shall not be deemed to be a court judgment except for enforcement purposes. After two months from the recording of any such lien which remains unpaid, the city may foreclose or otherwise execute upon the lien.
5. Any party aggrieved by a decision of a special master may appeal that decision to a court of competent jurisdiction.
6. The special master shall be prohibited from hearing the merits of the notice of violation or consideration of the timeliness of the request for an administrative hearing if the violator has failed to request an administrative hearing within ten days of the issuance of the notice of violation.
See PDF document for full verbiage (very large file).
(A big "thank you" to the members of Cruisers Forum for bringing this issue to our attention.)
View location on the Waterway Guide Explorer
Provided by National Weather Service
| | |
| --- | --- |
| Humidity | % |
| Wind Speed | |
| Barometer | |
| Dewpoint | |
| Visibility | |
Deltaville, VA


Current Conditions
Change my location