News & Events for Chesapeake Bay
'Time to celebrate' - Florida anchoring battle won...for now
Date Posted: 2015-04-29
Source: SSCA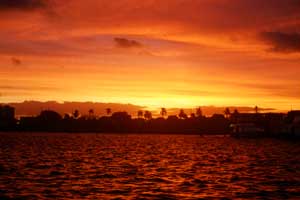 Due to a impasse on the state budget, Florida's House of Representatives has adjourned – the only bills "alive" are those already passed by the House, and those could only be passed by the Senate without amendments.
What does this mean for cruisers who visit Florida's anchorages? In a nutshell: no bill containing anchoring restrictions will be enacted this session. Expect a continuation of the Anchoring/Mooring Pilot Program in its five areas, and no other anchoring restrictions until July 2017 at the earliest.
Phil Johnson heads up the Concerned Cruisers' Committee at the Seven Seas Cruising Association (SSCA), and has led the effort to prevent the anchoring-restrictive provisions of SB 1548 from becoming Florida law. Here's a celebratory news release from Phil, who, along with SSCA, BoatUS, AGLCA, MTOA, SSECN, and countless other cruisers, cruising advocates, businesses, and municipalities have worked to preserve anchoring rights in Florida:
28 April 2015, Tallahassee, Florida
The 2015 Florida Regular Legislative Session has come to a close. It occurred 3 days earlier than scheduled by way of the House adjourning. We are elated to report that the freedom to anchor in Coastal Florida waters remains intact. Not one bill was adopted that includes any bans on anchoring.
We applaud the way that the cruising and boating family came together this session, became organized, developed a clear strategy and then implemented it in a methodical, controlled way. We are proud of our association with the lobbying firm Capitol Access and lobbyists Jerry Paul, Robert Shave, and Jamie Miller. We are also appreciative of our teammates at BoatUS, especially Bonnie Basham.
Special thanks to the crew that worked so hard on this by attending the hearings and working the rigging from off-shore via their keyboards. At the risk of leaving someone out, we especially applaud the efforts of Judy Mkam, Kim Russo, Jim Neff, Mike Bodin, Phil Werndli, Jackie Werndli, G.W. "Casey" Jones, Bob Burns, Sue Ross, Kingsley Ross, Sally Marcinek, Becky DeVillier, Eric Eiscle, Brian Davidson, Brian Schaefer, Glenn and Eddie Tuttle, Scott Berg, Ken Chumley, Jay Campbell, Dave Skolnick, Wally Moran, Mike Ahart, Mark Doyle. These, and so many others in the extended online community, are true Salt Water Heroes.
Remember, of course, that this annual process begins again tomorrow. There is an ongoing need to work through some of the problems raised by proponents of anchoring legislation. We will need to formulate a position on this and come to a reasonably amicable resolution so that this issue does not continue to a recurring threat. We are confident that we can do this in a way that does not eliminate the freedom to anchor throughout Florida's coast. There will be a host of workshops held this summer and we will want our boating community to actively participate through their visible attendance. Also, we will need to continue building our political strength and this will require that we provide some support for our growing list of legislative champions. If you have not donated to the Fund Me drive, now is the time to help us pay the bills for this effort. Gofundme.com/Right2Anchor.
It is safe to celebrate. To all those captains and sailors at anchor in Florida today (or contemplating it), raise a glass to toast Maritime Freedom!
Provided by National Weather Service
| | |
| --- | --- |
| Humidity | % |
| Wind Speed | |
| Barometer | |
| Dewpoint | |
| Visibility | |
Deltaville, VA


Current Conditions
Change my location