News & Events for Chesapeake Bay
Waterway Guide Debuts New iOS Mobile App
Date Posted: 2021-03-30
Source: Ed Tilett, Editor-in-Chief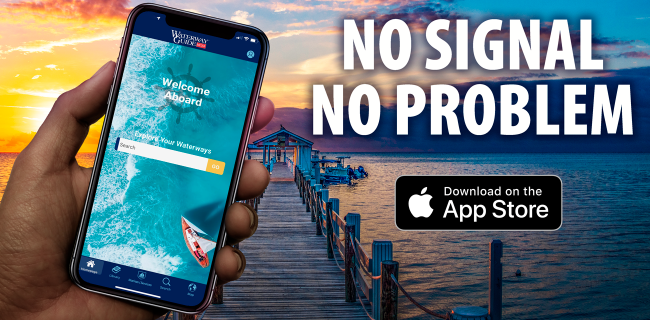 When the first Waterway Guide edition was published for the 1948-49 boating season along the ICW no one looked beyond their compasses, dividers, charts and guidebooks to get them to their destinations. Today, boats can drive themselves. But they don't know where to go unless you tell them. Now, there's an app for that.
We have been quietly working on what we believe is the most highly functional and appropriate mobile application for presenting detailed advice, information, data and guidance for cruisers on America's waterways including The Bahamas, Cuba and Canadian waters along the Great Lakes.
Steadily designing the interfaces and delivery platforms over the past year, our teams have created a simple and robust app that provides multiple options for displaying and interacting with Waterway Guide content and data. As of April 2021, we have made available three of our most popular titles in the app, which means that you can download directly to your iPhone or iPad the same text and information found in the guidebooks.
In addition to the guidebooks, there is a layer of information in the map-based section of the app that offers millions of data points on marinas, navigation alerts, bridges and locks, anchorages and free docks. Each of those categories also includes reviews, comments and the option to post reviews and earn rewards points. As always, our information is verified by Waterway Guide's staff of editors and writers worldwide.
"This is an exciting step in our company's evolution as a digital publisher and leading provider of information dedicated to safe boating and adventure," said Waterway Guide Media President, Graham Jones. "There are two ways to employ the new app by using either the free information included with every download and by subscribing to value-added content organized by regions and chapters."
Our company's 21 publications, mobile and web apps are recognized as authoritative sources of information for the regions covered. The new app provides flexibility for subscribers by allowing them to purchase only the content they need. Whether a full regional guide, or selected chapters, skippers can download the content they need making it available for when wi-fi or cellular service may not be available. Content is updated in real-time and pushed to all mobile subscribers.
The roll-out of the new Waterway Guide app includes interactive planning portals, a Skipper's Handbook with detailed advice and reference materials, and paid access to the latest Southern, Chesapeake Bay, and Atlantic ICW guidebooks. The company's remaining titles are forthcoming, while interactions with the app's rewards program are already earning points for users.
It's a long way from 1947 but boating has never been more fun.
Provided by National Weather Service
| | |
| --- | --- |
| Humidity | % |
| Wind Speed | |
| Barometer | |
| Dewpoint | |
| Visibility | |
Deltaville, VA


Current Conditions
Change my location