News & Events for Chesapeake Bay
2021 Bahamas Charter Yacht Show moves to the Rybovich Superyacht Marina in West Palm Beach February 25-26
Date Posted: 2021-01-13
Source: ABM
The 2021 Bahamas Charter Yacht Show, scheduled for late February 2021, will now move to the Rybovich Superyacht Marina in West Palm Beach, and will be held February 25-26, 2021.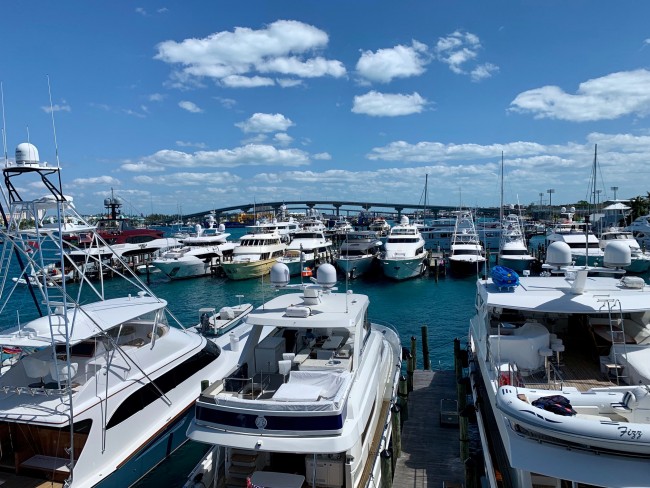 The Association of Bahamas Marinas (ABM) has announced today, "That after much thought and consideration to the charter yachts and crew participating, charter brokers traveling from abroad, and out of respect for the of Government of The Bahamas during this COVID environment, the annual Bahamas Charter Yacht Show, scheduled for February of 2021 in Nassau, will move to the Rybovich Superyacht Marina in Palm Beach Florida.
The two-day event will take place February 25 & 26th, with the goal of showcasing Yachts to the charter broker industry, showcasing the spectacular Rybovich superyacht facility, and of course, allowing the representatives from the Association of Bahamas Marinas and The Bahamas Ministry of Tourism to share itineraries and present the islands and marinas that cater to the yacht charter industry.
Yachts and top brokers will be treated to a Bahamian themed two-day event. The goal of the show is to celebrate the charter yachts that travel The Bahamas and to educate the international brokerage community about the boundless charter opportunities and about up-to-date travel information from around The Bahamas. Following 2021, it is our intent to host the event annually in Nassau.
The 2021 Bahamas Charter Yacht Show's chairman, Joe Dargavage, of Romora Bay Resort & Marina, said; "This was an extremely difficult decision, and our charter show board thought long and hard before deciding what we should do. The fact that we had almost all brokers having to come in internationally, was a huge part of the decision-making process".
Once the decision was made, Rybovich, with whom the ABM has their US office located and is an ABM allied member, made the gracious invite to allow the event to move forward at their facility and under a controlled environment. The Bahamas Charter Yacht Show's board found this to be a great solution for the coming show and would allow the ABM to continue their marketing to re-open yachting in The Bahamas.
The Bahamas Charter Yacht Show is comprised of a partnership with the Association of Bahamas Marinas, the Bahamas Ministry of Tourism & Aviation, and the International Yacht Brokers Association (IYBA). The decision has been made to do a series of small Bahamas Charter Show events in Florida over the next year, including IYBA's charter open houses in Fort Lauderdale. This will allow us to truly market The Bahamas, as well as the 2022 Bahamas Charter Yacht Show to take place next February.
To make reservations to attend the Bahamas Yacht Charter Show at Rybovich, for both yachts and charter brokers, please contact Joseph A Dargavage, Chairman, 2021 Bahamas Yacht Charter Show [email protected], 954-531-5018 in the US, 242-470-8342 in the Bahamas.
View location on the Waterway Guide Explorer
Provided by National Weather Service
| | |
| --- | --- |
| Humidity | % |
| Wind Speed | |
| Barometer | |
| Dewpoint | |
| Visibility | |
Deltaville, VA


Current Conditions
Change my location