News & Events for Chesapeake Bay
Glowing algae is lighting up the Chesapeake Bay at night. It's not a good thing.
Date Posted: 2020-09-15
Source: The Virginian-Pilot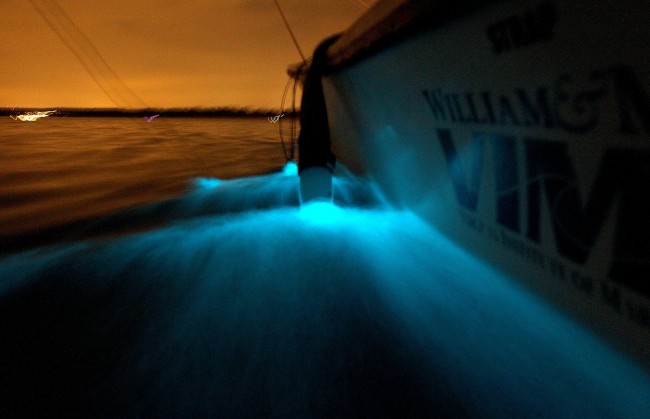 VIRGINIA BEACH — From Chic's Beach to Ocean View, the Chesapeake Bay is glowing after dark.
And while the light show might appear magical, it's actually rooted in science.
The culprit: a bioluminescent algae — Alexandrium monilatum — which can be harmful to fish and oysters. It first showed up in the bay a few days ago and seems to be sticking around.
"It's just beautiful at night," said Rachelle Brown, who works in the Ocean View Fishing Pier bait shop and first noticed the shimmer on Friday. "It's glowing bright."
Margie Mulholland, an algae expert and professor in Old Dominion University's Department of Ocean, Earth and Atmospheric Sciences, said it's possible that some of the algae broke off of a 4-mile bloom in the York River. It then traveled south, to the mouth of the bay.
The single-celled organisms form a chain and reproduce in warm water. They are present during the day, but become most noticeable a couple of hours after sunset.
Read the full story.
View location on the Waterway Guide Explorer
Provided by National Weather Service
| | |
| --- | --- |
| Humidity | % |
| Wind Speed | |
| Barometer | |
| Dewpoint | |
| Visibility | |
Deltaville, VA


Current Conditions
Change my location