News & Events for Chesapeake Bay
Open for Business in DC: Capital Yacht Club
Date Posted: 2020-06-30
Source: Staff Report

Washington, DC is taking precautions to limit the spread of the novel coronavirus including mandates to operate at half capacity, to space tables at least 6 feet apart, and to institute a six-person maximum per table. Customers cannot sit or stand at bar tops, but workers can mix drinks from behind a bar if no customers are present. People can sit at tables in bar areas if there are no workers behind the bar. Restaurant workers must wear masks. If they handle food, they must wear gloves. All customers have to wear masks when they're not eating or drinking. Already open and thriving is Capital Yacht Club - Washington DC.
Capital Yacht Club is located at the heart of the exciting new Wharf development. Established in 1892 this location has a rich tradition of boating on the Washington Channel. The new clubhouse overlooks the club docks providing monumental views, a relaxed atmosphere, and DC hospitality. Become a member or visiting boater and get to know this unique community on DC's vibrant southwest waterfront.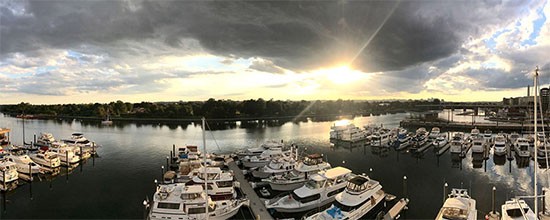 The Capital Yacht Club is a private club located at The Wharf (www.wharfdc.com) on Washington, DC's southwest waterfront. The Yacht Club has a spacious and secure marina for vessels up to 160 feet, with deep water docks.
Facilities include, but are not limited to, a clubhouse with free WiFi, large coin operated laundry facility, and spacious bathroom and showers.
A full-service Club Bar./Grill for your evening enjoyment provides spectacular sunset views. Our exciting waterfront community offers hot restaurants, year-round entertainment and music venues, and shopping amenities.
Most of Washington DC's attractions & monuments are in within walking distance, with the Jefferson Memorial and the Washington Monument in view.
A free Wharf shuttle bus is available to/from L'Enfant Metro. The docks have 30 and 50 amp power, and the T-head docks have single phase 100 amp and 3-phase 100 amp power. Pump-outs are available in the slip.
If you would rather moor out, there is a city-operated mooring field in the Washington Channel's large all-weather anchorage, with dinghy dock and Capital Yacht Club facilities available.
View location on the Waterway Guide Explorer
Provided by National Weather Service
| | |
| --- | --- |
| Humidity | % |
| Wind Speed | |
| Barometer | |
| Dewpoint | |
| Visibility | |
Deltaville, VA


Current Conditions
Change my location