News & Events for Chesapeake Bay
GA Legislature Rescinds Anchoring Restrictions    
Date Posted: 2020-06-24
Source: Ed Tillett, Editor-in-Chief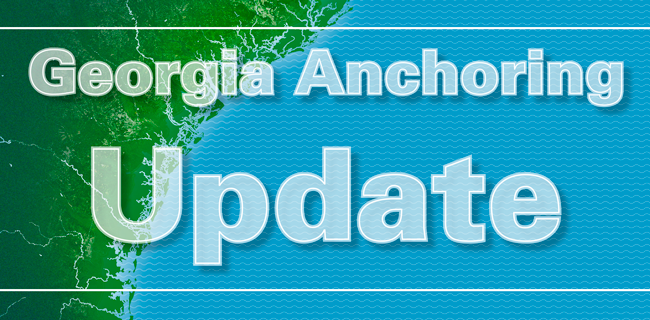 Boaters transiting the coastal waters of Georgia are celebrating the passage of a new set of regulations related to anchoring and management of onboard waste in the state. House Bill 833 breezed through the state's Senate on a vote of 48-1 on Tuesday, June 23, 2020.
The new measure revises and rescinds most regulations that were enacted in 2019 that required vessels to purchase anchoring permits, maintain logs of when and where they pumped waste holding tanks, and maintain 1,000 feet distances from structures when anchored.
The Atlantic Intracoastal Waterway along Georgia's coastline is transited by thousands of visiting vessels each year. Many of those boaters spend time anchored while moving along the waterway. The coastal waters are also used as a recreational resource by fishermen and weekend and vacationing boaters.
A coalition of boating interest groups, publishers and the National Marine Manufacturers Association opposed the original law and worked toward a solution over the past year. "This is a tremendous victory for the recreational boating community and a true testament to the impact that local boaters can make at the state level when advocating for this wonderful pastime," said Lee Gatts, NMMA Southeast policy and engagement manager.
The new law provides specific definitions and reasonable guidelines for vessels to anchor at least 500 feet from shellfish beds, 300 feet from marinas, and 150 feet from other marine structures.
Additionally, HB-833 creates "short term" (14 days) and "long term" anchoring, allowing a vessel to anchor for 14 cumulative days in the same location before needing to apply for a long-term anchoring permit. It also removes unnecessary discharge language that was implemented last year by Georgia HB-201, as federal law already prohibits the dumping of untreated sewage into the water.
Sponsored by Georgia Representative Ron Stephens, the bill passed the Georgia House on March 12 but was temporarily delayed in the Senate due to COVID-19. Lawmakers resumed session last week and the bill passed the Senate by a vote of 48 to 1. The legislation now heads to Governor Kemp who is expected to sign the bill into law.
View location on the Waterway Guide Explorer
Provided by National Weather Service
| | |
| --- | --- |
| Humidity | % |
| Wind Speed | |
| Barometer | |
| Dewpoint | |
| Visibility | |
Deltaville, VA


Current Conditions
Change my location