News & Events for Chesapeake Bay
THE ANSWER IS #1: Wounded Sea Turtle Saved with Technology (and Playdough)
Date Posted: 2020-06-01
Source: Chesapeake Bay Magazine
If you're wondering why this story's headline "THE ANSWER IS #1." It is the answer to our new news quiz series titled "Deeper Diver News Trivia Quiz." This quiz is drawn from the newsletter each week. If you'd like to participate then click here to subscribe to our newsletter.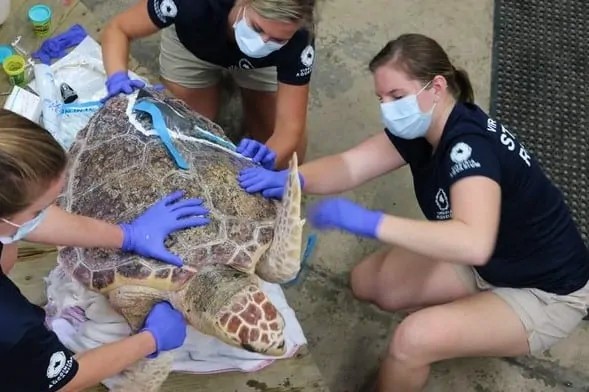 There's a happy ending to what started as a sad discovery: a loggerhead sea turtle accidentally hooked by an angler in Norfolk with four fish hooks in his body and additional injuries from a vessel strike.
The loggerhead was saved with a combination of high-tech medical care and playdough. Yes, the kind you molded into shapes as a kid.
The Virginia Aquarium and Marine Science Center's Stranding Response Program admitted the turtle (and nicknamed it Seaweed) after the fisherman called in his catch from the Ocean View Fishing Pier last July 4th.
The Virginia Aquarium says Seaweed had three hooks in addition to the one that had caused the fisherman to accidentally catch him. They determined with x-rays the turtle also had substantial fractures to its carapace (top shell) that could have meant possible spinal injuries. The Aquarium says the wounds were encrusted with barnacles, algae and mussels and had probably been there for some time, and were probably caused by a vessel strike.
Read the full story.
View location on the Waterway Guide Explorer
Provided by National Weather Service
| | |
| --- | --- |
| Humidity | % |
| Wind Speed | |
| Barometer | |
| Dewpoint | |
| Visibility | |
Deltaville, VA


Current Conditions
Change my location