News & Events for Chesapeake Bay
Product Review Blog: No More Water Shoes? We Tested NakeFit Adhesive Soles
Date Posted: 2020-05-19
Source: Lisa Suhay, news editor
NakeFit - 3-pairs for $19.99 - A variety of sizes are available for Men, Women & Children
Say goodbye to sand in your shoes. No more water shoes smelling up the place. Picture walking the hot sand, dock or parking area pavement barefoot. No more schlepping shoes or sandals all over the beach and then trying to remember where you left them. Welcome to the brave new world of NakeFit adhesive soles.
These lightweight, waterproof sole protectors are made of a material very similar to that used in KT (kinesiology) tape, only with grip on the bottom and slightly more dense.
However, these are not a shoe replacement for everyday wear, nor are they made of any special thermal protectant material.
We found the application to be quick and easy. Just peel and stick to the soles of clean, dry, feet. Then just walk away. For use in water wait 30-minutes after application for best effect.
Here's their pitch:
"NakeFits conform to your feet and stay on for hours to protect your soles from dirty, rough, or slippery surfaces. With NakeFit, you can enjoy sailing, walks on the beach, and walking across rocks without any of the risk of splinters, cuts, slipping, or hot surfaces. Certified hypoallergenic, NakeFits can be easily removed without any pinching, peeling, or irritation of the skin."
Bear in mind that COVID-19 rules being what they are this test had to be limited to my immediate family. Fortunately, I have four sons at home for the pandemic, ages 25, 21 and 16 which gave me test subjects.
We picked the hottest day we've had so far, 85-degrees here in Norfolk, VA to stick these to our clean feet and brave the hot pavement, the docks of Old Dominion University Sailing Center and the waters of the Elizabeth River to put NakeFit to the test.
As a mom, I'm forever telling my sons to put something, anything, on their feet because I worry about verrucas, Plantar warts, that can result from going barefoot.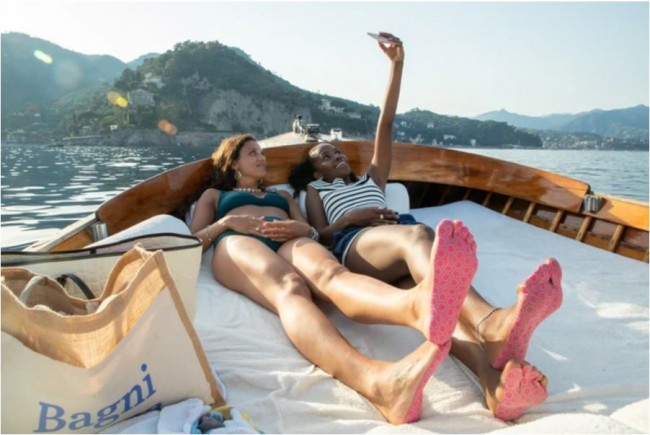 Over the years anyone who spends enough time barefoot around boats, beaches, parking areas and docks may have the misfortune of experiencing Plantar warts, the result of human papillomavirus (HPV) getting into the feet through tiny cuts or abrasions. Typically, these warts are contracted through walking barefoot on dirty surfaces since the virus thrives in warm and moist environments. They are mostly found on the heels or balls of the feet.
All three of my sons and I give NakeFit an immediate seal of approval as an effective barrier against hot pavement, sand and docks.
"I was surprised because I really didn't think these would work," said Quin Suhay, age 16. "They do soften your step. They were protective enough to walk on the street."
Avery Suhay, 21, said, "I liked not having to carry my shoes to the beach. Also, that you could wear them to go into the water without worrying about stepping on something. "
Meanwhile, Ian Suhay, 25, is testing them out on the game Dance Dance Revolution where, apparently, they're, "Fantastic. No-slips. You can feel like you're barefoot but safe from foot fungus!"
NakeFit wore well with sneakers for quick changes from driving (leave those shoes or sandals in the vehicle) to walking the beach, poolside, boardwalk, docks or swimming.
As I walked around the docks and nearby park I noticed a couple pointing at me. The woman couldn't resist saying, "I'm sorry, but how can you just walk around barefoot on that hot boat ramp and the docks like that?"
I was happy to show off my soles which were hot pink but keeping my feet cool, despite not being made of any special thermal material.
As I stood there the couple got on the website and ordered sets of His and Hers NakeFits.
If you have sensitive feet, unaccustomed to walking outdoors, I would not recommend them for long walks. Also not friendly across those fields of burrs and dry, prickly nettles. I now know this from personal experience.
That said, these are my new best friend for boat, beach and dock.
According to the packaging, after the adhesive pads have been on your feet for 30-minutes it's go-time for water use.
Absolutely works like a charm.
I wore them for five hours. I even wore them inside my sneaker for a three-mile walk and they stayed put without peeling or shifting on my feet.
That test was to prove a theory I have about where these little babies are going to be a game-changer. I put them on, slipped on my sneakers and when I got to the marina I left my shoes in the car. It was perfectly comfortable to then walk "barefoot" across the smokin' hot asphalt parking area and down the splintery dock.
Then I walked straight into the river where I didn't have a moment's pause or worry about what I might be stepping on. If I'd wanted to I could have had a swim with them on and then hopped onto a boat or run back to the parking lot.
The pads NEVER peeled off until I peeled them myself.
Pro Tip: If your feet are ticklish then peeling these off at the end of the day will leave you laughing. I found myself with a wicked case of the giggles while peeling them off.
Somehow, after all these stressful months, I found there's no better product than one that protects me from discomfort/harm and leaves me smiling.
I ended up ordering them for my mother, age 89, who demanded a set and for myself.
Pros:
Gives your feet a layer of protection when you are walking on a hot sand
Saves your feet from verrucas and dangerous slips and save your feet from hot sand.
Hypoallergenic, skin-friendly, super sticky, until you want to remove it.
Waterproof and non-slip, suitable for swimming and all paving.
Cons:
Once removed you do need to do a little extra scrubbing to remove the residual sticky ring around the edges that picks up and holds the dirt. Warm water and soap. No big deal.
Our Rating System:
Burgee ratings: We demonstrate the products we test for a minimum of five testers, plus our News Editor, Lisa Suhay. Each person rates the product by either giving a Burgee to pass, or no Burgee to fail.
A product must gain at least three Burgees to get a full Welcome Aboard rating as highly recommended. Two Burgees gets a medium rating. One Burgee low rating.
Whistle Blow = A product not up-to-snuff, meaning it got zero burgees out of a possible six (5 testers, plus our editor).
Nobody blew the whistle on this product.

NakeFit gets the full six Burgee rating for innovation, comfort, usefulness and living up to the hype.
Provided by National Weather Service
| | |
| --- | --- |
| Humidity | % |
| Wind Speed | |
| Barometer | |
| Dewpoint | |
| Visibility | |
Deltaville, VA


Current Conditions
Change my location