News & Events for Chesapeake Bay
Cloud Contest Story Winners, Plus a News Challenge
Date Posted: 2020-04-05
Source: Lisa Suhay, News Editor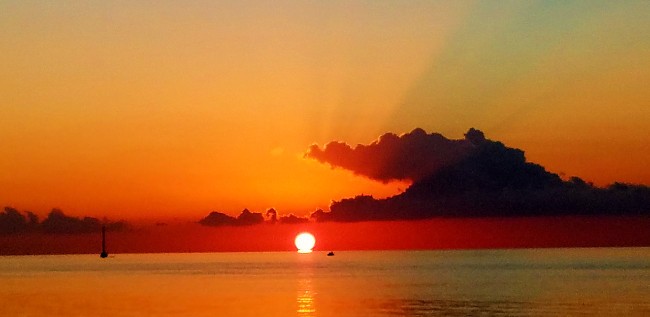 From seeing Elvis on a piece of burnt toast to the Virgin Mary's likeness in a chicken nugget the strange human phenomenon known as pareidolia is our tendency to read significance into random or vague stimuli (both visual and auditory).
The term is derived from the Greek "para" (παρI?), meaning beside or beyond, and "eidolon" (εa 1/4 ?δωλον), meaning form or image. Though animals or plants can "appear" in clouds and human speech can do the same in static noise, the appearance of a face where there is none is perhaps the most common variant of pareidolia.
Fun fact: not everybody can see something beyond a random shape, let alone weave it into a fanciful tale. Yet that is the challenge we have set before our readers and they rose to the task. Here are the top three who will each receive the Waterway Guide Cruising Guidebook of their choice as their prize.
Our Winners:
First Place:
Sarah Hanniford, currently near Key Largo, Florida writes:
I see an older woman swimming with gear on, doing her usual mile that she used to do at her local Y. Now that circumstances have changed, so has she. She lives aboard her old trawler with her partner and is determined to stay in shape.
Every morning she puts on her protective gear, picks out her spot, slips into the water, and with her companion following in her kayak, keeping an eye out & on her best friend, until she has completed her determined distance.
Second Place:
Lou Ward, Herndon VA, aboard Perfect Timing, Sea Ray 330 Sundancer writes:
There's a swan talking with a lion cub about how pretty the sunset is. Suddenly behind the swan, a giant alligator pops up out of the water to try and eat the little critters, but he stops halfway through the bite to look at the gorgeous sunset. Moments after this photo was taken, the swan and the little lion cub swam away and the gator had to continue on his search for dinner.
Third Place, and by far the most popular vision of a hungry gator goes to Edward Dominiak who writes: The Sun has settled down near a rock for shelter feeling a safe harbor for the upcoming night. An opportunity taken. The nocturnal gators, getting aroused by the cool mist of the dusk upon the earth, awoke to begin their natural hunt for food. Although motionless, the beautiful sunset silhouetted the Swans shape creating the perfect strike opportunity for one of the gators...nature!
This was so successful that we are going to expand it to asking readers to send us images that they took which seem to bear some sort of face or pareidolia-worthy image within the image.
Send your photo submissions to [email protected] and please make sure the subject line reads: "Picture in Picture Contest."
Provided by National Weather Service
| | |
| --- | --- |
| Humidity | % |
| Wind Speed | |
| Barometer | |
| Dewpoint | |
| Visibility | |
Deltaville, VA


Current Conditions
Change my location