News & Events for Chesapeake Bay
Exclusive Anchoring Blog: Re-galvanizing Chain
Date Posted: 2020-03-23
Source: Rudy & Jill Sechez
For chain, used in the marine environment, it is hot dipped galvanizing (HDG) that is the finish of choice. Better yet, if the chain has been 'double-dipped'¾kept in the molten zinc for a longer period of time¾a thicker coating of zinc is deposited, providing the chain with a longer service life. Some chain manufacturers routinely double-dip their chain; Peerless/ACCO is one of those companies.
Eventually, when the galvanizing becomes too thin, the question arises as to whether the chain should be re-galvanized. Chain grades 30, 43, and 70 can be re-galvanized without detriment. However, higher grades of chain lose strength when galvanized, negating any advantage to their choice. Grime and superficial surface rust that may be present on the chain is not a deterrent, either, as it is dealt with chemically by the galvanizing facility.
But, if the chain has so much rust that it must be sand blasted before it is re-galvanized, then too much metal has been lost, and the chain no longer has its original strength rating. If that original strength rating is important or desired, then the chain should be replaced, not re-galvanized.
Re-galvanizing chain has a couple of benefits:
It usually costs less than new chain, often half as much.
For longer service life, you can request that the chain be 'double-dipped'.
However, getting chain re-galvanized can have its challenges:
Not all galvanizing facilities are equipped to 'spin' the chain to rid it of excess zinc once the chain is removed from the molten zinc-you should locate and use a facility that has this equipment.
Even after being spun, some links can be 'galvanized' to their adjacent partner. Once the chain is returned to you, this situation is easily resolved with a heavy-2-3 pound-hammer and a hard surface on which the links are pounded loose. It's amazing how durable galvanizing is, and how resistant it is to this treatment.
For items with holes, if excess zinc remains in a hole, the hole will need to be drilled out, though this may inadvertently remove enough zinc to expose bare metal. When that happens you have to resort to applying, and then re-applying a rub-on, spray-on, or brush-on rust-inhibiting coating until the item again goes to be re-galvanized.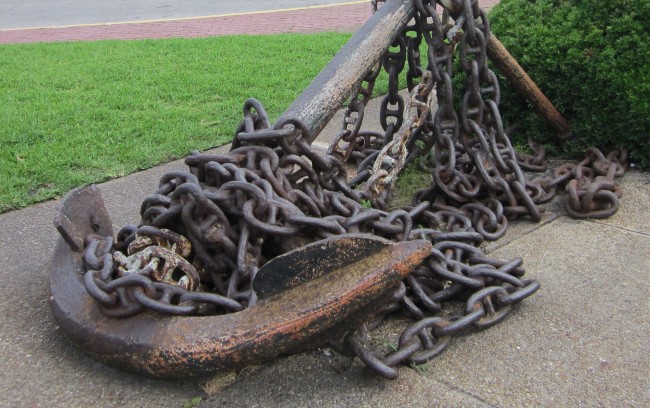 Not every community has a galvanizing plant, but that is of little consequence as most galvanizing plants are well versed with shipping, both in receiving it and returning, usually by truck. Even if you are lucky enough to have a galvanizing facility close by, understand that once the chain is dropped off, it often takes a week or more to have the chain put into the schedule, cleaned, galvanized, spun, cooled, and readied for return.
Then, too, there is the cost¾the facilities charge by the pound. Just about every galvanizing facility has a minimum charge, and often the amount of chain that comes off of a recreational boat does not meet this minimum. The facility will still galvanize the chain, but the minimum price may be close to or more than that of new chain.
An option to this dilemma, where the quantity to be galvanized is too small to meet the plant's minimum, is to ask a local company to piggy-back your chain on one of their loads¾check with manufacturers of trailers, boat-lifts, anchors, or other products that require galvanizing. Though the price per pound to piggy-back like this may be more than the price per pound at the galvanizing facility, it'll still be less than paying the galvanizing facility's minimum fee.
Rudy and Jill's book, "ANCHORING-A Ground Tackler's Apprentice" is available as hard copy or e-book from Waterway Guide Ship Store, and their popular PowerPoint presentation-'Avoid the Art of Dragging'-is available to groups¾just ask¾[email protected], 850-832-7748, or go to trawlertrainingabc.com. Rudy and Jill have been cruising and living aboard since 1997, and for the past 15 years on their 34' sail-assisted trawler¾Briney Bug¾ that they designed, then built, out in the woods.
Provided by National Weather Service
| | |
| --- | --- |
| Humidity | % |
| Wind Speed | |
| Barometer | |
| Dewpoint | |
| Visibility | |
Deltaville, VA


Current Conditions
Change my location