News & Events for Chesapeake Bay
Possible World Record Rockfish Caught off Cape Charles
Date Posted: 2020-01-15
Source: Chesapeake Bay Magazine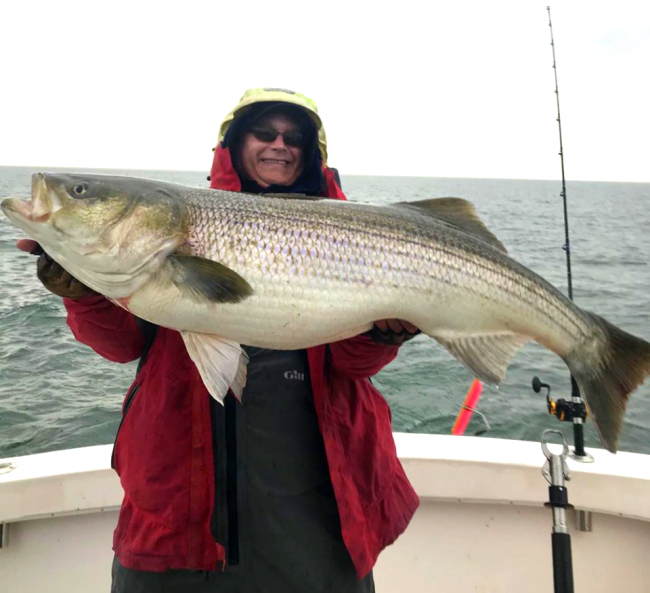 Cape Charles, VA - Some anglers luck into setting records, and then there is the extremely small group of anglers who are obsessed with catching a world-record fish. Alex Foster apparently falls into this last category.
Foster's dedication may have paid off on January 7th, while fishing off Cape Charles with Captain Clinton Lessard of Sho-Nuf Sportfishing. They were trolling a live eel when Foster caught a 48.03-inch-long striper, which measured 58 pounds on an uncertified hand scale. The four-foot fish is now pending International Game Fish Association (IGFA) world record certification for length in the IGFA's release category. The world record by weight for rockfish is 81 pounds, 14 ounces caught by Gregory Myers in August 2011 in Long Island Sound.
As he waits for word on the possible world record, Foster has also earned a release citation from the Virginia Saltwater Fishing Tournament.
Foster has been making the long trip from Charleston, West Virginia to Virginia's Eastern Shore for several years hoping to get a shot at the world record. And even though Virginia's rockfish season ended December 31, Foster still made the 400-mile trek with the sole purpose of catching a world-record rockfish, knowing he would have to let it go. According to an IGFA Facebook post, Foster fought the fish for 15 minutes before measuring and releasing it.
Grave concerns about the declining striper stock prompted Virginia to eliminate its Spring Trophy season and significantly curtail its fall fishery by capping sizes in 2019. Other coastal states have also taken steps to lower their harvest. Still, many anglers in the Bay are enjoying good catch-and-release fishing. These large breeders are key to increasing the fish population.
Read the full story.
View location on the Waterway Guide Explorer
Provided by National Weather Service
| | |
| --- | --- |
| Humidity | % |
| Wind Speed | |
| Barometer | |
| Dewpoint | |
| Visibility | |
Deltaville, VA


Current Conditions
Change my location