News & Events for Chesapeake Bay
THE ANSWER IS # 2: North Atlantic Right Whale Migration - Sector Charleston, SC
Date Posted: 2019-11-05
Source: USCG
Editor's Note: You may be wondering why this story's headline "THE ANSWER IS #2." It is the answer to our new news quiz series titled "Deeper Diver News Trivia Quiz." This quiz is drawn from the newsletter each week. If you'd like to participate then click here to subscribe to our newsletter.
The critically endangered North Atlantic Right Whale, including females with very young calves, may be encountered in offshore and coastal waters of South Carolina and Georgia. Right whales are slow-moving and difficult to detect and are therefore at risk of serious injury or death due to collisions with vessels. Vessel operators are reminded to use caution and proceed at safe speeds in areas used by right whales.
Compliance with Ship Speed Restriction Rule (50 CFR 224.105) Annual mandatory speed restrictions of 10 kts or less are in effect for vessels of 65 feet in length or greater from November 1st through April 30th in the Mid-Atlantic Seasonal Management Area (SMA) and November 15th through April 15th in the Southeast Seasonal Management Area (see National Oceanic and Atmospheric Administration (NOAA) compliance guide for geographic areas).
When operating in active SMAs, in addition to reducing speed to a maximum of 10 kts, vessels should post lookouts trained in spotting right whales, maneuver around whales, and, if practicable, avoid transits in reduced visibility. Federal law prohibits approaching within 500 yards of a right whale (see additional information below).
A vessel may operate at a speed necessary to maintain a safe maneuvering speed instead of the required 10 knots only if justified because the vessel is in an area where oceanographic, hydrographic, and/or meteorological conditions severely restrict vessel maneuverability and the need to operate at such speed is confined by the pilot on board or, when a vessel is not carrying a pilot, the master of the vessel.
If a deviation is necessary, the following information must be entered in the vessel's logbook: Reasons for deviation; speed at which vessel operated; latitude and longitude at time of deviation; and time and duration of deviation.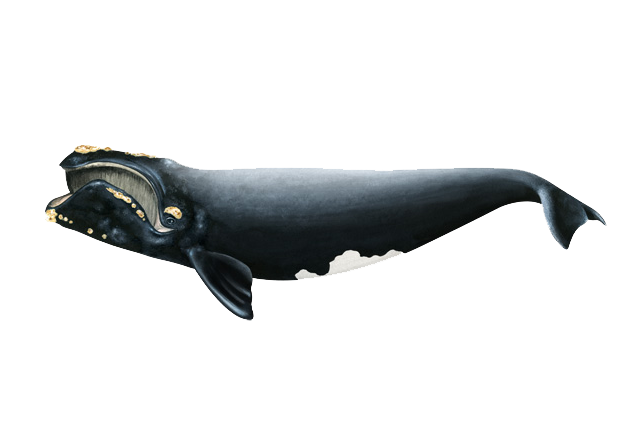 The vessel's Master must attest to the accuracy of the logbook entry by signing and dating it. For information regarding speed restriction areas see "Compliance Guide for Right Whale Ship Strike Reduction Rule" at http://www.nmfs.noaa.gov/pr/shipstrike/. NOAA Fisheries Service Office of Law Enforcement investigates reported violations of the Endangered Species Act and Marine Mammal Protection Act and violations can be prosecuted either civilly or criminally. WHALESSOUTH Mandatory Ship Reporting Area Commercial ships displacing 300 gross tons and greater are required to report when they enter the WHALESSOUTH Reporting Area. The WHALESSOUTH area extends from the shoreline east to longitude 80°51.6'W with the southern and northern boundaries at latitude 30°00'N and 31°27'N, respectively (See NOAA Chart #11480).
The WHALESSOUTH reporting system is a collaborative effort between the U.S. Coast Guard and National Oceanic and Atmospheric Administration (NOAA) to protect endangered North Atlantic Right Whales by eliminating collisions between the species and large commercial traffic. Since July 1999, the Coast Guard has taken an aggressive approach in educating vessel owners, operators and crews on the proper reporting procedures that must be followed when entering the WHALESSOUTH mandatory reporting area.
Agents and masters of vessels entering the ports in the reporting area are encouraged to ensure their vessels make the required notifications. Failure to report the required information may result in civil penalties. Vessels shall make reports in accordance with the format in IMO Resolution A.648 (16) General Principles for Ship Reporting Systems and Ship Reporting Requirements. https://www.fisheries.noaa.gov/webdam/download/70711138. 500 Yard Minimum Approach Regulation. The Minimum Approach Rule, found at 50 CPR 224.103(c), prohibits approaching or remaining within 500 yards of a right whale. If within 500 yards of a right whale, vessels must steer a course away from the whale and immediately leave the area at a slow safe speed. An exception to this rule is if compliance with the rule would create an imminent threat to a person or vessel. For more information on reducing ship strikes to North Atlantic right whales, go to http://www.nmfs.noaa.gov/pr/shipstrike/. Method for Reporting Strikes, Carcasses, Entanglements, and Sightings: Any whale sightings or accidental collisions with a whale should be reported immediately to the Coast Guard on Channel 16 VHF-FM and to NOAA at 877-WHALE-HELP.
The following information should be provided:
Location
Date and Time
Speed of the Vessel
Size of the Vessel
Water Depth
Wind Speed and Direction
Description of the Impact
State of the Animal
Size, if known
View location on the Waterway Guide Explorer
Provided by National Weather Service
| | |
| --- | --- |
| Humidity | % |
| Wind Speed | |
| Barometer | |
| Dewpoint | |
| Visibility | |
Deltaville, VA


Current Conditions
Change my location