News & Events for Chesapeake Bay
Expecting the Unexpected: Offshore Sailing Tips
Date Posted: 2019-11-04
Source: SpinSheet
An experienced bluewater sailor shares his knowledge on expecting the unexpected, smart spending on boat prep, and staying calm in heavy weather.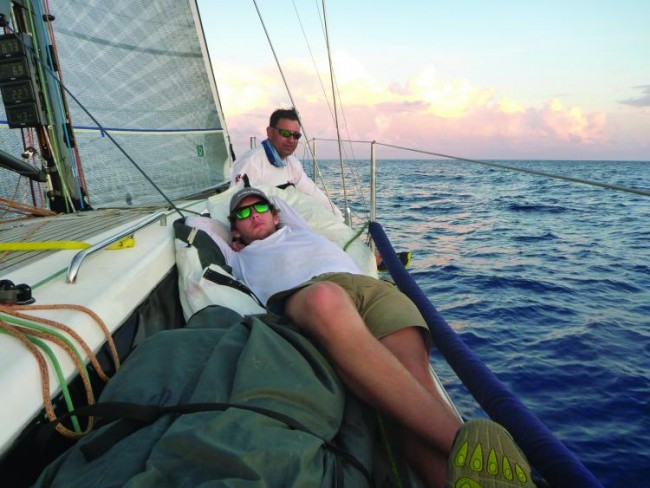 For this installment of our offshore series, we checked in with veteran offshore skipper Bob Fox, who campaigns his XP 44 Sly out of Annapolis, MD. For many years Bay sailors knew Fox as the owner of the highly competitive J/42 Schematic, but last year, shortly before the Annapolis to Bermuda race in June, Fox purchased Sly (formerly Rival) from local sailor and competitive offshore racer Bob Cantwell.
Fox is a member of the Annapolis Yacht Club and the Storm Trysail Club, whose membership is by invitation only to expert offshore sailors who have experienced storm conditions and are capable of commanding a sailing vessel in such conditions. See the video.
Fox's sailing resume boasts thousands of offshore miles, most of them racing. Early on he held crew positions on Jim Rogers's Swan 47 Panther and Mark Myers's Swan 51 Tonic, and he says crewing for very experienced offshore skippers was a good way to learn and build confidence and make the leap to sailing his own boat in bluewater. As an owner-skipper, Fox has logged five passages to Bermuda (twice from Newport and three times from Annapolis; last summer was the first on Sly), and six trips from Annapolis to Newport (all aboard Schematic). This year he is planning for the 2019 Annapolis to Newport Race aboard Sly.
Crew Is Crucial
Offshore sailing always brings the unexpected. A competent, cordial crew goes a long way to handling the inevitable dicey moments. When a harsh wind kicks up suddenly or seasickness rears its ugly head, trust counts. Conversely, if the doldrums set in, a group that's willing to make the best of the situation will keep everyone's spirits up.
Read the full story.
View location on the Waterway Guide Explorer
Provided by National Weather Service
| | |
| --- | --- |
| Humidity | % |
| Wind Speed | |
| Barometer | |
| Dewpoint | |
| Visibility | |
Deltaville, VA


Current Conditions
Change my location