News & Events for Chesapeake Bay
Snowbird Layover Offer
Date Posted: 2019-09-09
Source: Claude Milot, Special to Waterway Guide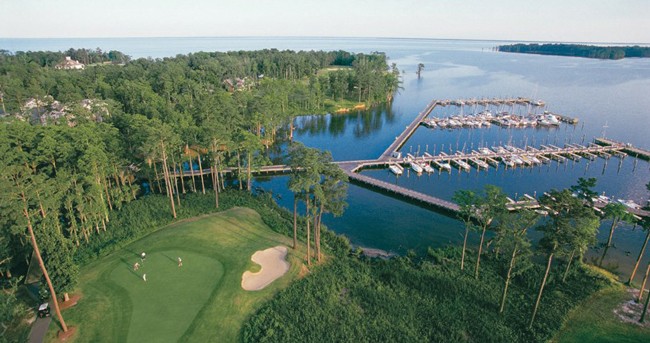 There is no accurate estimate of how many vessels transit the Atlantic Intracoastal Waterway (AICW) each year between points north and south. But, when days shorten and the weather turns cool in the fall, thousands of boaters head south.
A recurring situation that many vessel owners face is insurance coverage if they travel too far south before November 1st. Rather than linger in cold waters, many boaters who begin their trek south seek comfort in southern Virginia and northern North Carolina, waiting for the deadline to pass.
To show off their southern hospitality and local communities, three Albemarle Sound area marinas have designed a practical solution for these boaters. Because the Albemarle region is about half-way between New York and Miami, it's a perfect place to linger in October while waiting for November 1st. The water is still warm, and the weather is delightful.
Three marinas on the Sound are participating in Snowbird Layover, a program specifically designed for ICW boaters. The three facilities are: Columbia Municipal Marina, Edenton Harbor, and Albemarle Plantation Marina.
ICW boaters will be able to tie up in Columbia—slippage free—for two weeks prior to November 1st. Main Street has shops and restaurants, and Pocosin Arts, a gallery and teaching studio that has been offering programs and workshops since 1995. Nearby are the headquarters and wildlife exhibits of Pocosin Lakes Wildlife Refuge, as well as the start of the ¾ mile Scuppernong River Interpretive Trail.
Edenton Harbor offers one week of free slippage to ICW boaters who can use that time to experience this living monument to the colonial era. North Carolina's first capital is noted for its authentic architecture from the 18th and 19th centuries. Visitors can take walking tours or guided trolley tours of the historic district or take a leisurely walk along tree-lined streets to soak up the beauty and charm of "the prettiest town in the south."
From October 15th to December 1st Albemarle Plantation Marina will offer 2 weeks of free slippage to ICW boaters pausing on their migration south. Albemarle Plantation is a resort with a wide variety of amenities available to visiting boaters. It has two restaurants, the Clubhouse Restaurant for fine dining, and the more casual Dockside, famous for its wood-fired pizza oven. It also has the challenging championship Dan Maples golf course, with discounted greens fees for boaters. Also available to guests are walking trails, tennis courts, a fully equipped exercise room, and the best bocce courts in North Carolina.
The welcome sign is out at Columbia, Edenton, and Albemarle Plantation for ICW transiting vessels needing a great place to hang out before November 1st. Plan to "come on down" and call ahead to make your reservations.
View location on the Waterway Guide Explorer
Provided by National Weather Service
| | |
| --- | --- |
| Humidity | % |
| Wind Speed | |
| Barometer | |
| Dewpoint | |
| Visibility | |
Deltaville, VA


Current Conditions
Change my location