The "dog" days of summer will be here soon enough, so let's talk pet safety while aboard! If you want to bring your four-legged first mate with you, be sure to plan ahead for a safe voyage. Here are some suggestions.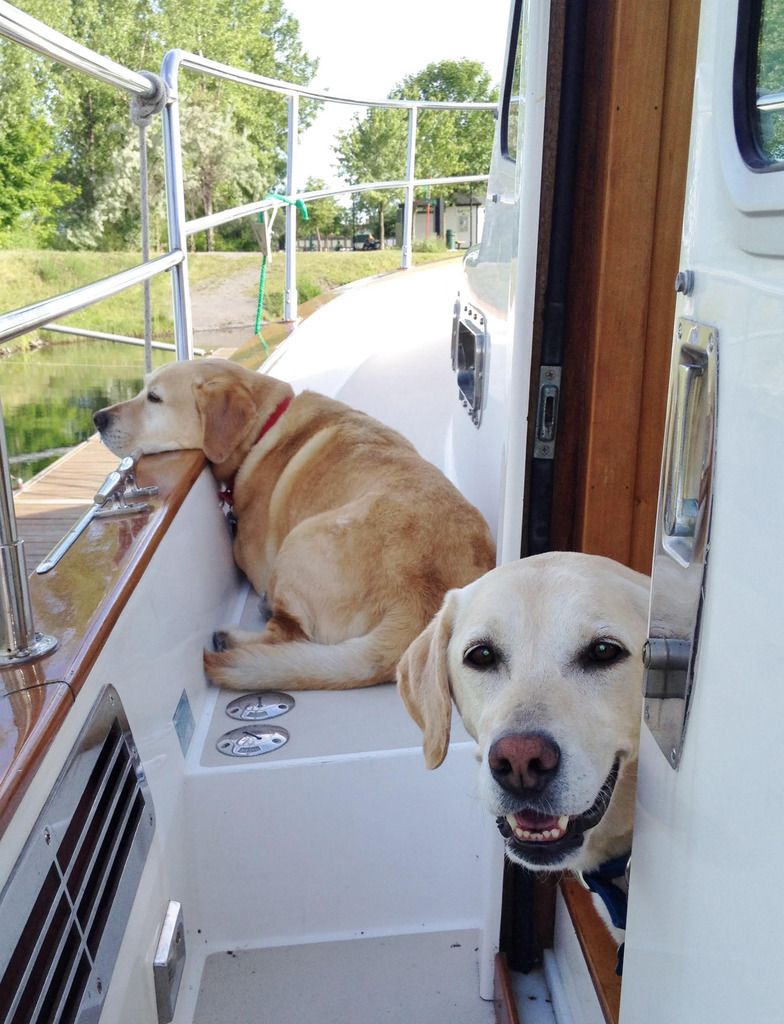 1. Practice makes perfect.
If Rover hasn't been boating, introduce him to your boat by bringing him aboard while the boat is docked. Start the engine on the boat so he gets used to the noise and vibrations. Keep the first trip short and check for signs of seasickness.
2. Have a pet overboard plan.
Discuss what to do if Kitty falls in or Rover abandons ship. Practice swimming and rescue drills with your pet on a nice day and make a game of it. A coiled line or carpet strip makes it easier to climb onboard. In a pinch, even a fishing net with a long handle will work for a small dog or cat.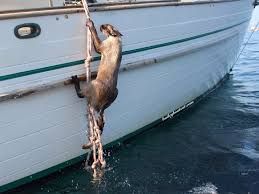 3. Life jackets for all.
Make sure the life jacket has a handle for lifting Rover or Kitty (who will likely be spitting mad) out of the water, and that it's a bright color for maximum visibility. Have your pet wear the life jacket at home to get used to it.
4. Welcoming pets onboard.
Provide steps or telescoping ramps forgetting Rover and Kitty on and off the boat. Swim platforms and floating ramps are more easily accessed when returning to the boat from the water than a swim ladder.
5. Keeping pets onboard.
Childproof netting can keep Rover and Kitty confined and on board when that dolphin swims by, beckoning them to come for a swim. A tether works equally well. AstroTurf on the deck can serve dual purposes (giving a whole new meaning to the term "poop deck"). Throw rugs with non-skid backing are useful in the cabin and cockpit. You can even lay indoor/outdoor carpeting in your dinghy to create more traction.
6. Keep your pet hydrated.
When 85-pound Rover has the sun beating on him and no place to go, he can become overheated. If he starts to pant profusely and his tongue turns purple, get him into the shade and cool him off as these are signs of heat exhaustion. Rub him down from head to toe with water or ice and provide cool drinking water. (This goes for Kitty too.) Freeze chew toys for an extra cool treat.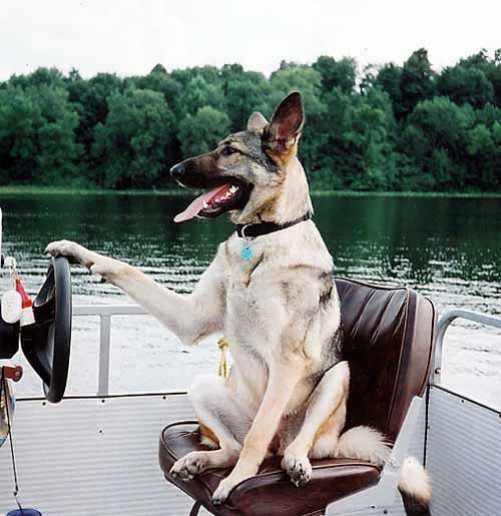 7. Pack a first aid kit.
Bring necessary medications, antibiotic ointment and sunscreen. (Yes, little pink noses and feet can get sunburn!) Water-loving dogs tend to have issues with their ears after swimming so pack ear cleanser with a drying agent.
8. Secure containers.

All types of pets like to stick their noses in open containers so make sure gasoline jogs, motor oil, cleaning products and bait containers have secure lids.
9. Avoid angling for a "dog fish."
It is not uncommon for a dog or cat to be hooked by a zealous fisherman. Be sure pets stay clear of lines and the fish. If your pet does get hooked, don't try to remove it yourself; seek veterinary attention! When not fishing, be sure gear is put away. Also avoid letting grabby crabs scurry about on deck; they look like wind-up play toys to Rover and Kitty!
10. Check ahead.
Some marinas do not allow pets, and many parks and wildlife areas do not permit pets ashore. Always carry your pet's rabies vaccination certificate and health records when on land.