At the age of 106, Argo is the oldest surviving Trumpy in the world.
Owner, Captain Chris Williamson of New York City has embarked on an epic quest to have her declared a national landmark.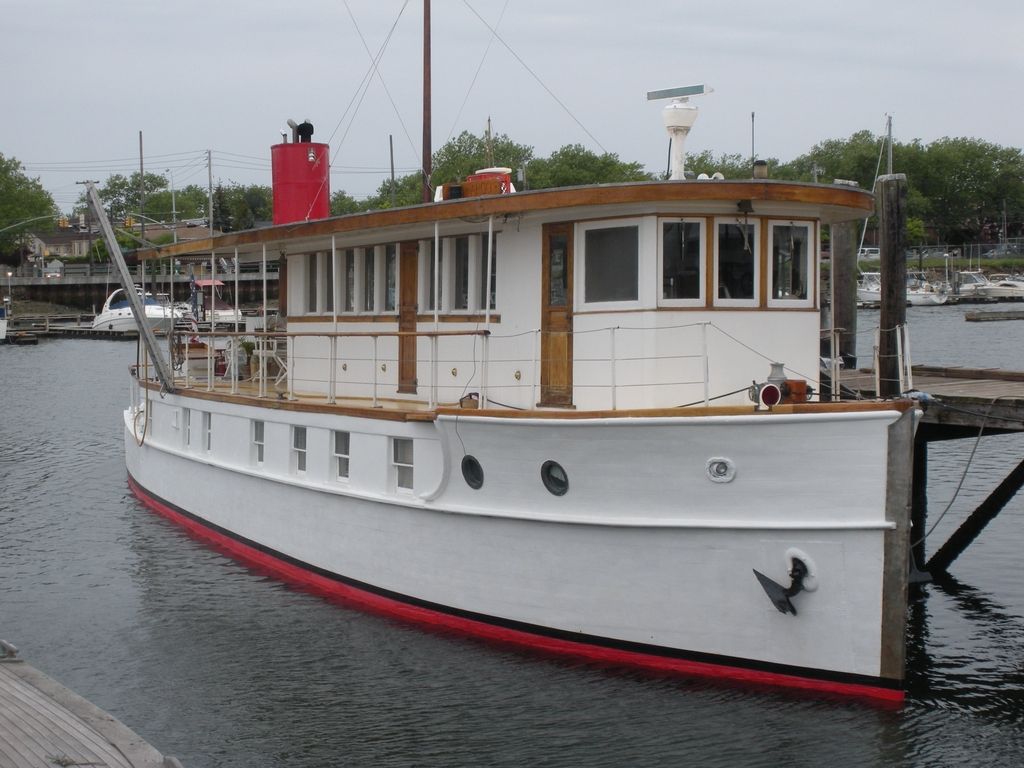 "I want her acknowledged because she was the beginning of super yachts," Mr. Williamson tells The Waterway Guide in an interview. "It was the first time people tried to make a boat home-like, but not a houseboat. They wanted it snazzy."
Built in 1911 for one of America's richest industrialists, Arthur Curtiss James, Argo represents the genesis of the modern motor/superyacht. However, while tracing the yacht's pedigree has been completed with a minimum amount of difficulty, Williamson says that navigating the system has been, "like going up the hill with a big rock."
"I've been at this process for about a year with my fiancée, Tall Ship Captain Denise Meagher, leading the process," he says. "Everything is documented. Unfortunately, the official with the National Historic Register who would normally be handling the case retired just before we sent in our stuff and it seems like they may be left without someone who is an expert."
Calls to the National Historic Registry in Albany for comment were not returned by press time.
He explained that, even with a boat and not a location like a house, it's a two-part process. First you apply for a National Historic Place and then you can apply for a Landmark status.
The boat was built under what was originally known as the John H. Mathis & Company, a shipbuilding company founded around 1900, based at Cooper Point in Camden, New Jersey, U.S, on the Delaware River.
Initially, the John H. Mathis Company built a variety of commercial and naval vessels, including freighters, ferries and fishing boats, FS ("Freight and Supply") ships for the Army, minesweepers, net tenders, patrol boats, lighthouse tenders, tugs and barges.
However, in 1910 Norwegian-born naval architect John Trumpy joined the company in partnership with John H. Mathis, to design and build private yachts.
The Mathis Yacht Building Company built houseboats, tenders and yachts for some of the wealthiest American families, including the Sequoia in 1925, which would later serve as the Presidential yacht between 1933 and 1977.
John Trumpy later became sole owner of the Mathis Yacht Building Company in 1939.
Argo was designed by Mathis and John Trumpy Sr. and built in 1911 by the Mathis Company, whose list of clients included: John Wayne, Josephine Baker, Howard Hughes and members of the DuPont, Dodge, and Chrysler families.
Trumpy's most noteworthy creation was the presidential yacht USS Sequoia, which served nine U.S. presidents from Herbert Hoover to Jimmy Carter.
Originally named The Lanai by railroad magnate Arthur Curtiss James, the vessel was eventually sold to a New York lawyer who changed the name to Argo.
The Argo was built in an era of fine wooden ships. It is an impressive 80 feet long, with a 16-foot-8-inch beam and a three-foot draft.
No expense was spared to provide the yacht's owner and guests with the finest amenities available.
The spacious and well-appointed owner's quarters, reached through an open stairway from the deck house above, were elegantly finished in solid mahogany wood paneling and white and ivory enamel.
Its 18-foot main salon extended the full width of the yacht and led to three staterooms, each fitted with lower and upper Pullman berths, a bureau, full-length wardrobe and a sink.
In the 30's the yacht changed hands to inventor/industrialist Powell Crosley Jr. of radio, television, and automobile fame who gave her a complete refit.
"Crosley even went and built a 32 room mansion and entire marina on the Gulf Coast of Florida to tie her up," says Williamson. "There are so many stories to tell about the Argo. I'm doing this to get her recognized."
By the time Powel Crosley acquired Argo in 1932, the ship needed extensive repairs and modernization. The bottom was replaced and new diesel engines were installed.
The Crosleys maintained an opulent lifestyle and used the Argo to entertain friends and prominent guests, such as Robert Ringling; Cmdr. Eugene MacDonald, who was the head of Zenith radio; and Charles W. Deeds, vice president of Pratt & Whitney. Accompanying the guests were the yacht's captain, engineer and at least one steward. After the death of Powel Crosley's wife in 1939, Crosley paid less attention to his Florida homestead and by 1940 the Argo had changed hands again.
Today, Williamson, the former night manager of New York City's legendary Studio 54 disco, has lived aboard Argo in New York Harbor as often as possible, since 1990.
"Back in the day I chartered a lot," he adds. "I still do it, but only for very special occasions."
His clientele has included celebrities such as: Paul and Linda McCartney, Meg Ryan, Tom Hanks, the Henry Clay Frick family, Walter Cronkite, Carolyn Bisset and John F. Kennedy, Jr., Cindy Crawford, Naomi Campbell, Elle McPherson, Russell Simmons, Charles Gibson, Geraldo Rivera, Dan Rather, Marisa Tomei, Christina Ricci and Woody Allen.
The Argo has also been featured in movies, on TV's "Law & Order" and "Good Morning America," as well as in fashion shoots for Vogue and Bazaar.
It's been seen in fashion shoots for Vogue, Bazaar and Hamptons Magazine, on TV in Law and Order, 48 Hours, Third Watch, ABC News Tonight and Good Morning, America and in film in You've Got Mail and Wasp.
While he loves New York, Williamson says he is thinking about moving Argo because, "the biggest problem with being docked in New York harbor right now is the escalation of ferries and being constantly bombarded with wakes which cause stress fractures in an antique wooden boat."
"For now I'm just focused on completing the process of getting the landmark status for Argo," he says. "I'm open to suggestions from anyone who knows how to put a fire under the people up in Albany."
Anyone interested in assisting Williamson to navigate these governmental waters can email him at [email protected].
"I just do not want to fail in this quest," he says wryly. "I do not want to be the guy who screwed up Argo after all those big cats who had her before me. I have no problem taking suggestions at this point."