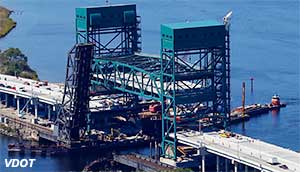 Just wanted to share with all of you that have been coming through the Gilmerton draw since construction started on the new bridge (Nov 2009) that the contractor told me yesterday he just completed working on the new fender system that day. I really do appreciate everyone's patience (especially the tug Captains) in dealing with all the extra restrictions over the past few years.
As a reminder (until the Nav charts catch up) the new vertical clearance for the Gilmerton Bridge is 35 feet at MHW in the closed position. Our new clearance gauges were installed last Friday.
Also very important - all the bridges, locks and commercial traffic in this area are on Marine Channel 13.
Below are the only restrictions that now apply to the Gilmerton Bridge:
The draw of the Gilmerton (US13/460) bridge, mile 5.8, in Chesapeake:
(1) Shall open on signal at any time for commercial vessels carrying liquefied flammable gas or other hazardous materials.
(2) From 6:30 a.m. to 8:30 a.m. and from 3:30 p.m. to 5:30 p.m., Monday through Friday, except Federal holidays:
(i) Need not open for the passage of recreational or commercial vessels that do not qualify under paragraph (d)(2)(ii) of this section.
(ii) Need not open for commercial cargo vessels, including tugs, and tugs with tows, unless 2 hours advance notice has been given to the Gilmerton Bridge at (757) 485-5488.
(3) Shall open on signal at all other times.
OK - now for the not so good news (don't shoot the messenger). The Norfolk Belt Line RR Bridge is located at M/M 2.6 on the ICW of the Southern Branch Elizabeth River. It's the first RR bridge as you head south from Norfolk. It's October! It's the busiest month of the year for this river! But I digress.
From this week's Local Notice to Mariners:
"Elizabeth River - Norfolk Belt Line Railroad Bridge – During a tie replacement project, the bridge will remain in the closed-to-navigation position from 7 a.m. to 6 p.m., except for scheduled daily openings at 9 a.m., 12 noon, and 3 p.m., from October 16, 2015 to October 23, 2015. The bridge will be able to open for emergencies during the maintenance period and the vertical clearance of the bridge in the closed position is 6 feet above mean high water. Vessels able to pass through the bridge in the closed position may do so at anytime. Mariners should use caution when transiting the area."
That's it for now from beautiful downtown Gilmerton. If we meet - hope to see you on 2 whistles so I can shake your hand,
Matt the Bridge Tender
Ed. Note: Thanks, Matt, for the update.