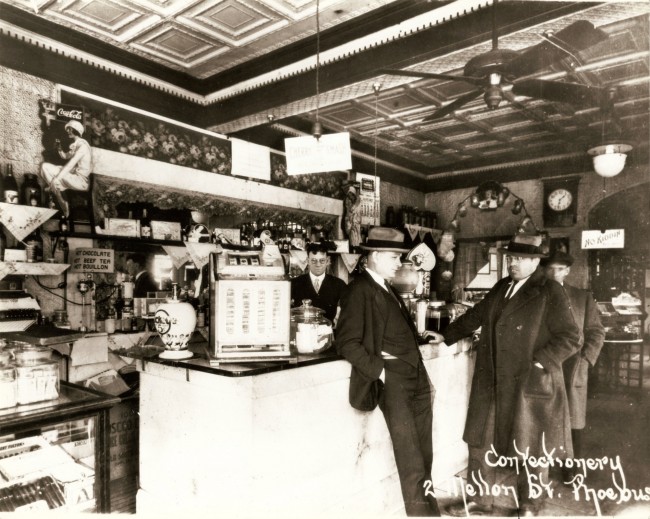 Hampton, VA – "Teetotalers, Moonshiners and Hampton's Prohibition Story" opens to the public on February 4 at the Hampton History Museum. The exhibit combines content from the Virginia Library's 2017 exhibit "Teetotalers and Moonshiners: Virginia's Prohibition Experiment" with research and artifacts from the Hampton History Museum on the local experience.
The exhibit features a myriad of items that tell Hampton's Prohibition story including dozens of photographs; numerous bottles, jugs and other containers; games, smoking accouterments, beverage dispensers, signs and materials of saloon culture; service ware, promotional items and memorabilia from Point Comfort resorts, Phoebus police and fire department items, doctor bag and instruments; and moonshine still components on loan from the Museum of the Albemarle.
On November 1, 1916, Virginia Breweries and distilleries closed their doors as the state began a grand experiment in Prohibition. From that date until 1933, state inspectors and federal agents attempted to stem the flow of illicit alcohol to a thirsty populace. In many ways, Hampton's relationship with alcohol mirrors Virginia's as a whole. But, Hampton's own Prohibition story differs in distinct and unexpected ways.
Curated by Hampton History Museum historian Beth Austin, and museum aide Willow Pell, the exhibit begins at the earliest days of Virginia's relationship with alcohol. Colonial Americans consumed vast amounts of liquor during a time when water sources couldn't be trusted. As a bustling port, the alcohol trade was big business in Hampton, and taverns catered to seafarers.
Major tensions surrounding alcohol emerged during the mid-and-late 19th century in the Phoebus area. These increased with the growth of the saloon culture of nearby Phoebus garnered it the nickname of "Little Chicago."
Even before Prohibition, as early as 1908, Phoebus leaders sought to "clean up" the town by driving out brothels and banning music and free lunches in saloons. These steps led to many saloons closing. Pre-Prohibition alcohol restrictions slashed the number of saloons in 1907 to 1916—from 27 to 15 in Phoebus, and from 12 to 5 in Hampton. The restrictions disproportionately impacted African American saloon owners with fines and license revocations.
Museum visitors are sure to enjoy this exciting exhibit as they dive into the history of this storied period.
"Teetotalers and Moonshiners, and Hampton's Prohibition Story" continues through February 4, 2024.
Hampton History Museum
The Hampton History Museum is located at 120 Old Hampton Lane in Downtown Hampton. There is plenty of free parking in the garage across from the museum. Open Monday-Saturday, 9:00 a.m.-5:00 p.m., Sunday 1:00-5:00 p.m. Closed major holidays. Admission is $5 for adults, $4 for seniors, active military, active NASA, AAA, children 4-12, free to children under 4. For more information, call 757-727-1102, visit www.HamptonHistoryMuseum.org, or like the Hampton History Museum on Facebook and follow it on Twitter and Instagram.