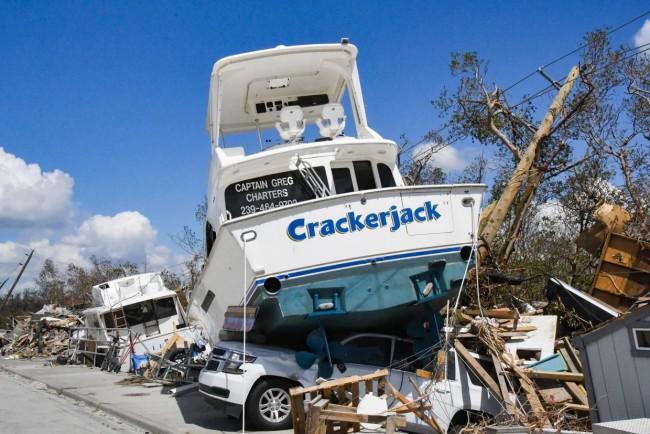 Hurricane Ian's damage to boats alone could top $1 billion, but nobody will be sure for months, at least.
Mike Root was standing in Fort Myers, Florida, trying to make sense of the wildly jumbled scene. He looked up at a 40-foot boat that Hurricane Ian had pushed 100 yards from the coast, and then pinned between a house and a tree.
"What do you do with that?" says Root, assistant vice president of claims for Geico Marine Insurance, which provides insurance to BoatUS members. "You can't do further damage to the house, and the tree is a natural barrier that you don't want to come down, and it's on someone else's property, and you don't want to further damage the boat. A storm of this magnitude provides far more complexity than other storms."
Hurricane Ian was, indeed, a storm of serious magnitude. It made landfall on Cayo Costa Island in southwest Florida as a high-end category 4 on September 28, with wind speeds of 155 mph. When it hit the contiguous United States, it tied with several other storms as the fifth-strongest hurricane ever to do so in recorded history. Baxter Underwood, CEO of Safe Harbor Marinas, says that at some of his company's locations, they saw winds higher than 200 mph.
The storm surge was also eye-popping. In some places, the incoming water topped 15 feet, making it high enough to reach the second stories of homes. More than 100 people died, according to the Florida Medical Examiners Commission, including some people who were fatally injured while trying to prepare for or clean up after the storm.
And then, there were the boats—an endless number of boats that were tossed and tumbled and sunk and piled in all kinds of places that boats simply should not be.
Root says Geico is still working to get a precise number, but thousands of boats were affected. The damage to boats alone, he says, is "definitely in the hundreds of millions for the industry, but I would think that it will go into the billion-dollar range total."
Just getting to, assessing and removing a lot of the boats is going to take months or longer, he says. As one example, he cites Cape Coral, which has miles of canals that allow homeowners to have docks in back of their houses. Those canals are great for getting to and from cruising areas, but they're not waterways intended for sizable cleanup operations.
"You have boats stacked up on top of each other in these canals, where it's intricate to try and do recovery," Root says. "You sometimes have to assemble barges that are small enough to be able to navigate the canals."
Underwood says there is some good news for boaters in terms of marina facilities. Whereas many bad storms severely damage or destroy marinas, Safe Harbor's properties in the region—Colusa Isle, Burnt Store and Cape Harbour—held up with minimal damage. He also saw other buildings that, to his surprise, were still standing.
"I was expecting, based on my previous experience with this size storm, that the physical damage to the buildings would be worse," Underwood says. "The build codes have evolved so much over the years that a lot of the structures were in pretty good shape."
By comparison, Underwood says, he has a home in the Abacos archipelago in the Bahamas. He visited there six months after Hurricane Dorian crashed into Marsh Harbour as a category 5 in 2019. "Those buildings looked as if they'd been in a war with bombs dropped on them," he says. "That's what I had in my mind when I came to west Florida, but we drove past things like a home that was under construction, and it still had the shingles on the roof. I was thinking to myself, how is that even possible, but it has to do with the build codes. The windows were still intact."
MarineMax, too, was working on repairs at its facilities that made it through the storm, from Sarasota onward south. All its team members and their families were safe, and the company had organized convoys of supplies and food. The Naples and Venice locations already announced reopening plans, and Fort Myers was in progress toward the same goal as of mid-October, according to MarineMax Communications Manager Lisa Harrison.
"Most of the team is back to work, but our building did sustain some damage," Jim Connor, vice president and general manager at MarineMax Naples, told customers in mid-October, although he said the sales, service, and parts departments would be open while they undertook repairs to the building.
Underwood acknowledged that the post-storm situation was difficult, with the high-water table and lack of power creating new problems such as sewage backup, lack of fuel and other issues that can make people feel desperate about basic needs. The focus at Safe Harbor is now on trying to help clean up the mess in general.
"There are so many boats that were impacted in and around Fort Myers. Those boaters are going to be stranded for a while," Underwood says. "The boats are just in a big pile, and it's a problem for the city. We think we might be able to help with that. We have team members coming from as far away as New England. We're setting up temporary housing for them and bringing equipment from other locations."
Another continuing issue will be an inability to get construction materials and equipment into the area, if it's available at all given supply-chain backups that started with the pandemic. And, labor will be in desperately short supply, with all kinds of homeowners and business owners looking to schedule repairs and rebuilds at the same time. Still, there can be ways to get things done.
"Burnt Store had two docks that were damaged as a result of the wind pushing against boats that were against the dock. They also had a seawall failure," Underwood says. "We happened to be doing some other work there, so we already have some of the construction materials we'll need."
Root says it's simply too soon to tell how many boats were damaged or destroyed overall, or whether insurance premiums for boats might be affected in the future. Hundreds of boats are still missing, he says, and some are ashore in pieces that have yet to be verified as being from the same boats.
Scott Croft, vice president of public affairs for BoatUS, says it will be at least mid-November before a real count is even possible—and then more insurance claims will come in from boat owners who don't realize until later that their vessel was damaged in the storm. "Right now for some people, power and air conditioning in their homes are the priority," Croft says. "Not the boat."
Going forward, the BoatUS team is urging boat owners, marina owners and others to employ best practices if a storm is approaching. Those practices are listed at BoatUS.com/hurricanes.
BoatUS is also warning anyone shopping for a used boat to be aware of vessels damaged in Hurricane Ian showing up for sale.
"As long as you know that damage has occurred to the boat, that's fine," Croft says. "But a word to the wise: If you're buying a used boat the next year, make sure you get a good independent surveyor to go over it."
And in a possible ray of sunshine, he adds, it's likely that as boats are recovered, what's left of the broken ones may ease parts shortages that have plagued the supply chain in recent years. "Where a vessel is determined to be a total loss," he says, "maybe you can get an operable used part out of it."
This article was originally published in the December 2022 issue.