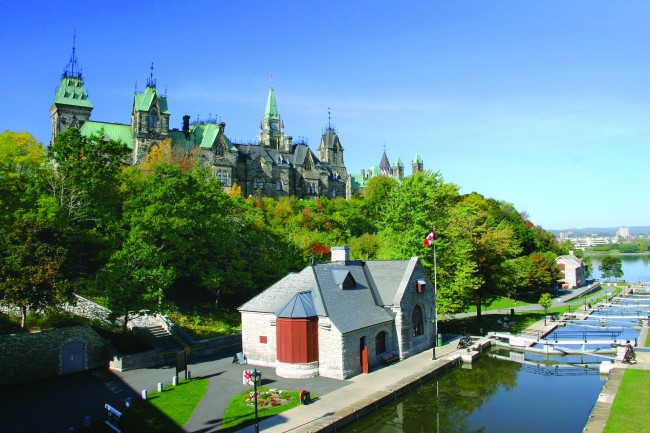 For those who don't have time to complete the Great Loop, or who have the extra time for a side trip, don't overlook the surprisingly adventuresome Triangle Loop. This is considered to be a less demanding route compared to The Great Loop but no less exciting and adventurous for cruisers. On this loop, you will cruise in U.S. and Canadian waters so have your passport and appropriate boat papers ready.
The Triangle Loop takes cruisers from the Hudson River at Troy, NY, to Lake Ontario via the Erie and Oswego Canals, to the northern shore of Lake Ontario, down the St. Lawrence Seaway (past Montreal) to Sorel.
From there, you take the Richelieu Canal to the Chambly Canal to Lake Champlain and the Champlain Canal back to the Hudson River at Troy. This 750-mile cruise takes about three weeks actual cruising time, although it can be stretched out for an entire summer.
A second option, although slightly longer, is to take the Rideau Canal at Kingston to the Ottawa River and then to the St. Lawrence River.
By cruising in a clockwise direction, the considerable current of the St. Lawrence River is always with the boat and provides a welcome boost to speed over the bottom and fuel economy.
As for a schedule, you should plan to complete the Triangle Loop between June 10 and September 1.
While these dates are not etched in concrete, our experience has shown these to be reliable dates upon which to plan due to weather constraints. Be sure to begin your planning by checking the Waterway Guide Explorer (waterwayguide.com) for important Great Lakes navigational updates and cruising news.
The Waterways
Erie Canal (Troy to Three Rivers): 160 miles
Oswego Canal (Three Rivers to Oswego): 24 miles
Lake Ontario (Oswego to Kingston): 50 miles
Route 1: St. Lawrence River (Kingston to Montreal): 166 miles
Route 2: Rideau Canal (Kingston to Ottawa): 126 miles, Ottawa River (Ottawa to Montreal): 97 miles
St. Lawrence River (Montreal to Sorel): 80 miles
Richelieu River/Chambly Canal (Sorel to Rouses Point): 68 miles
Lake Champlain (Rouses Point to Whitehall): 107 miles
Champlain Canal (Whitehall to Troy): 60 miles
Facts & Figures
Locks: 99
Rivers: 7
Lakes: 4
Controlling Depth: 6.5 feet (5.0 feet on Rideau Canal route)
Controlling Vertical Clearance to Champlain Canal: 22 feet
Controlling Vertical Clearance (Champlain Canal): 15 feet
Many trawlers have a mast that can be laid down almost at will. If you are in that category, consider laying the mast down for the Erie, Oswego and Champlain canals and put it up where conditions permit (e.g., Lake Ontario and Lake Champlain). Sailboats must have their mast removed before entering the Erie Canal. Because there is no practical place to step the mast while completing the Triangle loop, it is best to make arrangements to leave the mast where you have removed it and retrieve it on the return trip.
Recommended Resources
Great Lakes Vol. 1 Guide or Subscription
Great Lakes Vol. 2 Guide or Subscription
Cruising the New York Canal System, Skipper Bob Publications
Cruising the Rideau & Richelieu Canals, Skipper Bob Publications