Waterway Guide and Waggoner Now Delivering Verified Global Data
by Graham Jones - July 11, 2019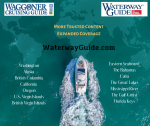 (Deltaville, VA and Anacortes, WA) - Waterway Guide Media and the Waggoner Cruising Guide have announced a collaboration agreement to provide their information and local knowledge in digital format for distribution across multiple platforms. Waterway Guide and Waggoner Cruising Guide are the leaders in providing navigation and destination information for the North American coasts, Great Lakes, and inland river system through their bestselling annual cruising guides. Waterway Guide also publishes guides for the Bahamas and Cuba, while the Waggoner Cruising Guide team covers the US and British Virgin Islands through their "Cruising the Virgin Islands" book.
"This is a natural combination. Both companies have a long history of presenting accurate and up to date cruising information from "on-the-water" surveys provided by correspondents, writers and editors," said Ed Tillett, Editor-in-Chief and General Manager of Waterway Guide Media. "Through this partnership we have expanded our crowd-sourced and verified content model. We are pleased that Waggoner's and our company are able to combine our resources to encourage safe boating, travel and adventure."
Waterway Guide currently delivers specific information in an online digital form through its Explorer online web app, where users can access extensive lists of navigation alerts, fuel prices, marinas, anchorages, service facilities and bridge/lock schedules and details. The information is designed for planning trips and destinations. "We recently added several thousand new marinas across the world in popular boating regions of the Pacific, Mediterranean, Caribbean, Gulf of Mexico, Australia and North Sea providing value for both the marinas and our readers" said Graham Jones, Waterway Guides' Business Development Manager. "Our global database provides additional value to our trading partners who use it for their mobile navigation software and apps."
The Waggoner Cruising Guide is well known for its information covering the Inside Passage, from Seattle to Southeast Alaska. It is often referred to as the "Bible for Northwest Cruising." In addition, its parent company owns the rights to the "Exploring" series of cruising guides covering Southeast Alaska and the Pacific Coast of California, Oregon, Washington and British Columbia. "We have enjoyed working with the Waterway Guide team. We have similar values and are passionate about providing verified and accurate cruising information. Going digital and combining our respective databases is a natural combination," said Mark Bunzel, the Editor and Publisher of the Waggoner Cruising Guide.
The Waterway Guide and the Waggoner Guide databases are available under license from either company with frequent updates. Contact Graham Jones ([email protected], 304-282-5931) or Mark Bunzel ([email protected], 360-941-3786) for more information.